Events
Tap into a Powerful Network
Modern Counsel prides itself in hosting exclusive, signature events in the most exciting, dynamic, and growing cities around the nation. Connecting people and ideas, Modern Counsel events celebrate the power of in-house and private practice legal counsel and connect you to its powerful audience of legal minds and decision-makers in the industry.
---
2020 Events
Upcoming Events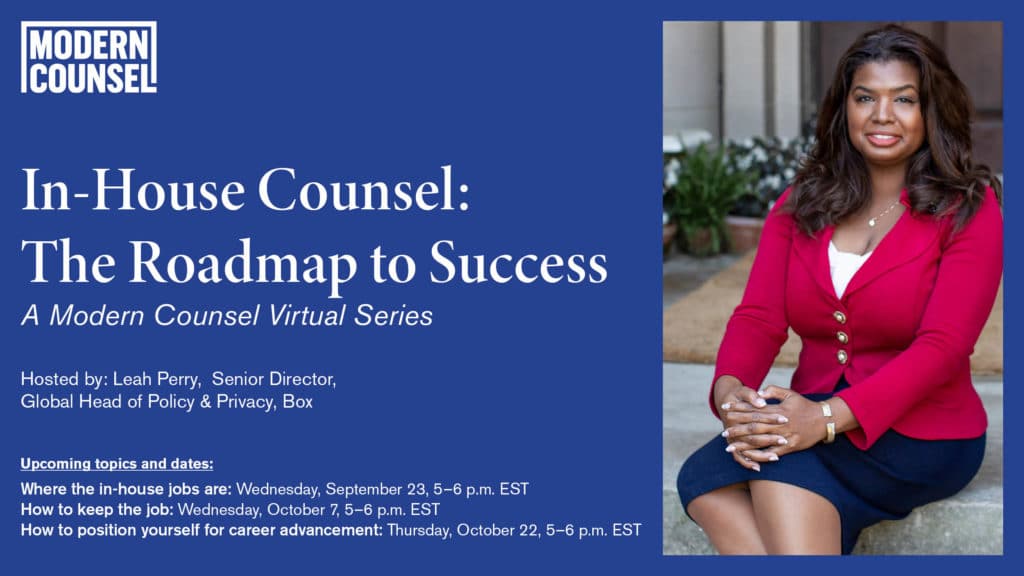 So you want to be a general counsel. How do you break into the in-house world? When you're on the outside looking in, making the transition can be daunting.
Senior Director, Global Head of Policy & Privacy Leah Perry of Box will be hosting virtual roundtables in partnership with Modern Counsel that explore how to land an in-house role—and succeed in it.
Interested in attending? Contact us at events@guerreromedia.com.
October 7, 5 p.m. EST
How to Keep the Job
Tune in for advice on how to succeed in an in-house role.
Panelists Include:
October 22, 5 p.m. EST
How to Position Yourself for Career Advancement
This event will focus on ways you can set yourself up for career growth and promotion in-house.
Panelists Include:
---
Past Events
September 23, 5 p.m. EST
Where the In-House Jobs Are

A group of expert panelists will discuss where the opportunities are to break into an in-house role.
Panelists Include:
***
This summer, our virtual roundtables brought together legal leaders from all over the country to share ideas and insights on various topics centered on diversity and inclusion in law. Our three-part Empowered Live series focused on how to foster diversity and inclusion in the legal field with cohosts Michelle Fang of Turo (July 16), Sandra Phillips Rogers of Toyota (July 23), and Genie Cesar-Fabian of Palladium Equity Partners, (August 6) while the theme for the roundtable we cohosted with Phillip Groves and Paul Kossof of DAC Management (July 30) can be found in its name—Fighting the Good Fight: Anticounterfeiting Efforts in China.
Interested in learning more or in attending future events? Please contact us at events@guerreromedia.com 
---
Contact
Alex Tomalski, Content & Advertising Manager and Digital Events Coordinator