A dance club in Nepal. A clothing company trying to swipe 7-Eleven's eye-catching three-color logo for a fashion statement. Stores popping up in the United States and many countries abroad with slightly altered names but the same coloring and signage as 7-Eleven. These—and so many more—are the kinds of trademark infringements that come across the desk of Allison McDade.
"Infringers adopt the 7-Eleven brand for a variety of sometimes surprising uses, not just to copy retail convenience stores," says McDade, 7-Eleven's senior trademark counsel. "But that's par for the course for an internationally famous brand. People are going to try to rip you off."
Granted, some offenders might be more subtle than others, but when you're charged with protecting a brand that has become a pop culture stable and counts more locations than either McDonald's or Walmart, the bad actors don't let up.
At any point in time, McDade notes, 7-Eleven averages five hundred active infringement cases that span the globe. Although the company does business in nineteen countries—it recently announced plans to open its first stores in India and Cambodia—and counts more than seventy thousand locations worldwide, she says the company's trademark is protected in nearly one hundred countries. And 7-Eleven has about 2,500 pending applications and registrations for trademark protection.
Just because the company doesn't do business in every country in the world doesn't mean that there aren't people in those other countries who will try to make a quick buck on such a recognizable name. One of McDade's primary tasks—and challenges—is to decide which cases to pursue.
"There are all these different factors to consider when you decide which ones to pursue," she says. "Do you operate in that country? How many locations are there? Is it the disco in Nepal or a 25-store chain in China that could easily explode to 125 next year? How similar are the goods being sold or services being offered?
"Each country is different, and our approach has to be tailored to that country," she continues. "Is it a country where we operate or are planning to enter? How effective will a demand letter be? In India, for example, we've had some good response to letters, but at the same time, people who are a little bit more savvy are aware that these cases can spend years in litigation if it gets to that.
"You have to investigate whether local law enforcement agencies might be able to intervene on your behalf. You don't want to have the reputation as a brand owner of not following through with your threat or not taking action because then people figure it out, and word will spread."
On Brand: Fast Facts about the 7-Eleven Enterprise
Although the 7-Eleven brand has been around for almost seventy-five years, the company itself is more than ninety years old. Its original name was Tote'm, and stores featured real Alaskan totem poles, which turned out to be the first-ever retail pole sign. The company invented that, along with coffee in to-go cups and 24/7 operations.
Winnipeg is the Slurpee drink capital of the world, despite how cold it is.
The brand continues to grow: 7-Eleven is entering India and Cambodia, new countries for the company in 2020.
Interestingly, when McDade joined 7-Eleven in 2015, she was the first trademark lawyer to work at the company in more than twenty years. Prior to that, the company had retained an outside legal firm to handle trademark matters before establishing its own in-house position.
McDade had already done similar work protecting the products and brand name of Dell computers as its in-house counsel, and she says the transition into the 7-Eleven environment "couldn't have been smoother."
"Because the company had used the same law firm the entire time, I didn't have to go to multiple sources to get files or historical information," McDade says. "A lot of people at our company have been there for decades because it's a great place to work, so there was a lot of help if I had questions. But sometimes a legal issue—like a fifteen-year-old dispute in Georgia—is probably not something that will be in anybody's memory except the lawyer who was handling it."
McDade's smooth transition to the in-house role at 7-Eleven comes as no surprise to her colleagues, who are familiar with her abilities. "Allison's foresight, guidance, and hands-on approach has facilitated an efficient work environment for all. Her expertise and industriousness are unparalleled," says Sanjay Chhabra, a senior partner and founding partner of Archer & Angel. "A consummate professional, her knowledge, sharp legal insights, and acumen are what make her 7-Eleven's legal eagle."
In the time since McDade joined the company, 7-Eleven's footprint has grown by nearly twenty thousand stores, which gives her plenty of territory to protect. Nevertheless, she says it doesn't seem like a tall order. If anything, it's a task for which she feels a deep, longstanding connection. Some of her fondest childhood memories include her neighborhood 7-Eleven store. She would routinely ride her bike there with friends for a Slurpee drink and a treat. Once, she even posted a sign there for the family's lost dog, which was found by neighbors who were rewarded with, you guessed it, a Slurpee drink.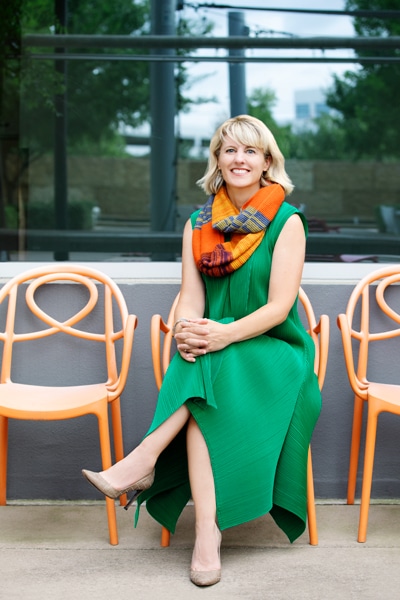 "I grew up in the 1970s, and both my parents worked really hard," McDade recalls. "They divorced when I was nine, and at that time, my mom had not had a job outside of the home. We moved and she began a career in advertising, which is how I became interested in trademark law—by osmosis. She was a copywriter on several different brands and would come home trying to think of ideas, slogans, and creative taglines. That was part of what I saw every day."
She continues, "Of course, it was very difficult for her to be a thirty-five-year-old single parent with two children in a brand-new city. Looking back, I can appreciate how hard that must have been. I guess I was born with some of that natural resilience, stubbornness, and determination."
That not only works to 7-Eleven's advantage, but also provides fuel for McDade's work ethic, as she says she now finds herself on the same team as some of the finest minds with whom she's ever worked.
"As a big company, we are able to attract high-level talent, and I enjoy the fast-paced nature of working with my team and clients," she says. "Everyone's at the top of their game. Working in that kind of environment is really rewarding."
Work-from-Home Chronicles
As Told To Paul Snyder
I've been working from home for almost three years now. When I made the switch, it was a family decision—my husband works for Apple in field sales, so he can work anywhere. At the time, our three children were about to go into fifth grade, third grade, and kindergarten, respectively, and we thought it would be the only time we could make a voluntary move without sacrificing too much of their mental well-being. So we moved to a smaller town about four hours from Dallas, which is where 7-Eleven is headquartered.
With COVID-19, most of the work-from-home models that companies have been testing for the past few years are being proven—people are efficient, can get work done, and can be autonomous and productive. I was fortunate at the time that my boss already knew my work ethic and allowed me to work from home, even though it hadn't really been done much in the company's legal department.
With that said, I do think it's important to check in, even if you're not allowed to go to the office, as is the case under current shelter-in-place orders. Video calls are a fantastic way to stay in touch. Even just picking up the phone and talking to someone is helpful. In normal circumstances, I like to go into the office every couple of months to touch base with people and remind them that I'm still here and available for anything they might need.
You have to examine your own role, where you fit in the organization, and what kinds of responsibilities you have. Some employees may be better suited to working from home than others, but we have plenty of people in this world who are self-sufficient and driven. They will get their work done no matter what's thrown at them. With almost everyone suddenly being thrown into a situation requiring them to work from home, we've seen companies can survive with this kind of working model.
***
Expertise Spotlight
Archer & Angel is proud of its long-standing relationship with Allison McDade and 7-Eleven.
Archer & Angel is a full-service law firm advising on all aspects of law, including corporate commercial, intellectual property, labor and employment, M&A, insolvency, construction and real estate, litigation and arbitration, government policy and regulatory affairs, IT, franchising, retail and distribution, and anticorruption and compliance. Archer & Angel has offices in New Delhi, Bangalore, Mumbai, Hyderabad, and Pune, with Delhi being the principal office.
The firm's intellectual property team advises on a range of legal issues involving trademarks, patents, domain disputes, copyrights, and industrial designs. The firm is capable of undertaking an entire spectrum of IP work, including prosecution, contentious, litigation, enforcement, dispute resolution, and customs/border protection.
Archer & Angel has been ranked continuously for the last two years by World Trademark Review in the WTR 1000 for its IP prosecution and strategy practice.
The firm assists clients, which include individuals and companies, both large and small, from India and around the world, in responding to constantly changing, increasingly complex domestic and international legal systems. The firm has a comprehensive legal base and an efficient team, which provides sound advice along with practical solutions in a time- and cost-effective manner.