The litigation team at QBE North America is responsible for shouldering any and all disputes and litigation against the insurance leader. A purview like that is so integral that it seems as though it would have always been a part of the organization. But Brendan Malley and his team know that's not the case. That's because Malley built the team from scratch.
When Malley arrived at the company as vice president and assistant general counsel in 2011, he had already spent seven years in-house at AIG and fourteen years as a partner in private practice. In 2014, he was promoted to senior vice president and head of litigation at QBE North America, a function he built from the ground up.
Nine years later, membership among the litigation teams remains remarkably tenured and lasting, and it likely serves as a testament to the culture Malley has helped build and the value the team has proven over time.
The team, composed of nine lawyers and three paralegals, includes Aaron Mandel, associate vice president and assistant general counsel; Allison Calkins, associate vice president and assistant general counsel; Cherilyn Rama, senior counsel; and Michael Klag, vice president and associate general counsel. All the attorneys on the team—including Todd McCormick, Karen Navarro, Inna Kogan, and Daniel Pickett—average over twenty years of experience. The paralegal team, led by Kaylee Markgraf and includes Maria Dematos-Simoes and Lizvette Fresco, is equally tenured.
"We've been working together quite a while," Malley explains. "Our attorneys come with incredible experience from private practice and in-house roles, and, frankly, one of the main reasons for our success has been the team's consistent application of our strategy over an extended period of time. The team takes great pride in helping our clients and the organization remain resilient in the face of ever-changing risk."
A Very Special Team
Prior to joining the litigation team at QBE, Klag managed the staff coverage counsel group at one of the world's largest property and casualty insurers. The lawyer sees his team at QBE as a true embodiment of what a team should be.
"We leverage our experience by collaborating on a consistent basis," he explains. "It's hard to imagine many issues or scenarios that we haven't encountered. But, when that rare event occurs, we can draw on the team's collective resources to find the right answer and come up with an effective resolution strategy."
As far as Klag's own practice, he approaches every contact with his internal QBE clients and stakeholders as an opportunity to earn trust and confidence. He sees his role as not only answering questions or alleviating issues but also working proactively to anticipate the next issue that might arise.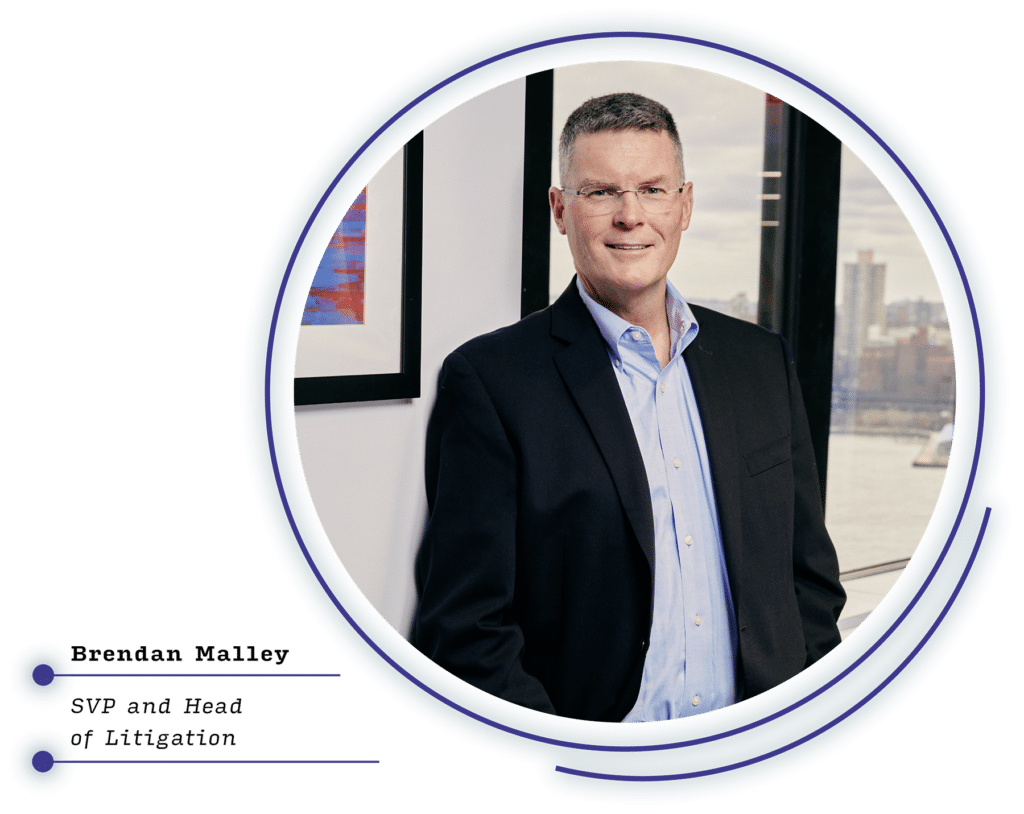 "Partnership" is a word that's repeated, this time by Calkins. She says her time in private practice helped her learn from the best and the worst, and those experiences have fundamentally shaped how she interacts with the litigation team at QBE and the rest of the organization.
"Our team endeavors to partner with and add value for our clients," she says. "I try to give everyone a voice in discussions because there is always something to learn and more than one approach to addressing any issue."
Calkins lauds her team for seeming to find more time in the day without the feeling of extra hours burdening them. The lawyer says that despite busy caseloads and personal demands outside of the office, each member of the litigation team is able to take on additional duties whenever needed.
Rama has been in the insurance industry for nearly twenty years in a variety of positions that include acting as a people leader managing a team of claim professionals and as a product manager. Her nontraditional path has led to leadership opportunities in areas not all lawyers encounter. She's also a full-time mom to two active sons whose sports practices, taekwondo, and other after-school activities require the attorney to run a tight ship off the clock as well.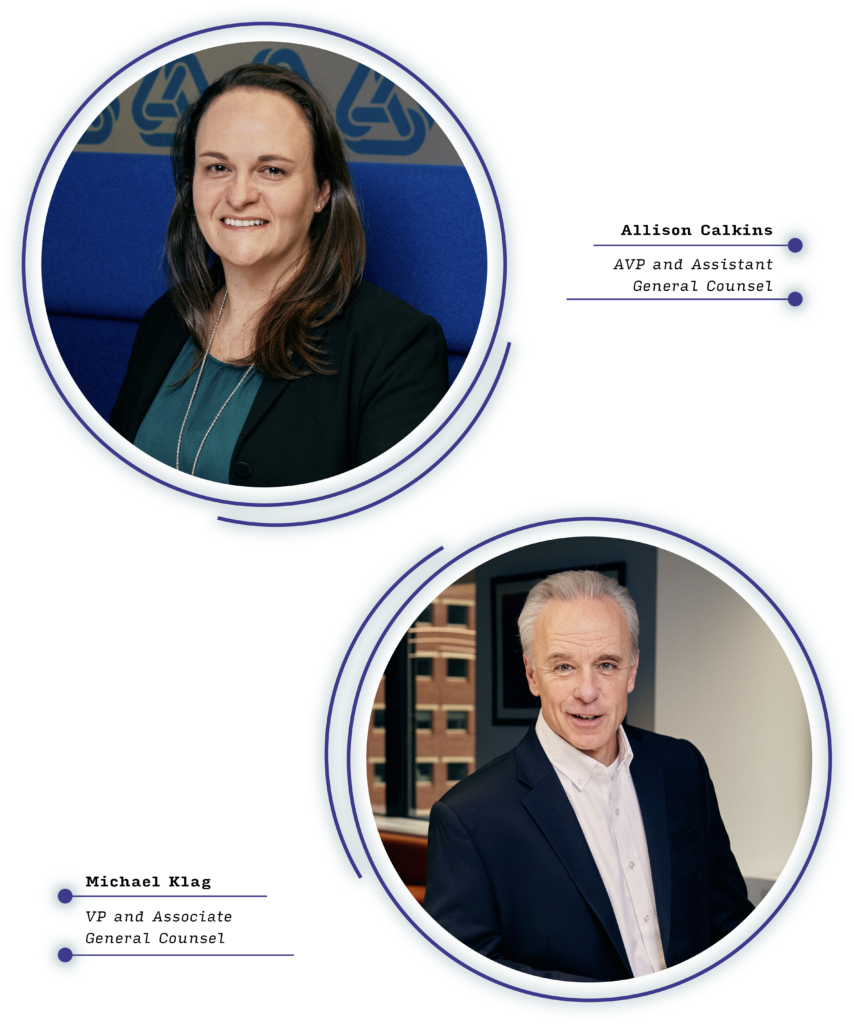 One of Rama's roles is to support the team's prevention strategy by coordinating the training they present for claims professionals. That partnership pays dividends. "Because our team works with claim professionals at every level and across all lines of business, we are able to leverage that cross-functionality into training on diverse, interesting topics on both a small and enterprise-wide scale," Rama explains.
"I'm a big proponent of inductive learning—teaching by using examples from years of experience in the insurance industry—so I use it to present the most effective trainings," she says.
Collaboration and Transparency
Malley recalls his team was able to shine during a particularly difficult moment for all of us. The COVID-19 pandemic was the chance to focus on two qualities the litigation head values most: collaboration and transparency.
"Just like the rest of the world, we had to adapt, and I was very proud of our team," he reflects. "We know each other so well and understand each other's strengths in a way that we were really able to up our game."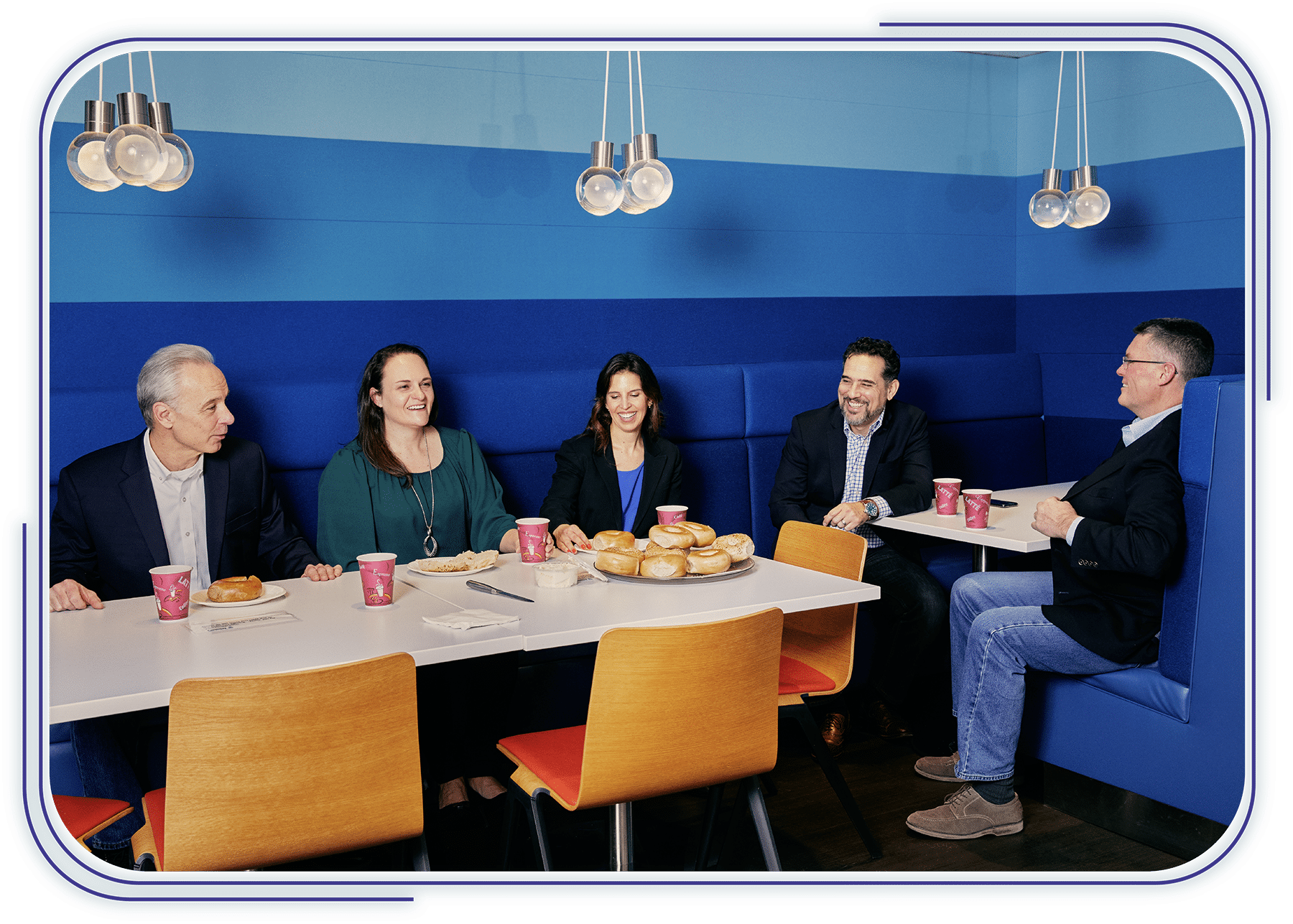 "Brendan's thoughtful and experienced approach to QBE's litigation strategy ensures that each matter, large and small, is handled with careful consideration," says Elizabeth Kniffen, partner at Zelle LLP. "Brendan's decision to engage national counsel for all COVID litigation is an excellent example of this leadership. Working with Brendan and his team as outside counsel is a pleasure."
The litigation team is still able to collaborate particularly well because the team knows itself inside and out. When an issue pops up, the team knows when a question should go to Mandel, Rama, Calkins, or Malley himself. That kind of mindset is critical when it comes to supporting the business, Malley says.
"Our team is comprised of brilliant attorneys, each of whom has more than a decade of experience, and we all come from different backgrounds," Mandel says. "That all contributes to more effective analysis and problem-solving, and that results in exceptional work product."
Listening to all perspectives is imperative, Mandel continues. "Whether it's with other members of my team or clients within QBE, I try to make sure that everyone I interact with feels that his or her perspective has been heard" he says.
"What we do is nuanced, and often there is no clear-cut answer to the particular problem we are asked to solve. That's how it always has been and how it always will be," Malley adds. "Our job is to assess the strengths and weaknesses in a given situation and develop a winning strategy. You need to seek out the thoughts and opinions of others to do that effectively."
The litigation team has formal forums to talk about these issues, with monthly calls where attorneys on the team take turns talking about an issue to prompt discussion. There are also the informal chats that happen with much more frequency—and to the betterment of QBE.
"I think the way we collaborate with each other and our clients definitely translates into better performance and success for the business," Malley says. "We're truly working together as a team."

Finding More Time to Provide Value
Rama says it's critical for both the litigation team and the overall business alike to understand the value her team can provide.
"Litigation impacts all areas of the company, not just claims," she says. "Lessons learned in complex coverage disputes can be used to inform decisions elsewhere in the company, such as underwriting and product development. It's important for all facets of the business to understand what we do and that it impacts what they do every day."
What empowers a litigation team? Inclusion, Calkins says.
"Litigation departments need a seat at the table long before a lawsuit is filed," she says. "In-house legal teams like ours are a valuable asset to avoiding costly litigation."
Malley is currently on a mission to help get his team the tools that will make them as effective as possible. For instance, he's integrated document management software to help his team more easily access their extensive work product library that tracks all written opinions and all discovery in litigation against the company.
Additionally, the SVP is working to replace a number of manual processes with automation, allowing his team to focus on interfacing with clients instead of conducting repetitive and monotonous tasks.
"I think it might be a highly unusual to have the legal team working lockstep with the IT team to integrate new technology, but that's definitely the case here," Malley says. "We're in the build stages of a lot of these integrations, and I'm excited about how they will ultimately help us provide more value to the organization."
Calkins says her team is always able to find more hours in the day, but with continued technological integrations, maybe in the near future they won't have to. Regardless, it's the focus on the clients, not the technology, that sets the litigation team at QBE apart.
There's something special that's kept this team together for so long, with a track record of providing value that cannot be ignored. That's the value of a litigation team whose goal is to truly partner with the broader organization.
---
There are few firms with Zelle's breadth and depth of experience in insurance law. Our attorneys have been on the cutting-edge of insurance law and litigation for decades, including property and liability coverage, reinsurance, and subrogation, and extending across a wide range of industries and natural and man-made catastrophes. Solidifying the Firm's long-standing reputation as a key ally of the insurance industry, Zelle attorneys have represented major clients at the forefront of monumental cases arising from the destruction of the World Trade Center on 9/11, Hurricanes Katrina and Harvey, COVID-19, and significant matters involving environmental and asbestos coverage litigation.
---
International insurer and reinsurer QBE's vision is to be the most consistent and innovative risk partner, driven by their purpose of enabling a more resilient future. Locke Lord has been honored to provide legal support to QBE for many years, and we are proud to call Brendan Malley and his team friends as well as clients. We look forward to many years of working together to advance QBE's goals, providing an understanding of the complex issues along with practical and efficient business solutions.
Credits
Writer Billy Yost
Editor Brittany Farb Gruber
Design Direction Rebecca Kang
Photographer Peter Garritano
Photo Editor Steven LeFlore