As a young boy, John Poliak often took things apart. He always wanted to see what was inside and to learn how things worked. "It was only later that I got better at putting them back together," Poliak says.
That's an understatement.
Today, as assistant general counsel of commercial at Halliburton, Poliak supports digital businesses, including cloud/SaaS, software licensing, professional services, and technology development agreements with various energy sector customers. With a tenured background in business, engineering, and law, he's passionate about turning technology into business, finding ways to apply advancements to real life problems, and deploying them in a way that benefits both the user and the provider.
"That passion comes from a desire to enable growth, pursue excellence, make an impact, and to improve things," he says. "It's really fun and leverages a diverse set of skills that I have been fortunate to build over my career, while working with some great people and amazing technologies."
Poliak traces those values back to high school chemistry and physics classrooms, where teachers walked him and his classmates through various science experiments. Examining practical examples that revealed how the world worked lit a fire in him.
The experience served as inspiration to pursue a chemical engineering degree in college, where his curiosity was sharpened by opportunities to analyze and solve problems. He also got a chance to participate in a research internship with the Timken Company and engineering co-ops with BP.
After graduating, Poliak became a process engineer at a BP chemical plant in Ohio. There, he went on to help supervise ammonia and urea manufacturing and lead the engineering team. His journey continued when a manager suggested he pursue an MBA to further his growth. He found a business law course to be just as eye opening as the science education he received as a teenager.
"Just as science, physics, and chemistry revealed the workings of the real world around me, the business law course did for corporations and contracts," he reflects.
To supplement his business finance, strategy management, and engineering skills, he obtained a law degree focused on intellectual property. He'd go on to serve as acting commercial counsel supporting a BP Chemicals' spin out including business restructuring, and M&A activities. He also worked at two IP boutique law firms before going in-house with BP's legal department in 2009, where he would go on to support the renewable energy, upstream and downstream businesses as a senior IP counsel.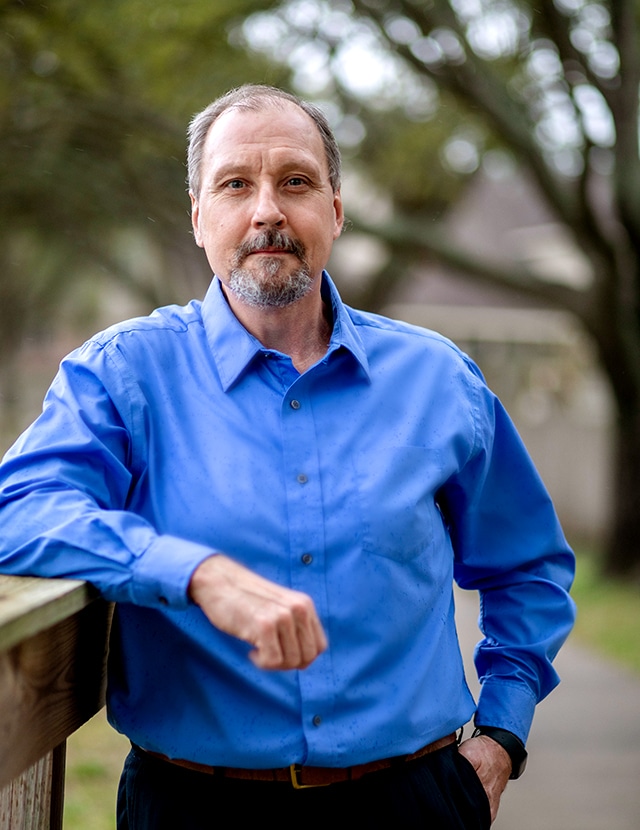 One of the many joys he derived from his work involved interviewing inventors. He always asked: 'what do you think is interesting about your technology?' "You could see the spark in their eyes," Poliak remembers. "It was especially fun to see how these patent assets were then used in their business to add value."
These experiences make Poliak the perfect fit for his role at Halliburton, where he leans on his sharp business acumen and legal knowledge to help the company reach its goals. At the leading oilfield services company that touts a strong commitment to IP, his main client is the Landmark Solutions business, which has over 1,500 employees and is used by most exploration and production companies around the world. A large part of his work involves supporting evolving business models amid a tremendous growth in the cloud applications and customers over the past five years.
The AGC embraces the challenge of solving problems related to contract terms, which requires a balancing act between the needs of Halliburton as a supplier and their customers. He approaches situations with the same investigative and probing mindset he used during his time as an engineer. Having been in his customer's shoes in previous roles, he knows how to find resolutions that help them thrive.
"I've been on the client side and on the lawyer side, so it allows me to have a better understanding of the needs they have, as well allowing me to frame up the issues in a way that they can understand the potential risks and impacts," Poliak says. "My experience helps me quickly develop a rapport with my clients, because I understand the kinds of issues they're dealing with."
When he isn't serving as a trusted advisor to Halliburton, he focuses on helping young attorneys get where they want to be in their careers. He credits much of his success to mentors he's had along the way and wants to pay it forward to members of his legal team.
He advises his younger colleagues and those considering law school to speak with as many lawyers as possible, especially those working in the areas where they want to ultimately practice in.
"Ask if you can buy them coffee and have them tell you about their career," Poliak says. "People like to talk about themselves. Also, seek out some people that went to law school and don't practice law. There are many of them."
He also emphasizes the value of practical experience such as internships and jobs.
"Most companies do not recruit law school graduates for their in-house law departments," Poliak says. "They usually expect applicants to have a solid three to seven years of relevant experience at a law firm. Get that experience and keep building those networks along the way."
---
"Polsinelli's partnership with Halliburton is credited in part to John Poliak and his innovative and distinguished legal career. We are pleased to recognize John, our friend and colleague, for his outstanding accomplishments."
—Matt Todd, Shareholder