Henry "Hank" Turner took several calculated risks while finding his true legal calling.
Upon graduating from the University of Michigan Law School, the attorney spent five years at Jones Day in Cleveland, before moving to Chicago to spend ten years at Valorem Law Group, a litigation boutique. By transitioning to a smaller firm, Turner was able to connect more deeply with his business and in-house clients to understand their business goals and risk tolerance, and do so earlier in his career, compared to the typical practice at an Am Law 100 firm. This approach would ultimately prepare him for his current role as vice president and chief counsel of litigation at food and beverage giant Conagra Brands.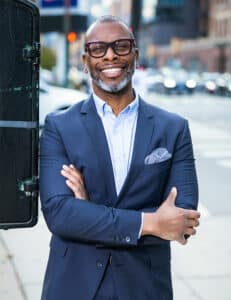 In his role, Turner and his team spend a lot of time trying to get ahead of potential issues, instead of only dealing with pending litigation. "I am working with different business functions to guide the best resolutions for the company as a whole, so I need to understand their personal motivations, business pressures, and true objectives," he says.
Clarity of approach is key to Turner's empathetic style of management. The VP guides others to employ a similar strategy. When working with outside counsel, he encourages his team to come from a place of empathy and understanding. He acknowledges that there are hard days and difficult truths to relay, but instructs his colleagues to take others' pressures and motivations into account as they formulate their strategy.
Turner adds that he wants every person to feel comfortable speaking their mind. "I should have a team full of people who are smarter than I am about what they're doing, and I do," he says. "I respect them. I consider them experts. I may help shape their strategy, but I want them to feel complete ownership over what they're doing." He acknowledges that this leads to passionate work from his team and utilizes all their creativity.
Another way he extends empathy is through the promotion of a creative work environment stemming from the impact of the COVID-19 pandemic, which Turner says educated employers about the viability of remote options. As a result, he is a supporter of providing flexibility in the workplace, adding that greater options have helped foster a more inclusive work environment.
This approach also proved important during times of social unrest following the 2020 murder of George Floyd by a Minneapolis police officer. "The goal was to stay on task while also giving space to process the larger social context," he reflects. "To create an environment where people could say, 'I need a little space, I will get my work done but let's not be blind to the fact that there were and are some tough things happening in the world.'"
In fact, taking a step back is something that Turner suggests that his colleagues do on a daily basis. It is something that he has gotten better at in his own life, as well. Now, Turner has a regular rhythm of biking to and from work each day; this is his time to detach. He says the city streets of Chicago create an artificial constraint to take his focus off of work.
Turner is also open about addressing his mental health. He encourages his colleagues to do whatever it takes to maintain a healthy state of mind and to not beat themselves up about seeking that help. He coaches himself to be realistic about what can wait. "If responding to an email cuts into dedicated detachment or family time, and it will have the same outcome if dealt with tomorrow, deal with it tomorrow," he says. It is a daily struggle and even sometimes it takes Turner saying out loud to himself, "You don't need to solve this right now. Take a break. It will be okay."
Along with advising young lawyers to set boundaries, Turner emphasizes the importance of taking calculated risks and being intentional to maximize learning from each professional experience. The attorney also advises that titles do not always mean everything. In fact, sometimes a lateral move leads to a broader skill set. "Think internally instead of trying to keep up with the Joneses," Turner says.
Unfortunately, Turner laments, not everyone will achieve a highly paid job, which is required to pay back debt from law school. "It worries me that there are talented people who want to be lawyers who just can't see the path because of the high barrier of entry," he says. "We as a profession, with law schools taking the lead, need to think hard about alternative and more cost-effective models to prepare people to be lawyers."
---
Intentional DEI
At Conagra Brands, Hank Turner broaches solutions to promote diversity, equity, and inclusion (DEI). As the extended leadership team for the Conagra Black Employee Resources Group (CBERG), the attorney supports a pipeline model effort. "It's about making sure people get in the door, that they have a good experience, and that they have the right skills and mentorship to advance," he explains.
Recruitment, advocacy, and development are the core pillars of Conagra's enterprise-wide DEI efforts, and the foundation of CBERG's activities. Turner's role includes guiding participants to the group and educating them about what resources are available to reduce friction points for their development.
"DEI needs to be elevated in the legal profession and should be just as important as financial goals," he says. "Any company still asking, 'Why is this important?' is behind the times."