Considering all stakeholders is a critical virtue of successful in-house practice. But when it comes to Rebecca Hussey's purview, the challenge seems exponentially more difficult.
Hussey, associate general counsel of government relations at Crown Castle, supports an incredible ecosystem of shared communications infrastructure throughout the US, including over 40,000 cell towers, 115,000 small cells on air or under contract, and 85,000 miles of fiber.
Those towers and small cells act as hubs for voice and data signals for wireless carriers, internet service providers, broadcast companies, cable, utilities, public safety organizations, and more. Each one can accommodate numerous customers with varied interests from across those different industries.
"This job is unique because our company has a number of different business lines under our shared communications infrastructure platform," Hussey explains. "As in any business, there are occasionally competing interests at stake. My role provides opportunities to help those interests coalesce and to advocate for policies that positively impact our business as a whole and bring more connectivity to communities across the country. The work is often difficult, and the expectations I have for myself are ambitious. But I am consistently energized by taking on new challenges."
In her role, the AGC and her team work in concert with government affairs, public affairs, and public policy professionals to support deployment of the company's shared communications infrastructure. Hussey's team serves as subject-matter experts in Crown Castle's advocacy at the Federal Communications Commission and state public utility commissions. They also support the company's legislative efforts to secure the ability to timely, economically, and predictably deploy communications infrastructure.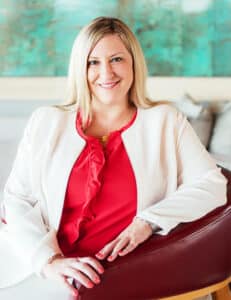 "We look to create partnerships with stakeholders, including municipalities, utilities, communities, and beyond," Hussey says with a smile. "We take a great deal of pride in our ability to find common ground and create beneficial solutions for all stakeholders as we connect communities."
The AGC has negotiated her position with just as much efficacy. Hussey served as counsel for Lightower Fiber Networks, a company acquired by Crown Castle in 2017. Her continued success on both sides of an acquisition speaks to her own leadership and mastery of her role. But you'll never get that story from her.
"In terms of leadership, I really view myself as a pacesetter" she says. "I'm not sure if I set out with that intention, but I've had so many great mentors that were pacesetters that I found myself always wanting to keep up. They've motivated me to continually evolve professionally and personally, so that I'm ready to take on any challenge."
Hussey continue, "My clients also rely on me to stay in lockstep with their efforts to meet deliverables, so that if hurdles arise, we're able to timely scale them together. At some point along the line, I suppose I started setting the pace for my own team. My expectations of them are high, but they keep up—and, in many cases, they outpace me, which is what every good leader hopes for."
Hussey's connection to Crown Castle's core values, the "B3s"—be real, be accountable, and be an owner—means that they consistently are at play in how she approaches matters and interacts with others. "I strive day in and day out to promote accountability and good company stewardship and learn from failures and successes alike. But the value that comes most naturally for me is being real. Hopefully my clients and colleagues find my approach refreshing," she says. "If you can't have a frank conversation with an attorney, who can you have one with?"
The AGC's approach and trajectory are worth noting. Out of law school, she landed a clerkship with the Honorable Matthew W. McFarland, formerly of Ohio's Fourth District Court of Appeals, now Judge for the US District Court for the Southern District of Ohio. She would go on to roles with the Ohio Attorney General's Office, as well as the Public Utilities Commission of Ohio, where she acted as an attorney examiner and administrative law judge. Hussey went into private practice for five years before going in-house in 2015.
There seems to be something special about Hussey's team. At a recent outing with team members, clients, and colleagues leading up to an industry conference, a third party asked how the colleagues knew each other. He mentioned that he thought they were college or childhood friends. "When we told him and his partner that we worked together, his partner asked if she could come with work us, because we seemed to be having so much fun," she remembers. "We're extremely fortunate that we enjoy each other's company, whether we're taking on work-related issues or a relishing a day away."
Hussey says she approaches Crown Castle's outside counsel relationships in much the same way as her in-house relationships. The AGC says she views outside counsel as an extension of her team, emphasizing that each stakeholder has a very meaningful role to play in the company's efforts.
"Our outside counsel enrich so much of our work with their significant experience," she explains. As experts in our fields of interest who also understand our business model, they often anticipate our concerns and sensitivities and work hand in hand with us to position us for success."
What continues to motivate her? As always, it's the challenge.
"I love being able to take on new challenges and drive results for my clients, my company, and our customers," she says. "Serving as a valued business partner is critically important to me. And whether the issues I'm approaching are small or big, I try and take something positive away from the experience."