Growing up as the youngest of six first-generation Americans in Central New York, Carleen Griffith describes her family as a village.
"Being the youngest, I grew up having to navigate different personalities," Griffith remembers. "But my siblings and I were all able to bond and build friendships. It taught me to appreciate people's differences and take folks as they are."
When she enrolled in the University of Maryland, Griffith felt confident that her major would be communications. However, through different internships, she started to develop a curiosity in law. "You'd have a project, give it to the decision maker, and then they'd send it to legal. Then, when it came back, it'd either have a few tweaks or be completely revamped," she says. "I was twenty-something years old, and legal was this other part of the company I always heard about, but had no idea what went into it.'
So, after completing her communications degree, Griffith had two choices: she could continue communications and go to graduate school or figure out what legal was all about. "That was my pivot—curiosity," she says. "I took about a two-year break before going to law school, got some jobs at a couple of firms in the DC area, and studied for my LSAT. I got a fee waiver to apply to Washington University in St. Louis, and I got accepted along with a great scholarship offer."
However, that also meant she'd be moving her life to the Midwest, a place she'd never been, far away from her family village. But, in time, Griffith found mentors among her female professors and classmates that helped her through her classes and guided her in navigating her profession after law school.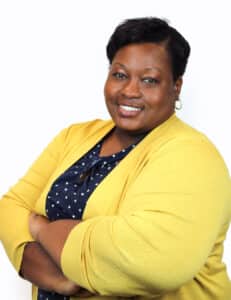 "I think mentorship comes in many forms, and when you can get it, it's an amazing thing," she says. "At the time, I hadn't known about imposter syndrome. Having a group of people to talk through that with, from all different walks of life, made me realize almost everybody has those moments."
Through an internship in law school, Griffith got experience in marketing and advertising. By exploring different areas—from marketing agency agreements to drafting and reviewing scripts to litigation—she developed an appreciation for marketing, but she was still curious.
"You would send an email, give your advice, and then it'd go into the ether," she reflects. "Sometimes the advice is difficult. You wonder: What are they telling the clients? What's happening on the other side? The only way you can learn that is by going in-house."
Eventually, Griffith got to do so in a tech company in Northern Virginia. There, she saw the other side—and liked it. Being a part of the process, working with the business teams, understanding their goal, and going beyond just explaining the law to execute a strategy were all things she enjoyed. But there were still things that she missed. That's what brought her to Restaurant Brands International (RBI).
As senior counsel of marketing and trademarks, the attorney handles all communication and marketing legal reviews for the company's four brands. Supporting them from the development stage to seeing their product in a television commercial, she has faced many challenges. "It's an absolute rollercoaster," she admits. "Laws can change, new laws can get implemented, perceptions can change, supply chains can become stressed—but it's all problem-solving."
Building the necessary legal work around these ideas also comes with its unique challenges, which Griffith describes as a balance between getting the essential protections and timing. This proved an important element of her work with Burger King during its recent worldwide rebrand.
"The business brought us in early enough to plan it out and get the right timing," she recalls. "For the entire year before, we were all working on it; coming up with the strategy, making sure we could file things globally, and figuring out the right filing mix. It was a long journey with several people on board." When Griffith is driving down the street and sees the brand's new logo on a billboard, she remembers that journey and feels proud of the team.
Today, the senior counsel prioritizes being a mentor for the junior lawyers on her team or in the business. "I've had that benefit in my career; people have taken that chance on me. So, if I can be that person for others, I will," she says. But she also believes that mentorship should start much earlier. For this reason, Carleen also finds it important to spend time working with the youth in her community.
As her advice to others, Griffith encourages young people to be curious. "You don't know what you don't know, so ask questions. There are so many people willing to answer," she says.