Automobile manufacturers face an onslaught of lawsuits in an increasingly litigious society: plaintiffs bring cases involving alleged defects, deceptive marketing, false advertising, and product liability. Many lawsuits are brought by opportunistic lawyers dreaming of headline-grabbing settlements and multimillion-dollar verdicts. There are sharks in the water, and most busy in-house lawyers have little choice but to feed them and pay the costs to settle claims before they go to trial. Tom Vanderford has a different strategy: he jumps in the water and fights back.
Vanderford, associate general counsel and executive director of litigation, joined Hyundai thirty years ago, when the fledgling South Korean multinational sold just a few models in the United States. In 1986, when Hyundai entered the market, it sold one model—the Hyundai Excel, starting at $4,995. Although the company set a record for first-year sales (168,882 cars), it slashed costs to stay competitive. In doing so, the company sacrificed quality, and the brand's reputation suffered.
While Vanderford was a junior attorney at Hyundai, the company's veteran lawyers mentored him. Right away, Vanderford noticed something different: "These attorneys had been around, and they didn't like what they were seeing in the auto industry," he explains. "They were ready to take a stand."
Most automakers accept high-volume litigation as the cost of doing business. Adversaries file suits, the company hires defense counsel, all parties pay their experts, long discovery periods drag on for years, the matter gets close to trial, and everyone settles on the courthouse steps. The plaintiffs make money, the outside firms make money, and the experts make money. The auto company gets stuck with a huge bill.
Vanderford's mentors at Hyundai trained him to take a different approach. Instead of settling every case, they started sorting each case by merit. "We evaluate cases quickly and settle the ones that we should, but we're not going to engage in this ridiculous process where everyone is just getting paid to drag everything out," he says. "That means we have to try a lot of cases. In order for this strategy to work, you have to be willing to try tough cases in difficult jurisdictions. We might lose a few trials, but we're going to win most of them."
When cases are legitimate or pose serious risk, Vanderford and his team offer reasonable settlements. But when claims are baseless and outlandish or when the settlement demand is unreasonable, Hyundai's legal team tries the case. Vanderford spent most of the 1990s trying cases all over the country, winning defense verdicts in difficult jurisdictions like the Bronx, the Mississippi Delta, downtown Miami, and south Texas. That era earned Hyundai its reputation— attorneys who wouldn't hesitate to bring a case against another manufacturer now think twice before filing suit against Hyundai.
This is how Vanderford has operated over his three decades with Hyundai. As a result, he and his team have saved the company incalculable amounts of time and money. Today, Hyundai's hands-on legal department has perfected the method. Vanderford and his colleagues are deeply involved in each case. They choose the experts and jury consultants, coordinate their own research, and arrange mock trials before trying any significant case.  In addition, they handle all settlement negotiations and settlements in-house.
In March 2021, Vanderford and his colleagues convinced the Mississippi Supreme Court to overturn a $10.5 million dollar verdict dating back to a defect case filed in 1997. Originally, Vanderford attempted to settle the case. When the plaintiffs refused, he took it to trial in the early 2000s. A jury awarded $4.5 million to the plaintiffs, but Hyundai won the right to a second trial after citing problems with disclosure of an expert's testimony. The second trial resulted in a $10.5 million plaintiff's verdict in 2014. Vanderford and his team appealed again after discovering the plaintiffs had hired a "consultant" to influence jurors. Seven years later, the Mississippi Supreme Court sided with Hyundai and called for a third trial in the wrongful death suit.
The case, which Vanderford has been fighting for twenty-five years, is now pending in Clarksdale, Mississippi, which he calls "one of the toughest jurisdictions for corporate defendants in the country." Vanderford is working to level the playing field and address plaintiff-biased judges, anticorporate bias, and juries that tend toward runaway verdicts. He is actively involved in the US Chamber of Commerce's National Chamber Litigation Center and is on the board of directors for the Product Liability Advisory Council and the American Tort Reform Association.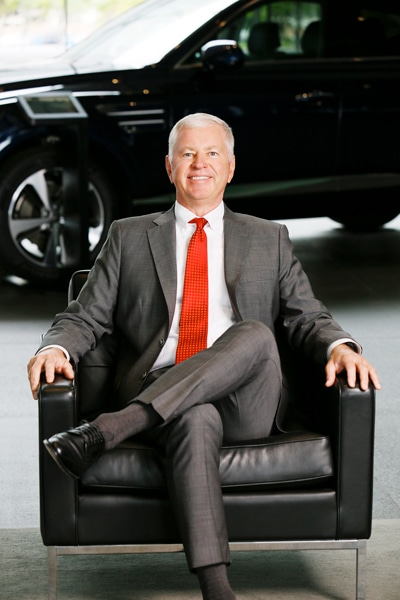 Another recent win for Hyundai involved a man who claimed his rented Hyundai Accent broke down and left him stranded in the desert, allegedly leading to several health issues. After a "reasonable settlement offer" was rebuffed, Hyundai successfully obtained a defense verdict, in one of California's first courtroom trials since the COVID-19 shutdown, by demonstrating that the vehicle was properly maintained and without defects. The plaintiff was seeking $15.4 million in damages.
Vanderford has not just shaped the company's litigation strategy. Since early cost-cutting measures originally tarnished its reputation in the US market, Hyundai has reinvested in safety and quality, which Vanderford has played a significant role in shaping. He has traveled to South Korea more than 100 times to meet with R&D teams and safety engineers and to share information on safety issues, government regulations, and other related matters. In 2021, Hyundai Motor Group had more Insurance Institute for Highway Safety awards than any of its competitors.
Vanderford's colleagues outside Hyundai have taken note of his dedication. "What I find impressive about Tom is not only his conviction in defending Hyundai from frivolous lawsuits and standing up for what is right, but his passion for mentoring younger professionals," says Gary Wolensky, shareholder at the firm Buchalter. "It is an absolute pleasure to work with a real professional and be his outside counsel."
Vanderford is eager to pass along the successful litigation strategies he learned from his mentors, which has resulted in a passion for mentoring the next generation of attorneys—and he's had plenty of opportunity to do just that within his immediate family. He and his wife Madelene—whom he first met when they sat next to each other on the first day of law school—have three sons, all of whom are attorneys in southern California.
As Vanderford's sons progress in their careers, he looks forward to continuing to share the skills and expertise he's developed over the last thirty years. He is doing all he can to mentor Hyundai's younger attorneys, particularly during the pandemic. "I'm concerned about people working remotely at the very start of a legal career," he says. "You learn so much more from being physically present in a courtroom or in an office, where you can ask questions and build rapport over lunch. In-person trial experience is invaluable."
***
Expertise Spotlight
Consisting of more than twenty highly experienced trial lawyers, class action specialists, and regulatory attorneys, Buchalter's products liability practice group is trial tested and versatile.
Our attorneys have handled numerous internal investigations and recalls involving all types of consumer products and the Consumer Product Safety Commission. We have represented companies in false advertising claims in front of various bodies, including the Federal Trade Commission. In California, our attorneys handle Proposition 65 cases on a regular basis as well as Environmental Protection Agency issues. In the sporting and fitness as well as the amusement park industries our attorneys are very active in helping to write American Society for Testing and Materials standards. In the pharmaceutical and medical device areas our attorneys are also active in handling recall issues.
The firm's products liability practice group has a national reputation for trying catastrophic cases, defending class actions, and working with regulatory agencies. Our services are tailored to each client's unique industry, business, and culture. Our clients range from small companies to Fortune 50 companies, which underscores the value companies place on the expertise of the attorneys in the products liability practice group.
***
Prichard Young LLP:
"It has been a true pleasure to work with Tom Vanderford for more than twenty-five years. His insight is spot-on. As a former trial lawyer, he completely understands the unpredictable nature of litigation and is not afraid to try a case. As good a lawyer as he is, he is an even better person."
–David M. Prichard, Partner
***
Lightfoot, Franklin & White LLC:
"I've worked with Tom for more than thirty years. He's as good as it gets. His judgment, attention to detail, and fearlessness are second to none. He has taken more serious cases into difficult venues than any corporate counsel around, and his record is spectacular."
–Harlan Prater, Partner
***
Nutter:
"Tom Vanderford brings outstanding judgment, tremendous experience defending automotive product liability litigation, and strategic leadership when handling complex and high stakes litigation. Nutter is proud to be a trusted member of Hyundai's legal team."
–Nelson G. Apjohn, Partner