Lisa Davis George has a distinct memory of a moment during her senior year of high school when a group of boys was making comments about how girls were only suited to be secretaries. George, who grew up in the Deep South, was no stranger to conservative attitudes about women's roles in the workplace—and while the comments were nothing new, they still stung.
"I knew then that I wanted a serious career and felt very determined to prove them wrong," she says. "I think that has carried over in terms of being determined to succeed in a profession that does not necessarily make it easy for women to do so."
George's determination has carried her through to a successful in-house career, first as executive counsel at GE Capital Corporation and currently as director and senior counsel at Discover Financial Services, where she covers key antitrust matters, financial services, and other consumer-related litigation. It's a role that requires her to look at the big picture, seek out opportunities for early warning, and ensure that risk mitigation strategies align with Discover's brand while serving as a collaborative business partner.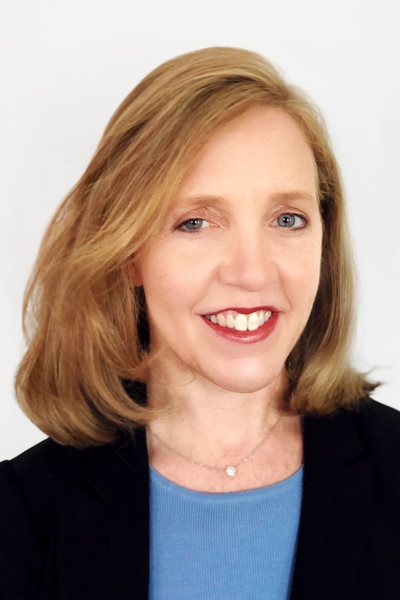 But George's work encompasses much more than her day-to-day role. She's committed to making the legal industry a better place for others, and the collaborative and team-oriented environment at Discover gives her the perfect opportunity to put this passion into action. "I feel like the work that I do on the diversity, equity, and inclusion front is valued as highly as my legal work at Discover, because these are principles that are among Discover's core values," she says.
While George notes that there is incredible potential for a rewarding career in the legal industry, she is troubled by the challenges she sees for many attorneys. "When you look at the legal profession, you see that it can be a very unhappy one," she explains. "I think this can be attributed to a system that's broken in a number of ways." She cites the legal industry's highly competitive, client service–focused business model, historic failure to support diversity and inclusion, focus on billable hours versus team and client contributions, and credit and compensation structures as factors that all contribute to this problem. "When I look at these issues, I want to think about how I, as a corporate client, can help be a part of the solution versus part of the problem," she says.
George has fully committed herself to being part of the solution and participates in a number of mentoring groups and initiatives supporting diversity and inclusion. She assists with the law department's commitment to achieving Mansfield compliance, leads the Associate Mentoring Program for Law, which supports the advancement and retention of diverse talent in outside law firms, and serves on the Talent & Development Committee for Discover's Professional Women Impacting Results (PWIR), which supports women professionals at Discover.
George is committed to empowering young attorneys to reach their full potential by providing opportunities to build experience and relationships as well as receive development feedback on the client side.
When George first began her career, she was mentored by a law firm partner who took the development of junior attorneys seriously. "I was given significant responsibility early on with his support, and I think future opportunities came my way as a result of that early mentorship and skill building," she recalls. She now takes every opportunity to be a mentor herself and meaningfully connect with attorneys working on her matters.
 "The law department's associate mentoring program supports diversity and inclusion beyond metrics and scorecards, which really don't put a face to numbers."
"The law department's associate mentoring program supports diversity and inclusion beyond metrics and scorecards, which really don't put a face to numbers," she explains. "On the client side, we want to use our ability to open the door wide to diverse talent in partnership with our outside law firms; those firms can help associates be prepared to meet the opportunity presented. Part of the basis for the program is that we want to help teach mentees what a client truly values, because their value to a client increases their value to their law firm. In return, we deepen our bench of outside legal talent, derive the benefit of diverse perspectives, and have engaged and dedicated teams built around inclusiveness."
George emphasizes to junior attorneys the importance of relationships and stresses how these connections need to be a two-way street. She advises those she mentors to look beyond the immediate potential business opportunity and think about two things when trying to cultivate meaningful, long-term client relationships: what they can learn and what they themselves can give.
Another thing George emphasizes to those she mentors is the importance of finding a work/life balance. In an industry that often leaves little room for other priorities, George knows the pressure of trying to commit to both career and family. "I think in the struggle for juggling work and family, women in particular feel like they need to look and be perfect on all fronts," she says. "But I think we do a disservice to the women coming behind us by pretending like it was easy, because it's not. However, just because something is hard does not mean it is not worth doing."
***
Burr & Forman LLP:
"Lisa is smart, responsive, and a true pleasure to worth with as a client.  The Associate Mentoring Program she helped spearhead at Discover has provided our diverse associates with critical advice to further their careers."
–David Elliott, Partner
***
Holland & Knight:
"Lisa George is a delight to work with. She takes an innovative and strategic approach to litigating cases and has been dedicated to jump-starting and developing the associate mentor program."
–Abraham Colman, Partner