When Savalle Sims was young, her mother had a nickname for her: Perry Mason.
It wasn't just because Sims loved watching the classic TV series and the iconic courtroom litigator embodied by Raymond Burr. It was also, she says with a laugh, because, as a kid, "I did like to argue."
Law was initially not on her radar. Sims grew up wanting to be a physician. "But I came to the realization that I didn't think that I had the math and science skills necessary to make it over the finish line," she says. "I decided the law was an area I could help people and problem-solve and make some measure of a difference." She made the decision in her junior year at Syracuse University and attended Notre Dame Law School.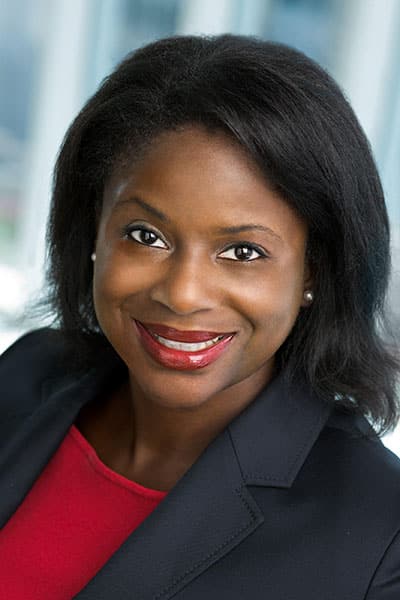 As general counsel for Discovery, Sims makes a major impact, leading the entertainment giant's global legal teams and helping the company navigate its most ambitious initiative—the January 2021 launch of the discovery+ streaming service. Discovery, the most-watched group of pay-TV networks in 2021's second quarter, carries the leading channels in nonfiction television, including Animal Planet, the Food Network, HGTV, Investigation Discovery, the Oprah Winfrey Network (OWN), TLC, the Travel Channel, and others.
Her role, Sims says, is leading her team in global support of Discovery, which includes privacy and data protection, contractual arrangements, and the commercial arrangements forged with various third parties to support discovery+'s launch.
Sims feels right at home at Discovery. "I've loved television all my life," she says. "I have eclectic viewing habits. I watched a lot of Fred Astaire and Elizabeth Taylor movies, and in the '80s, I watched the nighttime soaps like Dallas, Dynasty and Falcon Crest. I was a big fan of Columbo, Charlie's Angels and the original Wonder Woman series with Lynda Carter, along with the Bionic Woman."
What those series have in common are empowered women, and Sims relishes guiding her team to keep Discovery at the forefront of streaming. "There will continue to be new entrants and additional competition in the streaming marketplace," she says. "There is a lot of great content out there. Discovery will continue to serve consumers and meet them where they are, anywhere and anytime they want to view our content."
"It's a privilege to work with Savalle and her outstanding team at Discovery," says Arent Fox Chair Anthony V. Lupo. "She is a top legal talent and fantastic leader with an incredible business acumen. Savalle is one of the reasons why Discovery will remain the global leader in real-life entertainment."
Sims was born in Washington, DC, in 1970 and grew up primarily in the Maryland area before her parents moved to Illinois, where she lived in the Chicago suburb of Northbrook.
Making a difference was a core value instilled in her by her parents, both South Carolina natives. Her father was active in the civil rights movement in the 1960s and took part in lunch counter demonstrations. Her mother's parents were also involved in the struggle.
With palpable pride, Sims mentions the March 2021 installation of a historic marker and stone monument commemorating a 1961 protest in which two hundred demonstrators gathered at the South Carolina State House in Columbia to protest segregation. Her father's is one of the names carved in that monument, she says.
Continuing her family's tradition of dedication to making a difference, Sims serves on the board of New York Lawyers Alliance, a nonprofit organization that provides legal services to communities in need. Another priority outside work is her family; she and her husband have been married for twenty-seven years and have three children.
Sims came to Discovery in 2011 after a decade-long stint at Arent Fox in Washington, DC, where she was a partner in the commercial litigation department. Discovery was, and remains, one of the law firm's clients.
"I learned they were looking for a lawyer to head up global litigation and intellectual property," Sims says. "It didn't occur to me to pursue a career in-house. As I was a commercial litigator, I was concerned I wouldn't be able to actively engage in the law in the same way I did in private practice. I was also worried that, as a partner, I wouldn't have the same autonomy or responsibility.
"Meeting with [Chief Development, Distribution, and Legal Officer] Bruce Campbell allayed all those concerns. I knew it would be a good fit. The company's values, bringing inspiration through entertainment, certainly aligned with my own personal ethos," she continues. "It's been far more rewarding than I ever expected. It's challenged me in different ways, and I've enjoyed the experience immensely."
Sims leads a team of 140 people who are spread across twenty offices worldwide, with the largest concentrations in New York, Poland, and the United Kingdom. She calls them "talented, hardworking, and scrappy."
As a team leader, Sims describes her leadership style as "collaborative and decisive." She takes to heart advice from her father, who told her that she needed only three things in life to be successful: you have to show up, be on time, and come prepared.
Prior to the pandemic, Sims was "a big fan" of traveling to interact with her colleagues. "Having that kind of connectivity," she says, "you learn more organically about issues and how our team can contribute. In-person interaction builds relationships."
Team meetings continued during the pandemic, she says, but she does miss the face-to-face interactions. "I leaned on that goodwill and relationships (we had developed) to get through COVID," she says. "Many of my team members were in tough situations in lockdown for extended periods of times, but they delivered great legal service for the company."