Yeve Chitiga approaches her role as in-house counsel with an unceasing desire to learn, understand, and empathize. It's a trait that's at the core of who she is, spawning from her upbringing in Zimbabwe, an auditing career in UK and US, and her transition to a legal career in the US.
"When you're a new person in a different place or a different country, you're always trying to learn and understand ways of doing things there," explains Chitiga, who left her home country at sixteen. "That was true in the UK, in the US, and even when I go and visit my family in Zimbabwe as a diasporan. As a leader, I try to employ that same hunger to learn and that same level of empathy to my internal business clients to understand their perspective and their priorities."
That innate hunger partially explains why she came to Brex, a fintech company that provides business charge cards. She had been in legal private practice for a near decade when she heard about the company's origin story and how its twenty-six and twenty-seven-year-old founders came to the US from Brazil to start the company. Even though she hadn't been a tech attorney, the company's history and its mission resonated. An opportunity to work at Brex felt like a new world she could explore.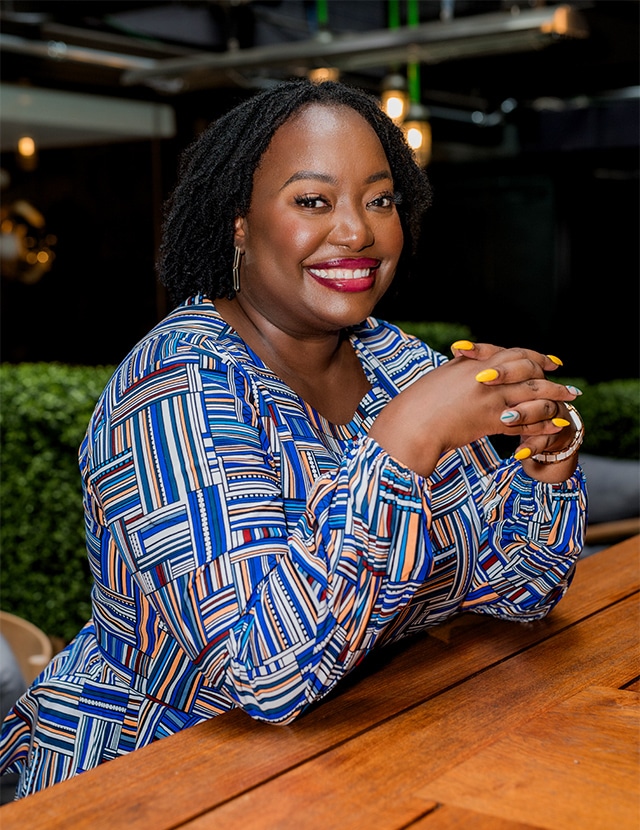 "I had no idea that Brex existed," the director and assistant general counsel says. "But the founders' story of building something from nothing was extremely inspiring. Also, the ability to work with extremely smart people drew me in since I didn't know anything about tech. I knew that I would absorb and learn so much."
Today, she supports the company's banking initiatives by providing advice during the entire product development cycle, business operations, and special projects. There's no shortage of proud moments from her two and a half years at the company so far, and one of them include cofounding and coleading the Black employee resource group.
"It's been amazing to see the community come to life and know there's a dedicated space for Black employees," she says. "We've used the space to connect, share advice, and support each other in work and life."
Chitiga's life experiences have shaped her outlook and her unique career journey has afforded her invaluable insight. When she came to the US to attend Claflin University, South Carolina's oldest historically Black college and university, she kept her childhood dream of being a lawyer in mind. Despite excelling as a student and campus leader, by the time she graduated with a degree in business administration, she was too burnt out to pursue law school immediately.
She went on to serve as an internal auditor at Wachovia Corporation (now Wells Fargo) in North Carolina and then relocated to the bank's London office. While it wasn't Chitiga's initial plan to work before law school, those experiences taught her what it meant to be a trusted advisor to senior executives. After working during the financial crisis, she decided to pursue her law degree from American University. Upon graduation, she worked for two large international law firms.
Reflecting on her professional journey, Chitiga admits that, like many attorneys in big law, she often threw herself at her work to the detriment of her health—a tendency she warns her peers about today. "You can't pour from an empty cup," she says. "You have to seek help, community, and talk with people about what you're going through. It's about understanding that you must be whole and in a good place to be of service to others."
Chitiga also offers advice for being a working mother, which she says is one of her "superpowers." "As women, we're often expected to work as if we don't have children and expected to parent as if we don't work," she says, referencing award-winning journalist Amy Westerfelt and her book Forget "Having It All." "We can approach it not with work/life balance but with work/life harmony because balance doesn't truly exist."
---