Julia Ulrich remembers when everything changed. In the fall of 2017, she was well into a promising career at AIG. After leaving private practice at an international law firm, she began at AIG as in-house bad faith counsel, was promoted to assistant vice president in the coverage unit of the claims department, then again to a vice president role. Things were looking good. But Ulrich had been concealing a secret—she was pregnant and afraid of how the news might alter her trajectory. In October, Ulrich's son entered the world just as the #MeToo movement caught on.
Suddenly, Ulrich was balancing the needs of a small baby with the challenges of a demanding job. As she tried to make her colleagues forget she was a new mother, she simultaneously watched as brave women on the news and social media confronted injustices.
In the fall of 2018, just before her son turned one, something inside her shifted. The once reserved professional had an epiphany: "I realized I had been sitting silently on the sidelines for far too long," even though she had experienced and observed injustices aimed at women in the workplace prior to joining AIG. That's when Ulrich felt empowered—and obligated—to start using her voice to "be the change," regardless of how big or small that change might be.
Although her experience at AIG had always been extremely positive, it was ingrained in Ulrich to fear the stigma associated with being a working mother. "Women often get written off the moment they become pregnant, especially in the legal profession," she says. "It's an open secret what it might do to our careers." In fact, a close friend of Ulrich's in the industry had her big cases reassigned the very day she announced her pregnancy.
It was for this reason that Ulrich chose to delay starting a family with her husband, also an attorney, until her career was firmly established. By the end of her first year as a parent, however, she made it her personal mission to smash the stereotype of the checked-out working mom. "I have the same career ambition I've always had," Ulrich says, but notes that working mothers often have to work extra hard to prove that.
Parenting is its own full-time job, and Ulrich says that while it's absolutely possible to do both jobs well, it's inevitable that one will affect the other. The key, she's found, lies in setting boundaries that create the time and space to be present in both worlds. She's no longer afraid to tell people that a proposed meeting time falls outside her childcare hours, or that a potential mediation date conflicts with the first days of school. That said, when she needs to rejigger her personal schedule for work, she does so without hesitation.
Notwithstanding, for Ulrich, doing both jobs well brings a few harsh realities. The pieces of herself that are neither lawyer nor mother often get put on a shelf. She's probably not going to train for a half marathon any time soon like she used to, and she's almost always going to be at least a little sleep deprived. And beyond the complicated logistics, she's had to learn to accept that she might not feel like a great mother every day, and she might not feel like a great lawyer every day. "You just have to make peace with that and keep moving forward," she says. "Tomorrow will bring another chance to be great."
Notes to My Younger Self
Julia Ulrich graduated from the University of Connecticut School of Law, where she was an executive board member of the Connecticut Moot Court Board and an associate editor of the Connecticut Insurance Law Journal. While she's spent the last several years strengthening her position in the workplace, there are a few bits of wisdom she wishes she'd known as a first-year law student. If she could go back in time to talk to her younger self or if she had a fast track into the mind of today's young female students, she would share the following pieces of advice:
Your voice matters, your ideas matter, your opinions matter. Be willing to raise your hand and speak up in class and in meetings. Be confident in your contributions to the conversation.
Your questions aren't stupid. Everyone needs to learn, and asking questions is part of the process.
It's OK to love being a lawyer and a mother. And it's acceptable to request the space you need, both at work and at home, to excel at both.
Advocate for yourself. Advocate for others.
You belong at the table. And when you get there, pull up a chair for the next person who deserves one.
At AIG, Ulrich manages a team of five assistant general counsel, and together, they oversee a docket of domestic and international insurance coverage litigation filed by and against various AIG member companies. They also give insurance coverage advice to different claim groups within the company, whose fifty thousand employees provide insurance products and related services in more than eighty countries. Ulrich loves the work, which she describes as complex, full of nuance, and always very challenging.
"Julia is tremendous at what she does and works tirelessly to reach the best solution, all while balancing the challenges of motherhood as a working parent," affirms Robert Lewin, partner and cochair of the insurance and reinsurance group Stroock. "She's a deep thinker and is superb at analyzing complex issues and strategies in cases. It's a true privilege to work alongside her and see her excel."
Jim Hallowell, a partner at Gibson, Dunn & Crutcher, also speaks highly of Ulrich. "Collaborating with Julia on significant matters for AIG is a pleasure. She brings out the best in everyone, is always at the top of her game, and never loses sight of the big picture."
And Elizabeth Ahlstrand, an equity partner of Gfeller Laurie, a boutique litigation law firm that serves as outside counsel for AIG throughout the Northeast, says, "What sets Julia apart from other female leaders within the insurance industry is her endless drive to challenge young talent to do and be better and to embrace both career and family with tenacity and humor." A fellow working mom, Ahlstrand has been Ulrich's friend and colleague for nearly twenty years.
In 2018, when Ulrich decided to harness the power of her voice, she started advocating for herself, her team, and women at large. Sometimes she asked for small concessions at home. Other times she advocated up her management chain on behalf of her team, and herself, about job grading and compensation. She started paying close attention to how the law firms they hired treated women and raising those issues internally when making decisions about who should represent the company. A few times, she advocated to add new full-time employees to her team to lighten the load of her existing reports.
When Ulrich dedicated herself to making change, she started to notice something surprising—it was working. In 2018, shortly after her son was born, AIG Deputy General Counsel and Head of Litigation Michael Leahy selected Ulrich to be a key part of a corporate restructuring and moved her and others out of the claims department and into the corporate litigation department. There, she began reporting to Deputy General Counsel for General Insurance Eric Manne while continuing to work closely with her colleagues in the claims organization, utilizing the expertise and relationships she had developed while in that group.
Leahy and Manne invited her to make recommendations as they built out the new department, and were always willing to not only listen, but act. They took Ulrich seriously and gave her a chance to make a business case for each issue she wanted to address. Then they helped champion the causes she raised to get them over the finish line. When their collective lobbying helped secure approval for Ulrich's first new hire, she enthusiastically hired a mother of two, her youngest just five months old.
The COVID-19 pandemic has, however, made the struggles working mothers face even more acute. Like many families, in mid-March 2020, Ulrich, her husband, and their young son started spending all day every day together and have remained together in the same space ever since. It's part daycare, part law office, and part home.
"As we're all working from home, the lines are totally blurred and there's no separation between being a lawyer and being a mom," Ulrich says. "It's an endless loop with no breaks, and it makes the already difficult task of juggling work and family even harder."
How does she do it? Ulrich often works the night shift in addition to the day shift. Although she believes that self-care is an important factor in surviving these challenging times, she was, at first, better at suggesting it to others than implementing the practice herself.
"It's hard to have a big job and a small child. I hope some of the junior women see what I do and gain confidence that they can do it too."
In late 2020, Ulrich and four AIG colleagues gave a presentation to AIG's current Women's Executive Leadership Initiative class, of which Ulrich is a member. They called it Crushed by COVID and the Many Hats We Wear. In the presentation, which was about the disproportionate impact of COVID-19 on working women, they showed troubling new statistics about women leaving the workforce and talked about ways women can care for themselves to minimize burnout.
While trying to inspire others, she wound up inspiring herself. Shortly thereafter, she approached Manne with a list of ideas to help her reduce her "night shifts," like carving out a piece of her job for one of her promising direct reports. Manne not only approved her proposal in full but requested status updates to ensure her plan was working and she was getting more rest. Manne says, "As someone who also takes pride in being both a good parent and good lawyer, I was happy to approve Julia's recommendation, which was designed to help her succeed at both."
Though still a work in progress when it comes to eliminating her own stress, Ulrich tries to reduce stress for her team by showing them compassion and flexibility. Even before the pandemic, when one employee with a young family tried to resign to move out of state, Ulrich and Manne allowed him to work remotely so he could move with his family and stay with AIG. On a smaller scale, for one employee with two small children at home, Ulrich tries not to move meetings at the last minute, ends them on time because she's mindful of the camp pickup schedule, and never calls during the little one's lunch.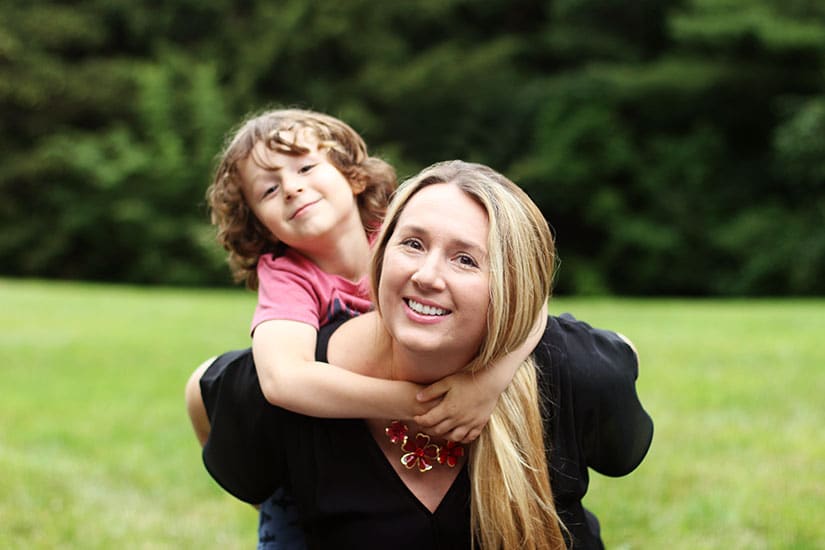 According to Ulrich, this culture of flexibility starts at the top. "The leadership at AIG has been so supportive of their employees during this time," Ulrich says. And with regard to her direct management chain, "they allow me to be a better manager because they give me the support and flexibility to make the right decisions for my team."
Subscribe Now
Receive stories like this one in your inbox every two weeks!
Subscribe to the free Modern Counsel newsletter.
Crushed by COVID was not the first time Ulrich tried to raise awareness about the disproportionate impact of the pandemic on women. In fact, she noticed it right away, and on the last day of March 2020, she published an article reminding women that their husbands' jobs are not more important than theirs.
"We all went home, and it was so apparent, so fast, what was about to happen to women," she says, referring to the fact that many women suddenly found themselves juggling the bulk of home and childcare responsibilities in addition to their day jobs. "We are taught to advocate for ourselves at work. But suddenly, advocating for the future of our careers meant that many women had to advocate for themselves in their own homes." The article served as a rallying cry, urging women to fight their fate by demanding a more equal partnership at home.
At AIG, Ulrich has good role models, and strives to be a good role model herself. Among the many reasons Ulrich is proud to work at AIG is the fact that its legal department has a woman at the top, General Counsel Lucy Fato. Prior to making the jump in-house with several top companies, Fato spent fourteen years at Davis Polk & Wardwell. Fato is known for her focus on corporate ethics and serves on several boards of directors, including those of the Coalition for the Homeless and Advocates for Children of New York.
Ulrich says Fato inspires her. "Representation matters," Ulrich says, describing Fato as the ultimate leader and role model. Ulrich also hopes to serve as a role model herself for younger women at AIG. "It's hard to have a big job and a small child. I hope some of the junior women see what I do and gain confidence that they can do it too." Whether they ultimately choose that life or not, Ulrich hopes she shows them that it's possible to succeed at both.
Women in the organization remember a top-ten list Ulrich presented at a meeting for the Corporate Litigation department's outside counsel in late 2019. She closed the meeting with ten tips for success when working with AIG. After talking about company culture, expectations, and values, she ended with a tip about avoiding last-minute "surprises."
"Win or lose, I try, and that gives me some control over shaping the narrative of my life and career."
After showing her over-booked calendars to demonstrate the hardships these surprises can cause, she explained that those calendars didn't even account for her obligations to the big boss. That's when she put a picture of her two-year-old son on the screen. "That's the big boss," she said. "And when I'm doing our work on his watch, he's not interested in our excuses."
The line got a big laugh, of course, but for Ulrich, there were important messages in the carefully crafted final slide. Ulrich has a reputation for being extremely dedicated to her job. She seized the opportunity to "smash the stigma" and remind the standing-room-only audience that the most dedicated among them do, in fact, include mothers of young children.
She also wanted to gently remind their outside counsel that many AIG lawyers have "jobs" and "bosses" outside the workplace, and a few hours a day for family time should be respected when possible. Finally, she wanted to inspire the women among them not to play by the old rules—the ones that said women weren't supposed to be mothers at work. Not all that long ago, Ulrich had played by those rules, but no more. A woman Ulrich had never met approached her after the meeting, grateful that Ulrich purposefully used her platform to make a difference for all working moms.
Nearly four years after the birth of her son, Ulrich says it feels good to be using her voice at home, in the community, and in her workplace. "I'm speaking without fear," she says. "Win or lose, I try, and that gives me some control over shaping the narrative of my life and career."
But her goals for change extend far beyond herself. Just last month, a junior lawyer at AIG announced she was pregnant. Ulrich emailed her immediately with a message: "We can be outstanding attorneys and outstanding mothers at the same time." That message, it turned out, was just what her colleague needed to hear. Ulrich might never really know the full impact that her words will make, but she hopes they reach women struggling to find their own voice or make it all work, both at AIG and beyond.
***
Expertise Spotlight
At Stroock, we are transforming the way legal services are delivered. In today's competitive marketplace, we recognize the pressures facing our clients and understand success is no longer defined by yesterday's status quo.
That's why our commitment to clients mirrors what they demand of themselves: creativity, awareness of opportunities, determination, efficiency, and flexibility. Our 360-degree partnership with clients means we're in the trenches with you, proactively advancing toward your goals at every turn.
Resting on our legacy of 145 years isn't enough; we're looking to the future. Our forward-focused clientele—an enviable mix of financial institutions, multinational corporations, investment funds, and entrepreneurs that do business in the US and around the world—rely on our full-service counsel to take on tomorrow's opportunities and challenges. Located in New York, Los Angeles, Miami, and Washington, DC, Stroock lawyers are leaders in insurance, litigation, real estate, financial restructuring, private funds and asset management, and corporate matters. We are also well positioned to deliver the full range of legal services that are vital to our clients' upward momentum and growth.