"I had an idea while I was out riding this morning."
That's what Rebecca Lombard says in a lot of meetings at global consumer products leader Kimberly-Clark, the company behind iconic brands such as Huggies, Kleenex, Kotex, and Cottonelle. For the associate general counsel of commercial and IP litigation, triathlon training is more than a hobby; it's a passion. When the lifelong swimmer took up running and cycling, she made a surprising discovery—becoming a triathlete made her a better lawyer, and vice versa.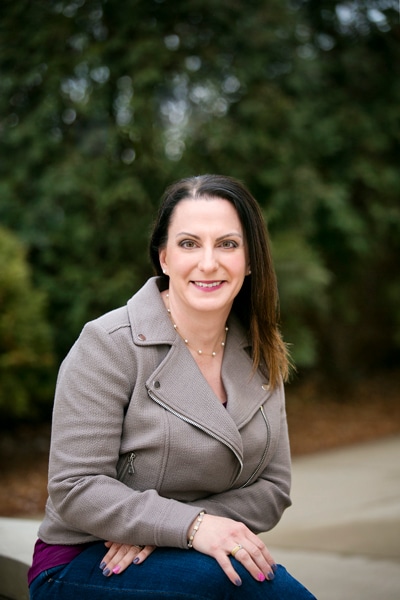 Lombard grew up in New England and graduated cum laude from the American University Washington College of Law, where she edited articles for the Administrative Law Review and served as a judicial extern for a chief administrative law judge at the US Department of Labor. She started her career working on high-stakes litigation in the technology division of Venable's Washington, DC, office. Lombard climbed the ranks from associate to partner to vice chair of Venable's intellectual property (IP) litigation group. In those foundational years, she says she honed the leadership skills she now uses at Kimberly-Clark.
"I had terrific mentors who gave me an opportunity for client interaction early on," she explains. "I had a great model for how strong client partnerships work and the time to deepen those important relationships."
In 2011, after more than a decade of building an IP enforcement function and team at Venable, Lombard dove into managing medical devices litigation and associated IP issues for Kimberly-Clark. That's when a friend and Kimberly-Clark legal colleague introduced her to a local chapter of She Runs This Town/Moms Run This Town, an inclusive women's running club. With the support and encouragement of other working professionals, Lombard took her training to the next level. Soon, she was increasing her mileage and signing up for half marathons.
Lombard eventually added cycling to her repertoire, and although she had to balance the competing demands of work and sport, she found that each passion fueled the other. "Being disciplined at work teaches me to set goals for races and attack my training in a smart and methodical way," she says. "And athletics take me away from my computer, give me balance and a fresh perspective, and help me be more focused and present when I'm at work."
That perspective is important for Lombard's role at Kimberly-Clark, where she forges links between litigation and various business teams. "We're not satisfied with being great lawyers. We want to be key strategic partners who can unlock complexities and drive the best results possible," she says.
Training with a committed group and entering several races each year keeps Lombard accountable and motivates her to track her progress and metrics. Navigating a seasonal training schedule and dealing with inevitable injuries also teaches her to remain adaptable. "In racing, I focus on sharpening my skills and breaking a complex challenge into manageable pieces," she says.
"Athletics take me away from my computer, give me balance and a fresh perspective, and help me be more focused and present when I'm at work."
She tries to do the same in her professional life. An IP litigation background propelled Lombard to success during her early years at Kimberly-Clark, especially as her initial role expanded. In 2014, she took on additional responsibility for complex litigation, including product liability, personal injury, and regulatory matters. Now, as associate general counsel, she helps global leaders craft business strategies.
Although Lombard races as an individual, group training has shown her the value of a strong team. "My running group keeps me motivated during those challenging long runs, and I appreciate the support of strong teammates and leaders around me at work too," she says.
Kimberly-Clark's litigation team also values its relationships with key outside counsel, collaborating closely on legal projects and cases. That focus aligns well with the company's goal of leveraging diverse teams and ideas across the company to drive the best results, as well as its ongoing commitment to advancing women in senior leadership roles.
Throughout her tenure at Kimberly-Clark, Lombard has earned the respect of her peers by meeting new challenges head-on and steadfastly pressing forward toward shared goals. Her efforts have brought invitations to participate in regional leadership development and global legal strategy programs. Career development, Lombard has discovered, is more of a marathon than a sprint.
"My running group keeps me motivated during those challenging long runs, and I appreciate the support of strong teammates and leaders around me at work too."
Lombard's dual identity as a litigator and triathlete fits well at Kimberly-Clark. The company launched its first comprehensive health and wellness program in the US in 1977. Over its forty-four-year span, Kimberly-Clark has offered state-of-the-art on-site exercise options, global cycling challenges, on-site sports fields, walking paths, and lunch-and-learn sessions with local practitioners. Although Kimberly-Clark's corporate offices remain closed due to COVID-19, Kimberly-Clark continues to provide online engagement and other opportunities for personal well-being, and senior leaders actively encourage all Kimberly-Clark employees to take advantage of these resources. They also openly support their team members' activities and goals, both inside and outside the company.
In 2021, Lombard will be relocating from Kimberly-Clark's North America offices in Neenah, Wisconsin, to the company's global headquarters in Dallas to help shape strategy alongside key global stakeholders. It's a big step, but Lombard is confident that she has put in the training to succeed. Besides, triathlon season is considerably longer in Texas. She has already connected with a new running group—and is looking forward to meeting new challenges with that team.
***
Gibson, Dunn & Crutcher is thrilled to celebrate Rebecca Lombard's success. Rebecca is a talented lawyer and she is beyond deserving of this recognition. Her commitment to helping others find a path to success in the legal profession and her dedication to diversity and inclusion is admirable. We congratulate her on this well-earned accolade for her contributions to the legal community and beyond.