Beth Weinstein serves as a good example for aspirant lawyers on how studying doesn't end with the bar exam.
"I literally work with rocket scientists," says the senior counsel for litigation with Raytheon Intelligence & Space (RI&S), a business of Raytheon Technologies, one of the largest aerospace and defense manufacturers in the world. Weinstein emphasizes that she herself is not a scientist, having earned her undergraduate degree in accounting before working as an auditor for three years until she attended law school. But an academic mind and no small degree of curiosity are characteristic of her fourteen-year legal career.
Other characteristics are to be adaptable, be an advocate, and be balanced, she says. Each of these qualities proved useful in her firm years with Kirkland & Ellis and became even more beneficial once she joined Raytheon Technologies.
Despite the size of RI&S—$14 billion in revenues in 2020 and 35,700 employees working at 500 locations in more than 40 countries—the business works with a very small set of customers, the US government among them. The company also has dual customer-supplier relationships with a handful of companies in its industry, some of them being competitors. In her role as the lead in-house litigator, Weinstein handles disputes with people and entities they will almost certainly continue to work with over time.
Weinstein notes that most often challenges to the procurement process are simply when guidelines aren't followed. "When you encounter potential disputes with your single biggest customer, you have to walk a fine line and think bigger picture in terms of the company's business goals and the impact on customer relationships."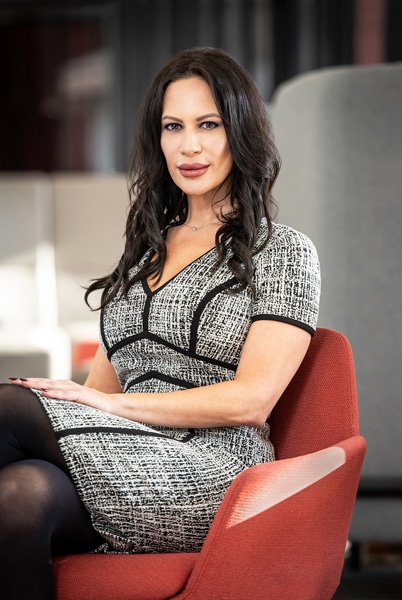 It's a different scenario from her former role as outside counsel. There, advocacy was a clear-cut matter of knowing the law, knowing the facts of the case, and pursuing the client's interest with unrelenting vigor. Here, "advocacy" takes on this more nuanced meaning.
Also, Weinstein's mentor at Raytheon Technologies explained to her that, unlike in a firm where accumulating three thousand billable hours in a year was considered a measure of success, going in-house meant she was a line item in the cost column.
So she adapted—in several ways. Barely six months after Weinstein joined the company, a merger with United Technologies Corporation (forming Raytheon Technologies) led to a subsequent restructuring. Given this new environment, Weinstein engaged with her supervisors to redefine her role as the internal head of litigation, managing a function that, prior to the merger, was largely outsourced.
Which creates value for the company before litigation ever becomes necessary. "Litigators think differently," Weinstein says. "For example, I look at the negative spaces for an illogical set of connections. What would a reasonable person have done if they had the intentions they now claim to have? Thinking about the actions or positions not taken can be insightful in terms of understanding another's behavior and developing an effective strategy for a dispute or negotiation." This mindset can help guide the transaction attorneys in writing better contracts—a more strategic approach that comes naturally to her.
The senior counsel intermingles strategy with a probing, academic approach to being a lawyer, because they really both have to do with understanding the broader context. It also helps that she worked in accounting and auditing for a few years before becoming a lawyer, which for her was a conscious choice before she applied to law schools.
Should everyone do that? "It depends on the person," Weinstein says, relaying how, in her case, she knew law school would be an all-encompassing chase for top grades, making law review, summer associate positions, and plum clerkships. She wanted time to prepare. Some prospective law students know what their goals are and where their passions lie, but others might not. "Any experience in life is important. But know that many of the people you're competing with have been strategically planning their careers for a long time."
"People talk a lot about the challenges of being working parents. But many women have to make difficult choices between family and career before their babies are even born."
For Weinstein, knowing when to walk away comes naturally. She shares a story of how when she was three, her mother took her shoe shopping. She was unhappy with the shoes her mother was offering—styles "more appropriate for older girls." Dissatisfied, she told her mother that since they could not agree, she would do without new shoes.
When she was very close to giving birth to her own first child about ten years ago, she was working on a case that was going to trial. Her accounting background was critical to the case, and she didn't want to miss this opportunity to argue it. "I was pulling all-nighters during the trial. My ankles were so swollen I had to elevate my feet while sitting in court," she recalls.  "People talk a lot about the challenges of being working parents. But many women have to make difficult choices between family and career before their babies are even born."
Since then, she's become a mother of two children ­and an advocate for work/life balance. Over time she found more ways to work from home and says she can now engage with her children during the day and work late at night when needed. And she credits Raytheon Technologies for being generous about family-friendly policies, allowing every other Friday off when employees fit eighty hours into nine days instead of ten.
"I tell my children my work has to do with national security, which can save soldiers' lives," she says. "But it's important for my children to know how important they are too."
***
Kirkland & Ellis LLP:
"Beth has been a colleague and friend for many years. She is a strong team leader committed to excellence and a determined and passionate advocate for her clients. We enjoy collaborating with her and everyone at Raytheon."
–Mark Holscher, Partner