Adam Rahal tiptoed into the kitchen in search of a late-night snack. He opened it to find nothing but milk, cheese, and a bowl of leftover porridge. What had he signed up for? Rahal was a guest in the apartment of an elderly German woman and staying outside of Frankfurt as a high school exchange student.
Although the experience was challenging, Rahal stuck with it. Now, he speaks German proficiently and serves as legal counsel in New York for Landesbank Baden-Württemberg (LBBW), a universal bank based in Stuttgart.
Rahal's lifelong interest in the German language has served his career well, but it started somewhat on a whim. Tasked with picking between middle school French, German, and Spanish courses, Rahal opted for German over French to avoid following in his older brother's footsteps. The five months he later spent overseas as a sophomore in high school changed his life. "Learning a foreign language and being immersed in another culture enriched my life and allowed me to gain a broader perspective," he says.
Rahal returned to Germany to seek additional international experience through a semester abroad in Berlin during his junior year at Middlebury College. He subsequently interned for the US Foreign Service in Leipzig. Next, he earned his law degree from Pace University and landed a job as an associate at New York's Shearman & Sterling.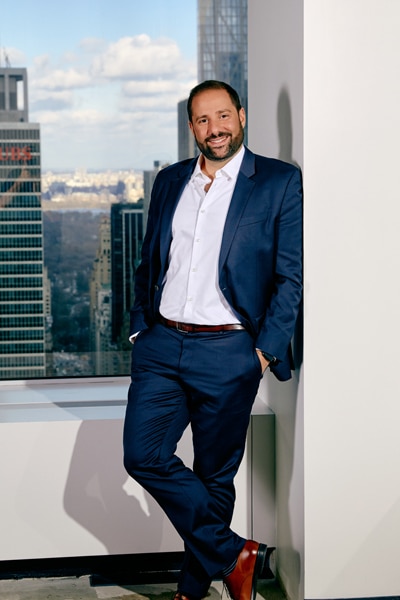 Things were looking promising for the young lawyer, but it was May 2008, and the world was about to change. By June, the stock market was plummeting as the financial crisis raged on. The partners approached their associates with a plan, and Rahal agreed to help the firm weather the impending storm by taking more than a year off with a stipend from his future employer.
While most people in his position may have been tempted to hike the Appalachian Trail or find a beachfront vacation home, Rahal made other plans. "I was determined to find a way to gain more international exposure and add more legal skills to my résumé," he says.
Rahal went to the Hague in the Netherlands for a one-year internship at the United Nations' International Criminal Tribunal for the former Yugoslavia. There, he enlisted with the Chambers' legal support team, working specifically on the team responsible for the trial of Radovan Karadžić, the Bosnian-Serb political leader who was eventually convicted of genocide, crimes against humanity, and other war crimes.
Rahal then returned to Shearman & Sterling and spent three years in the respected firm's real estate group. "Adam is a very clever and effective lawyer who is equally adept at counseling the bank on sophisticated loan transactions or complex regulatory issues," says Paul Balaam, counsel at Shearman & Sterling. "He is extremely pragmatic and is never afraid to roll up his sleeves to reach resolutions that work for all parties concerned."
Shearman & Sterling provided services to one client that was a perfect fit for a young associate with Rahal's background and skills—LBBW. Soon, he was spending most of his time doing real estate work for the bank.
He joined LBBW full-time in 2013 to support a growing real estate division. The role, however, evolved as the bank continued to find success in the US markets. "Firm lawyers often think going in-house limits future growth opportunities, but I've learned that if you raise your hand you get plenty of opportunities to add expertise in many legal and business areas," he explains.
 "Learning a foreign language and being immersed in another culture enriched my life and allowed me to gain a broader perspective."
"Adam is much more than an 'in-house' counsel," says Richard Lefkowitz, a senior partner at Riemer & Braunstein. "He has an extremely unique skill set and is able to act both as a lawyer and as a banker on sophisticated commercial real estate transactions. He has the ability to analyze issues from both a legal perspective and a business perspective—and ultimately arrive at fair and equitable resolutions for both LBBW and its customers."
Today, Rahal works at LBBW's only US branch, which supports operations in Canada, Mexico, and Brazil. The work is varied. "There's no such thing as a typical day here," he says. One day he may draft a small corporate letter of credit, and the next day he may be leading the legal effort for a $1 billion skyscraper financing, interfacing with internal loan production teams, bankers from the lending syndicate, and leading negotiations with external lawyers.
As of December 2020, two big words consume most of Rahal's time—LIBOR and COVID. The London Inter-Bank Offered Rate (LIBOR) is a global bank-to-bank interest rate set to dissolve at the end of 2021. In preparation, Rahal is advising the team responsible for adjusting LBBW's entire existing portfolio to accommodate a new reference rate in a volatile and unpredictable era. In doing so, he must work across all aspects of the bank to ensure its systems and underwriting processes are ready to use a different benchmark rate.
Subscribe Now
Receive stories like this one in your inbox every two weeks!
Subscribe to the free Modern Counsel newsletter.
The pandemic further complicated what was already a challenging season. After prioritizing regulatory compliance, operational continuity, and employee safety from the onset, Rahal continues to examine coronavirus and its impact on corporate and employer liability, changes of law, and the real estate market.
In what Rahal calls phase two, he moved to comply with the deluge of executive orders and respond to regulatory recommendations. At the same time, he was working across the existing lending portfolio to negotiate temporary loan-relief measures to support LBBW's customer-focused lending platform.
Now in phase three, LBBW prepares to accommodate employees who are ready to return to the branch's expansive thirty
thousand square feet in Manhattan. The prime location opened in 2018 and represents LBBW's continued commitment to the
US market.
Rahal says it's still too early to talk about lasting effects but believes digital signatures, cloud-based information technology infrastructure, and some work-from-home accommodations will remain in place. But ultimately, he feels an effective collaborative working environment requires a shared physical presence to foster the interpersonal relationships, mentoring, and learning opportunities that are critical for companies to innovate and overcome hardships.
Looking back, Rahal says his decision to take seventh-grade German has paid off. He prefers to do legal work in English, but he can participate in premeeting small talk and casual conversations in Deutsche. That's helped him build trust and gain credibility with his oversees counterparts. There may be just one drawback to Rahal's decision to skip French class, though. His wife, whom he met while working at the Hague, is a maritime lawyer from France. They're raising their new baby bilingually.