"I pour my heart into this place," says Ben Odom, NASCAR's vice president of business and legal affairs. "I have invested in this place, and they have invested in me. I feel fortunate to have that relationship with the people in this company and this sport."
Though he has only officially been with NASCAR since the beginning of 2020, Odom spent the bulk of his career with the International Speedway Corporation (ISC). ISC was not only established by NASCAR founder Bill France Sr., but it also owned the motorsports racetracks until it was purchased by NASCAR in 2019.
Odom, who joined ISC in 2006, worked a great deal on the organization's acquisition by NASCAR, through which the auto racing company purchased ISC's publicly traded shares. The two sister companies formally merged into one over the course of this yearlong transaction, and by the end of it, Odom—who had spent years managing ISC's day-to-day legal operations—found his position completely transformed.
"For a good bit of the previous year, my primary responsibility was working on the merger from the ISC side," Odom says. "But as we got toward the end of the finish line and the merger was going to end, we started looking at where I fit in with that. I don't think we really knew. We set out for one thing and it's evolved into a role where now I do a lot of special projects."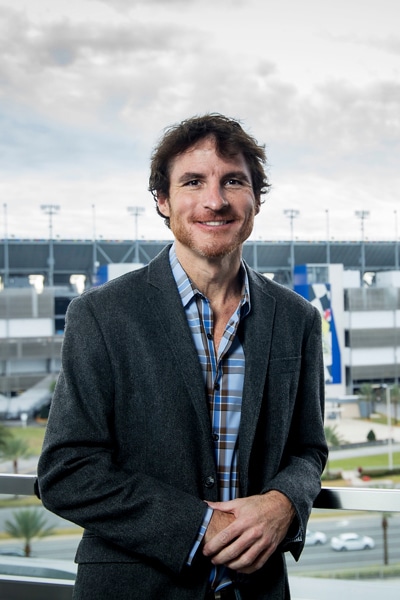 Odom now operates along what he refers to as "the line where the business blends and overlaps with the legal." This means working on special projects such as a partnership with retailer Urban Outfitters to design vintage racing tees and jackets, including a line that benefits NASCAR racer Bubba Wallace's Live to Be Different Foundation.
The complexity of Odom's current work stems partly from the complexity of NASCAR itself. "It's a family-owned company that's generations deep, so there's some overlap between family business and the NASCAR business," Odom explains.
"I spend some time in that space, and since I worked a long time for the tracks, I understand how the track business works. I understand how NASCAR works, and I understand the ownership structure. One of my responsibilities is to make sure that all stays congruent. If there's a special project on the development side, I dive in. If there's an acquisition opportunity, I dive in and work on that."
As his tasks, teams, and even official company banner have shifted over the years, Odom has remained nimble and ready for whatever comes. This goes way back to his early career as a coach in a very different arena: college football.
"One of the best qualities you could have in any profession is resilience," Odom says. "There will be days when it goes really well and days when there are challenges . . . and some of it is outside your control.
"What you can control, work as hard as you can on it, and what you can't control, just make sure to roll with that punch and come back tomorrow and do the best you can with it," he continues. "And lean on the support and resources that you've got, especially the people around you."
Even during law school, Odom split his time between studying and serving as an assistant coach for Florida State's football team. He even considered a career as a professional or collegiate coach. "I really wasn't going the front office route, although people [thought] that I would, with a law degree," he says. "But I was an on-the-field coach and enjoyed it."
"My favorite thing about this place is the people—in this building and in our tracks across the country and the values we have as a company."
Odom also enjoyed living in Florida and wanted to be near its beaches. "Every now and then, the universe aligns for you," he says, recalling how his job at the ISC was based in Daytona Beach, not far from where he grew up. "The planets aligned for that. I came over and interviewed and just got a really high comfort level with the people I met."
Fifteen years later, Odom is still enjoying the blend of working with great people in an atmosphere that suits his interests. "My favorite thing about this place is the people—in this building and in our tracks across the country and the values we have as a company," he says of NASCAR.
"I don't ever have a concern about asking for what I think is necessary to get the job done or to do the right thing and feeling like I'm going to get pushback. They really do encourage us to do what we feel is the right thing for the business and the sport, which makes it feel like we're all in this together."
That cohesion, coupled with the recent merger, also allows Odom to feel optimistic about the future. "Where we sit today in 2021, we continue to evolve as a sport to thrive," he says. "Our products have gotten more relevant and continues to get more relevant. We've got to appeal to a new fan base through new technology without upsetting our core fans—these are things that all sports face, maybe even all businesses face. The merger was one giant step toward getting the company positioned to do all that."