When Dave Markowitz talks about his old job "working for Andrew," he's referring to the current New York governor and potential future presidential contender, Andrew Cuomo. When Cuomo was New York's attorney general, Markowitz served as Cuomo's special deputy attorney general for investor protection, capping an eleven-year government career that came to an end when Markowitz's boss was elected governor.
"I was the only person who left the SEC to work for less money," Markowitz says, laughing. "But running the investor protection bureau was well worth it. This was during the financial crisis, and there was so much going on."
On Behalf of John Q. Public
Markowitz, who has been managing director and cohead of Americas litigation at Goldman Sachs for the last decade (the latter role added in the last year), participated in the investigation and prosecution of some of New York's, and therefore the world's, most high-profile financial cases prior to leaving the public sector.
You can even catch Markowitz in an episode of CNBC's American Greed, detailing the cases of Wall Street exploitation perpetuated by traders David Pajcin and Eugene Plotkin—or, as American Greed elected to title the case, "A Scam Exposed: Strippers and Insider Trading." Markowitz agreed to be interviewed for the show only as long as the time it took the film crew to follow him to Starbucks for a coffee. He was working on too many other cases.
Over the course of his days at the SEC, and later the New York attorney general's office, Markowitz would help further cases against Ezra Merkin, whose Gabriel Capital ran a feeder fund for Bernie Madoff. Markowitz would also open the case that ultimately led to the indictment of Galleons' Raj Rajaratnam for insider trading and the hedge fund insider trader scandal that followed. As the financial crisis set in and the auction-rate securities market froze, Markowitz's team obtained $61 billion in buy-back obligations for investors.
While investigating the highly controversial Merrill Lynch/Bank of America merger, the team joked that the small room they were using for testimonies should have a sort of wall of fame created in its honor. "It just seemed like every major player in the industry came into that room at one point or another," Markowitz says. "It was a fascinating moment in time."
When Cuomo moved on to the governor's mansion, Markowitz decided that it was time to try something else. "I thought about going on to work for Governor Cuomo, but my focus had been as a financial services attorney, even though I had this interesting spot in the AG's office," he notes. Markowitz wound up at Goldman in 2011, and he's been there ever since.
"My experience working with Dave spans his career in the federal government, state government, and the private sector," says Giovanni P. Prezioso, partner at Cleary Gottlieb Steen & Hamilton. "He's set the standard in each of these roles. He always demonstrates deep integrity, sharp intellect, and pragmatic problem-solving abilities while maintaining a balanced perspective and dry wit—even in the most high-pressure and stressful situations."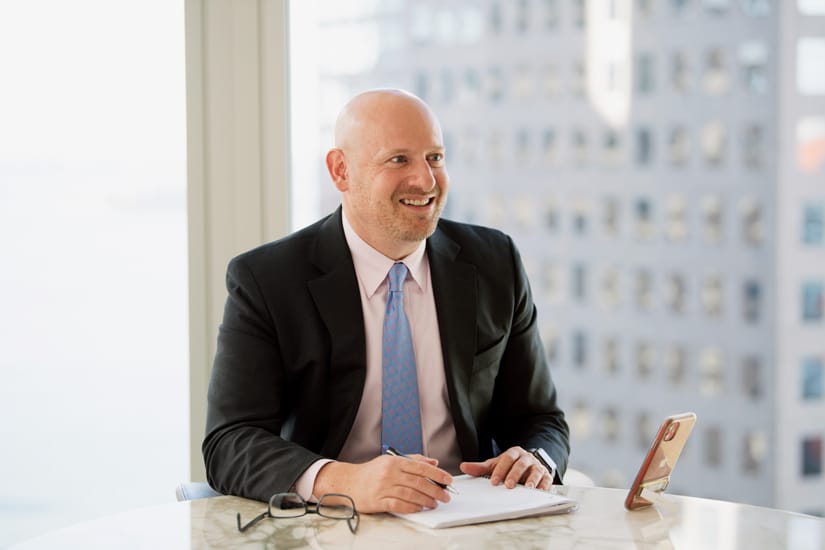 "The Kind of Case You Live For"
 Coming to work for one of the most famous financial institutions in the world wasn't exactly a way for Markowitz to lower the stress level of his job. In 2013, a series of erroneous trades was sent to the floor of the New York Stock Exchange. A software glitch inadvertently converted Goldman Sachs' contingent orders for various options series into some sixteen thousand live orders.
"That was an event I definitely reflect on a lot," Markowitz says. "There was a real moment of crisis, and the subsequent investigations, but we were able to come to a fairly good landing point with the resolution. At an organization as dynamic as this one, there are always going to be interesting matters to take on."
According to Markowitz, the most serious case of his career involves 1MDB, a Malaysian development fund, and former Goldman Partner Tim Leissner, who pled guilty to bribery charges.
"There has really been no case bigger than this one," Markowitz says. "[When] we came across an unauthorized letter, which triggered an investigation from our side, we interviewed Tim Leisner within twenty-four hours. I conducted the interview, and I helped escort him from the building."
The complex case, Markowitz says, is not one he wishes had occurred, but he also has not shied away from it. "If you do what I do, it's the kind of case you want to be on, irrespective of whatever stress or other challenges may come with it," Markowitz says. "As a litigator, it's the kind of case that you really live for, and I've had the opportunity to be part of it since the beginning."
"Being able to stay steady through a storm is invaluable . . . . It's been incredibly important to remain calm and manage those differences to the best of my ability."
The sheer scale of the litigation occupied a significant portion of Markowitz's time the last few years. "It's about as complicated as it gets," Markowitz admits. "Not just factually, but functionally—all of the regulators and countries involved, and different law firms and institutions. This past year, we had two milestones—our resolution with Malaysia and resolutions with the Department of Justice and other regulators globally—that have been very important for us."
Due to ongoing litigation, Markowitz isn't able to get into the weeds of the case, but he says, more generally, that he's learned some personal lessons from his global litigation work. "I think I've learned the importance of staying calm," Markowitz says. "Being able to stay steady through a storm is invaluable. This was an incredibly challenging matter with international components and not just differences of law, but of culture. It's been incredibly important to remain calm and manage those differences to the best of my ability."
"I have been lucky to have labored in the trenches with Dave for many years on matters with regulators around the world," says Victor Hou, partner at Cleary Gottlieb Steen & Hamilton. "Dave is a special combination of client and colleague. He wades into the thick of every case and is a relentless advocate, leading negotiations on the most difficult issues and cases. He has unique credibility with regulators—credibility that he earned from his extensive experience and success in government—and at the same time, he commands the respect of his internal clients, who trust his judgment, leadership, and commitment to excellence."
Goldman Sachs reached a deal to resolve regulatory investigations into the matter in October 2020, but there is likely to be considerable litigation for some time to come. But with a career filled with high-profile cases, this doesn't seem to rattle Markowitz. It's just another chance to do what he does best.
---
Expertise Spotlight
With more than 1,100 lawyers from more than 50 countries, working Cleary Gottlieb works across practices, industries, jurisdictions, and continents to provide clients with simple, actionable approaches to their most complex legal and business challenges. Clients know Cleary for our signature approach to serving their needs with a wide range of integrated capabilities in antitrust, bank regulatory, capital markets, corporate governance, enforcement, litigation, M&A, tax, and more.
Our lawyer teams bring a sharp focus on the issues that matter most and a commitment to both addressing our clients' immediate needs and advancing their longer-term strategic goals. We support every client relationship with intellectual agility, commercial acumen, and a human touch. We have a proven track record for serving with innovation. We are fluent in the many languages of local and global business and we have achieved consistent success in multiple jurisdictions. Global corporations, financial institutions, sovereign governments, local businesses, and individuals come to us for consistently practical and forward-looking advice.
***
Akin Gump:
"It's a pleasure to work with Dave. He is an exemplary colleague with deep experience, excellent judgment, and an abiding sense of fairness."
–James Benjamin, Partner
***
Sidley Austin:
"David's keen insight, excellent judgment and wealth of experience make him a remarkable lawyer. We have had the pleasure of working with him on many important matters, and we look forward to continuing or relationship with him in the future."
– Susan Merrill, Partner