Raven Moore, managing counsel of commercial litigation at McDonald's, is incredibly passionate about what she does—but she can't pinpoint the exact reason she entered the profession. "I always knew I wanted to be a lawyer, but the best inspiration I can come up with is watching Harry Hamlin on LA Law," Moore says, laughing. "I just got fixated on the idea. My mom will tell you it started when I was ten years old."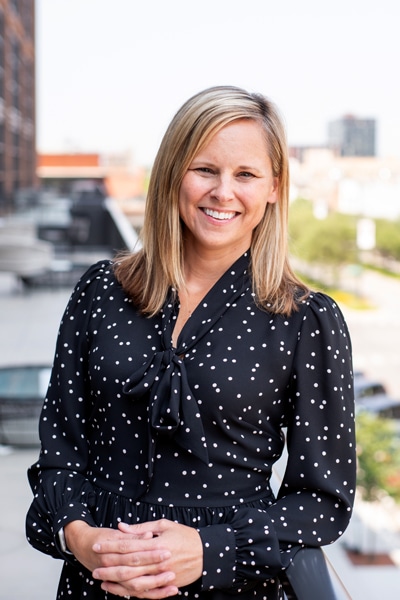 Unfortunately, Hollywood doesn't provide a clear set of instructions for thriving in the legal sector. On top of that, Moore had no family in law, and none of her mentors were legal professionals. She had only her curiosity, drive, and a willingness to figure it out as she went along.
Discovering the Reason
Moore was tapped for a prestigious internship during college, and the president of the company where she worked shared some wisdom that still echoes in her head to this day. "He wasn't one to sugarcoat things," Moore recalls. "He said that most people spend their whole career figuring out what they don't want to do." By already knowing exactly what she wanted to do, Moore was one step ahead.
Unfortunately, that president was one of the few individuals Moore could look to for guidance during the early years of her career. She made her choice of law school, for example, without the benefit of advice from mentors in the legal field. Many people attend law school in the cities or regions where they hope to one day practice, Moore explains, but she attended Tulane simply because New Orleans seemed like a beautiful place to visit for a few years. "Some of the most significant decisions I've made in my life, I've made based on my instinct in the moment," she says.
That same instinct provided the push Moore needed later on in her career. Over the course of nearly ten years in private practice, the lawyer had built out extensive litigation and IP experience, become a partner, and found herself comfortable in just about any professional context imaginable. Moore had discovered the real reason she loved her job: the relationships she has built with colleagues.
But the attorney wanted to cultivate those same relationships with her clients, and—compared to the segmented nature of private practice work—have the opportunity to see a case to completion. The time had come for her to make a decisive move.
Happily, an in-house position had recently opened up at McDonald's, and a colleague reached out to Moore to see if she knew anyone who might be interested.
Moore had just made partner; she hadn't interviewed for a job in many years. She didn't have a résumé. But she knew she had to make her move. "I just knew that this was one of those moments," she says. "I wanted a challenge that would really stretch me, and that's how I came to McDonald's."
A Million Little Reasons
It's clear that Moore has found a home on the McDonald's legal team. "There is a common purpose focused on building relationships and working together here," she says. "It just feels different. It's more satisfying. And the relationships here make me excited about work every day."
The incredible culture that pervades the McDonald's legal team is well documented, and Moore has felt that culture on a very personal level. While working remote throughout 2020, Moore and several of her female colleagues had regular check-ins to talk about professional, family, and personal issues that they and their teams were balancing in response to the pandemic. During one of the check-ins, Moore shared the struggles of virtual learning with her school-age kids.
"My colleagues responded with stories that brought humor and perspective, which is just what I needed during that particularly challenging time." Moore says. "It's a million little things like that that make this team what it is."
Beyond the legal department, McDonald's CEO Chris Kempczinski has been working to refresh the culture across the corporation. By Moore's estimation, this means that the legal team could be the flag bearer for what it means to feel connected, understood, and in sync with one's team.
"This is a place where people ask you if you feel like you're getting the experience that you need," Moore remarks. "One of our values as a company is our community and the service that we provide to others. Those values resonate because it's what we try to do as a department every day: make sure that we're supporting each other, both professionally and personally."
It's a support also felt by Moore's partners outside of McDonald's. "Raven brings an extraordinary commitment to her work for McDonald's and its values. She is creative, strategic, and business-minded in finding legal solutions to complex problems," says Michael Gray, global co-client affairs partner at Jones Day. "She also cares immensely about supporting the communities McDonald's' serves and the success of her colleagues."
"Raven is a great, proven leader," says Liz McRee, global co-practice leader of the labor & employment practice at Jones Day. "Building great relationships requires commitment and ongoing investment in people, and I have always admired her emphasis on both."
According to Moore, working from home has actually brought her McDonald's team closer together. Everyone is keenly aware of the need to place a premium on maintaining meaningful connections—so much so that the legal team has committed in writing to making sure to sustain that connection once everyone returns to the office.
"We've found a way to share, on a personal and professional level, in a way that I don't think we ever did before," Moore says. "It's counter to the way I thought it would be when I went home in March [2020]. But that's what I mean when I say this is a special place to be."
---
Greenberg Traurig, LLP:
"Raven is a meticulous lawyer with wise judgment and a tireless work ethic. She's an authentic leader who cares about issues of inclusion and creating opportunities for others. Raven is the best of our profession." —Peter Wahby, Shareholder