There wasn't a send-off party for David Detweiler when he elected to go in-house. It's not because the former law firm partner and Air Force veteran wasn't well-loved. There just wasn't any time.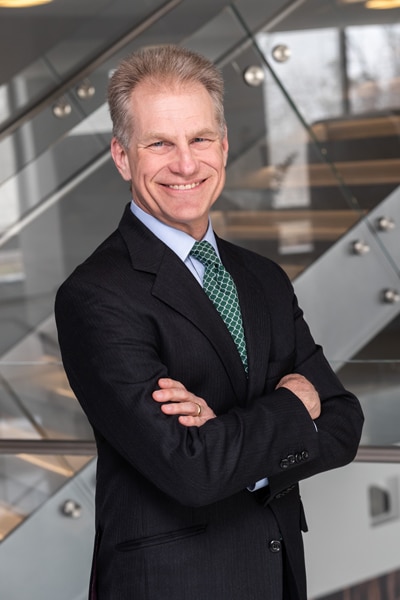 The executive vice president and general counsel at the Volkswagen Group of America arrived a day after receiving a call from Volkswagen AG's general counsel to get on a plane to take over the legal department at the auto giant in the midst of one of its most difficult moments. A well-publicized diesel emissions crisis was at its peak, and Detweiler's move to the US in 2016 was fast-tracked in order to help the company's legal department find its footing and begin the process of earning back its customers' trust.
Detweiler had just left private practice in Frankfurt and was at Volkswagen AG, expecting to head to the US six months later. "I literally called my wife from the airport to let her know we were moving," Detweiler says, laughing. "I landed on the ground and stepped into a department that was facing a litigation firestorm."
At this point, the GC is able to look back on his arrival with satisfaction. Volkswagen exited its independent compliance monitorship in September 2020. There may still be lingering litigation from the six-year-old investigation, but the legal department at Volkswagen can see a light at the end of the tunnel, a light to the future, and one powered by electricity.
Stay In Your Lane
The man Volkswagen turned to in its time of need is no stranger to leadership. Detweiler attended officer training school in the Air Force and remained in the Air Force Reserves for years after his active service and a recall to active duty following 9/11, reaching the rank of lieutenant colonel. "One of the things the military did so well was differentiate between managing and leading," the GC says. "Part of leadership is about tapping into your team's potential and understanding that the team is the essence of how anything gets done." Private industry may not be the battlefield, but that focus on teamwork has long served Detweiler.
"Part of leadership is about tapping into your team's potential and understanding that the team is the essence of how anything gets done."
In private practice, Detweiler says that he would measure anyone going up for a partnership not just by how they treated the other partners but by something much deeper. "I wanted to know what the people working in the copy room or in the support staff thought about a person who was up for a partnership," he explains. "Those people could give us great insights into who the partner candidates really were."
That measurement harkens back to both Detweiler's military training as well as his focus on the sum total of his team. "This might just be an Air Force thing, but the people flying planes are dependent on the ground crew," he explains. "If you've got a problem with your ground crew, you're not going to be effective. There may be a hierarchy, but those people at the top are just as dependent on the people down the line, and the guy turning a wrench on a plane may have a great idea how we can do something better. That's how I've approached all of my roles."
App Assistance
David Detweiler says he's especially proud of the work Volkswagen has done during COVID-19 to ensure safety for all sixty-one of its United States locations. The GC commends Volkswagen team members who were instrumental in developing a self-screening app that can be used to monitor employee health. After answering a questionnaire, the app generates a permission screen for employees to use to go on-premises, if appropriate.
It's a novel concept, and part of a much larger commitment that Detweiler says has been imperative for many of Volkswagen's employees who didn't have the benefit of working from home during a pandemic. He says, "We want our employees to understand that we are doing everything we can for them so they can have as normal a life as possible."
"David embodies many qualities that you want in a leader, but some that jump out include his ability to understand multiple viewpoints to build consensus decision-making as well as his quiet and effective tenacity on key issues," says Jonathan Redgrave, managing partner of Redgrave. "David's leadership has been invaluable in helping the company and his team navigate challenging issues and times."
At a company as big as Volkswagen, Detweiler says it's a balance to be able to create a cross flow of ideas while also realizing that lanes are respected and adhered to. Maintaining that balance is one the GC takes seriously.
Darkness Into Light
Neither the military nor private practice has posed the biggest challenge for Detweiler. That prize goes to his first day at Volkswagen Group of America and the ensuing effort to create something good out of a difficult situation. "I had a relationship with Volkswagen's legal department prior to joining, and it seemed like a very amicable, very pleasant place to be," the GC says. "Suddenly there was this upheaval, and I was thrust into the situation to try and help the team go in a different direction."
"David's ability to manage complex, high-profile, high-stakes matters with grace under pressure is best of class," says Bret A. Cohen, partner at Nelson Mullins. "His truly collaborative approach with outside counsel, combined with his decades of experience, leads to the best possible results. We are honored to work with David and delighted to see Modern Counsel recognize his extraordinary talents."
Helping to bring Volkswagen through the monitorship is a milestone on its own, but Detweiler says there are better things that have been born out of tribulation. "This has all led to absolute transformation for the company," he notes. "I'm privileged to sit on the board of Electrify America, which is building the largest open network of charging stations in the US. It has become an absolute priority to build out the charging infrastructure to move us all into the electric vehicle future."
Volkswagen committed to both the Paris Climate Agreement and the California Framework Agreement on emissions. Detweiler says that after the lessons learned from the diesel crisis, Volkswagen has implemented environmental and product management systems and other initiatives that require it to analyze how its actions affect the environment, and the company wants to be the leader in the space.
The company's "Darkness Into Light" ad campaign has served as a metaphor for Detweiler's tenure with the company. He came in under a shadow and is just now getting the time to start planning strategically instead of reacting. "I'd like to think one of my highlights here has been a return to normalcy, but I wouldn't know. I've never been there," he says, laughing.
Detweiler isn't paying lip service about climate impact. The GC has been committed to lessening his own environmental footprint for years. He installed solar panels on his home, and he drives an Audi e-tron, the first fully electric SUV offered by the company. "If we charge the car while the sun is shining, the juice is going straight into the car's battery," Detweiler says. "I love to tell my kids that we're literally driving on sunshine."
---
King & Spalding:
King & Spalding congratulates David Detweiler on his well-deserved recognition from Modern Counsel for his work as Executive Vice President and General Counsel for Volkswagen Group of America. Having worked closely with David for many years, I am consistently impressed by his thoughtfulness, diligence and integrity.
– Grant Nakayama, Partner
---
Expertise Spotlight
Redgrave is one of the largest law firms focused solely on information law issues, including e-discovery, information governance, data privacy, and cybersecurity. This exclusive focus allows us to drill deeper into issues and apply our knowledge and experience across our diverse client base to address cutting-edge issues and develop innovative solutions. In 2020, the firm was recognized by Chambers USA as the leading law firm in the United States for e-discovery and information governance.
We are unique in that we combine the talents of lawyers with those of other technical and business professionals. This blend of professional talent and experience lets us explore, recommend, and execute solutions from a holistic viewpoint of the business and not just from the angle of legal risk.
Over the past ten years, Redgrave has helped numerous Fortune and Global 500 corporations establish global processes and guidelines to improve efficiencies, reduce costs, and diminish risks across a wide range of cases and matters. In this same time period, Redgrave has also assisted multiple clients and law firms in navigating discovery, privilege, confidentiality, and sanctions issues in "bet the company" litigation and investigations.
***
Expertise Spotlight
Nelson Mullins is a multioffice professional services organization, providing traditional legal services along with state and federal government consulting and government relations services. The firm has more than 850 attorneys and government relations professionals practicing in 25 offices throughout the country. With more than 100 diversified practice areas, Nelson Mullins can provide creative solutions to complex legal and business problems.
We are ranked 68th in The American Lawyer (AmLaw) 100, and our client base includes Fortune 500 as well as mid- and small-cap companies. Our lawyers are leaders in the profession, with five past presidents of DRI—The Voice of the Defense Bar and four past presidents of Lawyers for Civil Justice.
Nelson Mullins is committed to diversity and active in serving our community. We provided more than 48,000 pro bono hours in 2020 and have received numerous recognitions for our diversity efforts and community and professional service.
Our firm is rooted in entrepreneurship, which has been part of our culture for more than 100 years.
Hallmarks of our culture and values include:
Unwavering client commitment
Seeking justice for those in need
Commitment to inclusive excellence
Improving lives in our communities
Thinking beyond the law
Among our other many practice areas, Nelson Mullins represents regional, national, and international franchisors, distributors, and multiunit franchisees. Our franchise and distribution clients range from start-up companies to established franchisors and cover industries, including restaurants and food service, hotel and hospitality, vehicle manufacturers and distributors, real estate brokerage, tax preparation services, retail stores, commercial office cleaning, health-related services, amateur and professional sports leagues, and other commercial and consumer-based services.
In addition to our presence in twenty-four other states, Nelson Mullins serves the needs of our growing list of regional and national clients from the Massachusetts capital. Boston office attorneys and professionals provide corporate and litigation services in, among other areas, employment and labor, intellectual property, bankruptcy, business litigation, bad faith and extracontractual litigation, directors and officers liability coverage, products liability, multiclaims and class action litigation, and white-collar defense and government investigations, among others.
For more information, visit us at nelsonmullins.com.