Back in 2011, going in-house was far from Shanée Nelson's mind. She planned to continue practicing at law firms for the foreseeable future—until an opening at electronic design automation company Synopsys piqued her interest.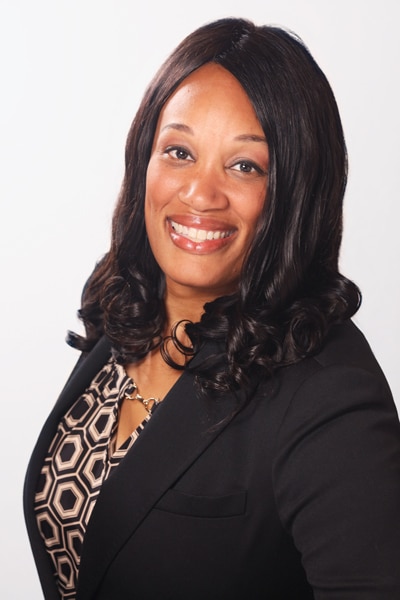 "The opportunity intrigued me because Synopsys had been one of my very first clients out of law school," Nelson explains. "I always enjoyed the work that I did for the company, so I decided to leap out on faith."
Nine years—and multiple promotions—later, Nelson has no regrets. Today, she serves as Synopsys' vice president and deputy general counsel. To maintain the growing company's competitive edge, she applies her extensive legal expertise to anticipate and respond to changes in the industry on a global scale. She looks to the future internally as well by supporting inclusion and diversity (I&D) initiatives at Synopsys and investing in the talent pipeline.
Before making her leap of faith, Nelson studied political science at Stanford University and law at the University of California, Davis. She interned and later accepted a full-time position at law firm Oppenheimer Wolff & Donnelly, where she worked in an IP group that fellow law firm Dechert subsequently acquired.
During her four years at Dechert, Nelson honed her understanding of patent infringement and trade secret matters. She then narrowed in on patent cases at another firm, Paul Hastings, before transitioning with her group to Cooley. She was still at Cooley when she received a recruiter call alerting her to the first role that she would hold at Synopsys.
Soon after joining Synopsys as a senior counsel, Nelson began to recognize the importance of factoring business objectives into her legal strategies and her dealings with outside counsel. "Business objectives aren't always tied to a litigation win. You need to be mindful of the endgame as well," she says.
In many ways, Nelson's major areas of focus at Synopsys have remained the same over the years. Across her roles, she has managed litigation and counseled employees on IP-related issues. She has also spearheaded antipiracy efforts in relation to the company's products and established governance surrounding the use and contribution of open-source software.
What has changed, however, is the size of the company—and the scope of Nelson's responsibilities. "The contributions of the litigation and IP team have needed to follow the company's scaling and, at times, get ahead of it in terms of our strategy," she explains.
Donating Dollars––and Computers
When Synopsys encouraged employees to donate to a cause close to their hearts at the end of 2020, Shanée Nelson chose to donate to StreetCode Academy. "The organization teaches kids how to code and helps them get access to technology," she says. The nonprofit's mission matches her own: investing in the pipeline, especially in historically marginalized communities.
Nelson views Synopsys' growth as evidence of the impact of its technology. Her job is to protect that technology. "As artificial intelligence and machine learning have become driving forces at the company, the need for IP counseling has increased," she says. "There's also an increased need for us to consider how to innovate cooperatively in an increasingly competitive environment."
When it comes to competition, Nelson has her eye on emerging markets, such as China. She stays on top of developments through constant research. As part of that research, she monitors US policy updates that may impact future business relationships—and potential litigation—in China.
At the same time, Nelson strategizes about how best to protect Synopsys' specific business interests and technologies in the face of China's burgeoning industry. "The landscape in China presents a lot of unique challenges to our business," she notes. "My team assists Synopsys in navigating those challenges from the standpoints of IP protection and partner relationships."
Even as she looks to protect Synopsys intellectual property abroad, Nelson places considerable weight on a topic much closer to home: I&D initiatives at Synopsys. The company strengthened its commitment to I&D in 2020, including through its hiring of its new Head of Global Inclusion and Diversity Solomon Wilkins. Nelson is fully committed to supporting the I&D team to ensure that such strides continue.
"We have to invest in our pipeline. One of the most important ways that Synopsys can contribute to inclusion and diversity in the high-tech space is by creating opportunities for diverse students who are interested in engineering," Nelson says. She has advocated for Synopsys to show up at career fairs, universities, and engineering societies to introduce students from historically marginalized communities to the company.
"Synopsys is increasing awareness of inclusion and diversity issues and encouraging employees to think about what those issues mean to them," Nelson says. She is excited about Synopsys' commitment to and focus on this important issue. Recognizing Nelson's leadership and contributions to the company's success, Synopsys demonstrated its commitment as evidenced by Nelson's recent elevation to vice president and deputy general counsel.
As Nelson joins the executive team of key decision makers at Synopsys, she is ready to invest in the future.
---
Orrick, Herrington & Sutcliffe: "Working with Shanée is inspiring as she challenges us to problem-solve together at the highest level. She leads by example through her diligence and grit. Shanee consistently explores novel solutions to resolve complex issues." —Denise Mingrone, Intellectual Property Partner
---
Orrick, Herrington & Sutcliffe: "Shanée is a fantastic lawyer and even better client. She manages to balance working closely with us in the trenches while still giving us the trust and autonomy we need to be our best." —Robert L. Uriarte, Intellectual Property Partner