In 2017, Lisa Storey took a lunch meeting with the CFO of an unassuming but ambitious tech start-up. The company, then known as PaySimple, had several important acquisitions in the works. As the meal ended, Storey suggested a few M&A lawyers for the CFO to contact and prepared to get up from the table. That's when he said something Storey will never forget.
"He told me he could get an average M&A lawyer anywhere," she recalls. "He wanted someone who knew how to start and run a general counsel's office." He believed that Storey was the perfect person for the job.
PaySimple is now EverCommerce, and as general counsel, Storey has been instrumental in helping the leading service commerce platform hit astronomical growth numbers. Since she arrived in 2017, the company has completed fifty-one acquisitions and an initial public offering. That kind of growth is exactly why CFO Marc Thompson recruited Storey: EverCommerce had an aggressive strategy and needed an in-house legal leader who had experience growing an entire legal function from scratch.
Storey, who grew up in Connecticut, fell in love with Colorado during her days as a biology student at the University of Colorado–Boulder. Although she considered pursuing medicine, she opted for law at Vanderbilt and combined her passions by becoming a healthcare regulatory and compliance lawyer in the nation's capital. After nearly three years, Storey found the call of Colorado too strong to resist and returned to Denver as an associate at Davis Graham & Stubbs.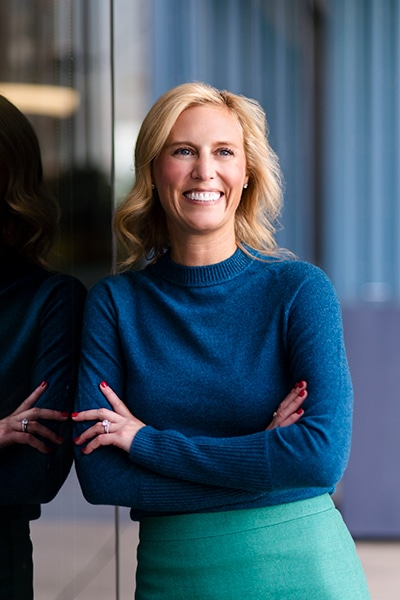 Soon, however, a friend and mentor called to recruit Storey to a medical service helicopter company called Air Methods. As associate general counsel, Storey spent nearly five years alongside the general counsel leading significant acquisitions and recalibrating the company's legal team to keep it tailored to the growing organization.
When she joined Air Methods, its legal department consisted of two lawyers and a paralegal. Five years later, the group included more than twelve people, including six attorneys, several paralegals, a government relations team, and a compliance officer. "I got hands-on experience building a legal team in a complex and heavily regulated industry," she says. "That gave me the confidence to go into any industry and do it again."
When Storey came to EverCommerce in 2017, it was on the verge of executing an important growth strategy that's baked into its very DNA. The software as a service company offers its users business management, payment, marketing, and customer engagement tools. A leadership team created the EverCommerce platform to serve small and medium-sized businesses (SMBs) in industries like health services, fitness and wellness, and home and field services. "We wanted to create one platform with the tools tailored to service-based SMBs in each of their unique industries, so the acquisition strategy became to layer on the right products and services that make sense to specific SMB customers," Storey explains.
In 2017, EverCommerce had 250 employees; today, it has more than 2,000. Storey says the growth hasn't stopped since the day she joined. Starting as a department of one, she leaned on her experience learning complex third-party payer systems in healthcare and navigating burdensome healthcare and aviation regulations at Air Methods to master the world of a tech start-up and put the right people, policies, processes, and systems in place to guide EverCommerce's meteoric rise.
The company's other executives gave Storey an important directive: they asked her to focus on the big picture. She did that by asking herself important questions based on long-term goals. Leaders had a vision of what the company could become far beyond ringing the bell on the floor of the stock exchange. What kind of team would it take to support a world-class public company? What foundation could she build on day one that would still support the organization on day one thousand?
Those questions guided Storey's early days at EverCommerce. She created a contracts policy within her first two weeks and then followed it up with a robust contracts management system that now houses over fifty thousand contracts.
"When building a legal function, it's important to make early investments that will pay off later," she says. "It's much harder to go back and implement new systems later, when things are more bureaucratic and less nimble." She then focused on making the right hires by targeting experienced, collaborative, creative lawyers who are willing to take calculated risks and consider diverse viewpoints.
"I got hands-on experience building a legal team in a complex and heavily regulated industry. That gave me the confidence to go into any industry and do it again."
In July 2021, EverCommerce completed an IPO that was years in the making. That same week, Storey also helped the company close two acquisitions and refinance credit. During the eight-month process, Storey was able to trust the high-functioning legal team she had built to keep the legal workstreams moving at their fast pace without missing a beat. As they step into this new chapter as a public company, she is focusing more on governance and her new role as corporate secretary.
Building and operating the world-class legal function of a growing tech company is not for the faint of heart, but Storey says that lawyers shouldn't forget to enjoy themselves along the way. That's the number one lesson she shares with the younger lawyers she mentors.
"The best advice I can give is to be excellent at whatever you are doing at any given moment," she says. "Seize every opportunity, work really hard, and don't forget to have some fun in the process."
---
Greenberg Traurig, LLP:
"We applaud Lisa Storey's outstanding leadership at EverCommerce and her ability to cultivate a winning team environment. We are honored to partner with Lisa and EverCommerce and we look forward to supporting their continued success."
–Matthew M. Robbins, Shareholder, Global Corporate Practice