Around the time that she joined DICK'S Sporting Goods in 2015, Angela Liberto heard a cautionary tale about the fate of in-house attorneys at large organizations. "I was told that when you work for a big company, you can get pigeonholed into one area of the law," Liberto says. "But quite the opposite has been true for me at DICK'S. I've been able to branch out, learn new things, and move around."
Liberto, now a senior corporate counsel at the sporting goods retailer, relishes the engaging nature of her work. It keeps her on her toes and requires her to dive in deep, as she needs to understand DICK'S as a business to assist the company in achieving its vision for strategic growth. To build up her knowledge even further, Liberto recently completed the Program for Leadership Development, a fast-track executive MBA alternative offered by Harvard Business School (HBS). Between the HBS program and her other career experiences, she has grown into a confident businessperson and leader who hopes to inspire young women to believe in and stand up for their own worth.
"Angela is a double threat in the sense that she both really knows the business and really knows the law. She is a very commercial lawyer who is wonderful to work with," says Dale Cendali, a partner at Kirkland & Ellis.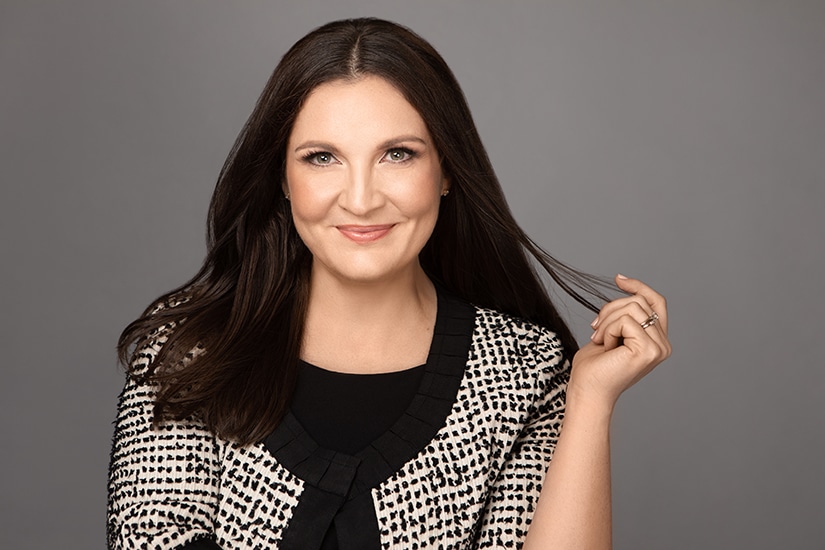 Liberto's advice to young women today is very different from what she might have told them at the start of her career. Back then, she was a recent graduate in information sciences and technology, a male-dominated area of study from which she had flowed directly into the male-dominated world of consulting.
"My advice was something to the effect of, 'You deserve your seat at the table. Keep a thick skin and don't let anything bother you.' That stance served me well, but I do think that things have changed," she says.
Now, as a seasoned member of the DICK'S legal team, Liberto feels a responsibility to send the right message to the younger generation. Motherhood has pushed her to reevaluate her ideas as well. "I have a two-year-old daughter. Having her has really changed my worldview, in that I want to be a role model for her and for young women," she says. "If there are comments or behaviors that make you uncomfortable, my advice is to say something. You don't need to let it roll off your back. You're supposed to be there, and other people are looking to you to do what's right."
Her advice isn't the only thing that has evolved since Liberto arrived at DICK'S. Within her first couple of years at the company, her role transitioned from providing transactional support to the technology team to advising on a wider range of matters touching multiple subsets of the business.
"One of the first things that I took on was supporting our team sports headquarters line of business, which is our youth sports ecosystem," she explains. "That included folks from our community marketing group and some small start-ups that we had acquired, so I got broad exposure to things that were unique to making a small business run as well as emerging areas, like privacy."
The scope of Liberto's role continued to expand as she ventured into the territories of marketing, strategy, and vertical brands. In the process, she gained a newfound appreciation for her collaborators inside and outside the company. "As you broaden what you work on, one of the challenges is that you're not able to do all the work yourself anymore. You realize that you just can't have your hands in every single thing, so you begin to rely more on your team, whether internally or externally," she elaborates.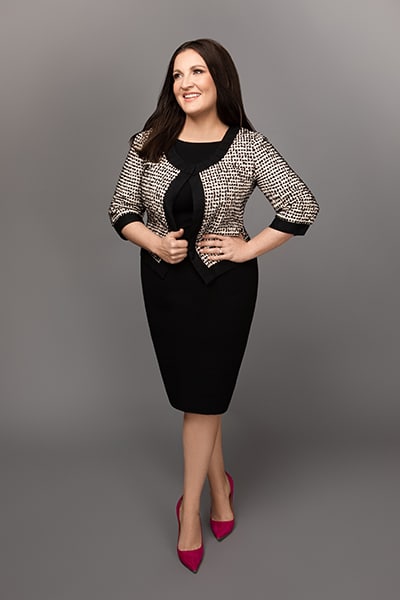 Liberto partners with outside counsel to bring in issue-specific expertise for her internal clients. She also works closely with members of her team within DICK'S to ensure top-notch legal support across intellectual property, data security, and other forward-facing areas. As she sees it, DICK'S is always looking to the future—a direction that resonated with her all the more when the COVID-19 pandemic first took hold.
"In those more uncertain days, it made me feel good that there were still a lot of us working on strategic growth vehicles, including new concepts that just recently opened," she says. "When I work with those teams, my goal is to look for ways that I can help solve their problems, remove any obstacles, and support their vision. It's very inspiring to hear from them about what they're thinking and what's on the horizon."
Liberto highlights her agility, openness to new ideas, and ability to pivot as key factors in keeping pace with the company's growth. In addition, she points to critical lessons learned during her time in HBS's Program for Leadership Development. Whereas she entered the program to enhance particular aspects of her skill set, she took away much more than a fine-tuned business acumen.
"The experience really broadened my perspective on what business is. I left the program feeling excited to look at my work at DICK'S through a different lens," she says. "Now, when someone comes to me with an idea, I'm starting to see all the strategic underpinnings of what they're working on and why they're putting certain things in place. And I'm starting to see how all those aspects inform the bigger picture and make the organization run."
Among the program's outcomes, Liberto now reflects as much as on the business achievements of DICK'S over the past several years as on ways to maintain that trajectory moving forward. What's more, she situates her personal trajectory within the broader context of this organizational change. "I love what I do. My role keeps evolving, and the variation keeps it really interesting," she says. "My goal is to continue to progress at DICK'S, take on challenging work, and help our team execute on their vision."
Her belief in that vision energizes Liberto every day. It shines through in her business-driven legal counsel, her vested interest in innovation, and her empowered leadership—all traits befitting the role model for young women that she has sought to—and has—become.