Whoever was responsible for sending a man to an Arizona hospital with a knife in his chest in the 1990s will never know that he changed the course of Lan Marinelli's life. Until that point, the future assistant general counsel at HubSpot had wanted to be a doctor, much like her pediatrician father, who worked for the government at a local hospital for Native Americans. In high school, she earned her EMT certificate at a nearby community college "to prepare for medical school if I did choose to go that route," she says.
But during one of her rotations, she walked by the room where a man was lying there with that knife sticking out of his chest. "I remember just sobbing right there," Marinelli recalls. Medicine, she decided, though a noble occupation ("especially the frontline workers during the pandemic," she emphasizes), was not for her. She began to set her sights on a more business-oriented career.
She majored in accounting and finance in college, but devoted as she is to her family, she felt compelled to pursue law. "I come from a family of immigrants with mostly medical backgrounds," she says. "There was no one in the family to help navigate legal issues. It was important to me to be that person. My mom, always a driving force in our family, encouraged me to think about a career in law."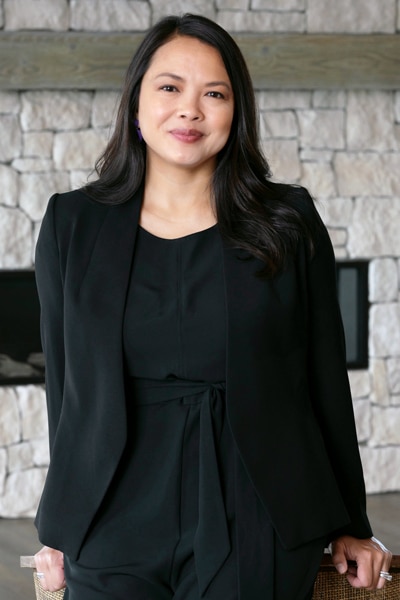 Lan's parents emigrated from Vietnam to the United States in 1975, just before the fall of Saigon. Their sponsor was an Oklahoman, and Lan grew up in the small town of Tahlequah, population ten thousand.
"It was so amazing to grow up in a small Oklahoma town in the 1980s," Lan says. "The only other Asian family owned the Chinese restaurant. But I had a special childhood, biking around all day. I was always the funny girl. I was friends with everybody and did well in school."
As to experiencing racism, she said that incidents were minimal. "The community rallied around my family," she says. "When we got our American citizenship, it made the front page of our newspaper. My family's friends hosted a party for us. We lived in a wonderful community."
The family moved to Phoenix when she was in the eighth grade. Following high school, she attended college at the University of Arizona in Tucson on a full scholarship. Then she moved to Boston to begin her career as an auditor at Deloitte, where she focused on auditing technology and financial services companies.
Boston College Law School came next. She wanted to be on the corporate side of things. "I didn't want to be a Perry Mason litigator," she says with a laugh. "That didn't appeal to me."
Marinelli first heard about HubSpot, the customer relationship management (CRM) platform for scaling companies, in the hallways of Boston law firm Brown Rudnick, where she worked as a corporate associate for five years before moving in-house in 2011.
"HubSpot was one of our clients," she says. "The firm supported the start-up in its initial financings. You always heard the name HubSpot in the hallways. They were the start-up darling, and I just knew it was going to go somewhere."
Seven years later, in 2018, she herself joined HubSpot. She was the tenth member on the team. Today, the legal team numbers fifty, and she oversees "everything corporate," she says, "anything and everything that has to do with being a public company."
"Being a lawyer doesn't have to conflict with being a nice person."
In her time at HubSpot, Marinelli has seen the company grow from two thousand to five thousand employees and its market cap increase from $3 billion to $30 billion.
According to Marinelli, even as the company has undergone such rapid expansion, it has stayed true to its core values of HEART—humble, empathetic, adaptable, remarkable, and transparent. Marinelli has many stories of how HubSpot "walks the walk" on diversity, inclusion, and belonging, including its $20 million commitment to social impact investing. "I feel so proud to be a HubSpotter," she says.
Marinelli also prides herself on changing people's perceptions about legal practitioners. "There are other ways to be the force in the room," Marinelli says. "Being a nice person doesn't have to conflict with being a lawyer."
Building relationships with stakeholders is integral to being an effective assistant general counsel, Marinelli says. "I'm often a go-to source for issues that don't fall under my specific purview. It's not just about getting an answer but getting the answer in a constructive way with as little drama as possible."
In leading her four-person team, Marinelli finds that "transparency and real-time information" are crucial. "You must not be afraid to give constructive feedback. Feedback is the breakfast of champions," she says. "I take a lot of time to train and teach my team and share what I've learned. I love to play the mentor role."
Outside of work, Marinelli enjoys creative endeavors, including cooking and interior design, as well as spending time with her family. She has been married for fourteen years and has two daughters, aged ten and seven. They are big Marvel movie fans. "Ant-Man is their favorite," she says. "Who doesn't love Paul Rudd?"