When Alexandria C. Samuel met her now husband, neither of them looked like the traditional picture of success.
"If you would have taken a snapshot and put odds on us, you would have said that we weren't going to be much of anything," Samuel says. "We had both dropped out of college, we were waiting tables and struggling to make ends meet, and we didn't really have a career plan at the time."
Samuel and her husband, however, did find success—by standing united in their goals and forging a path all their own. Today, Samuel serves as managing senior counsel for litigation at PNC Bank, one of the largest banks in the United States. And beyond the significant strides that she herself has made over the years, she is now in a position to guide others who are still finding their way.
Samuel's willingness to pay forward her achievements stems from her roots. Born in the housing projects of Baltimore, she grew up in a primarily single-parent household. After moving to the suburbs with her father when she was in middle school, she became the first woman in her family to graduate from high school.
Samuel enrolled in Howard University in Washington, DC, where she met her husband—a DC native whose mother had raised him as a single parent—when they were both at a crossroads in their lives. Their similar life experiences helped the two young people connect. "I dropped out of school at Howard for a year and half or two years. He had been at Tuskegee University in Alabama and had dropped out," Samuel explains. "We found each other at that time and fell in love."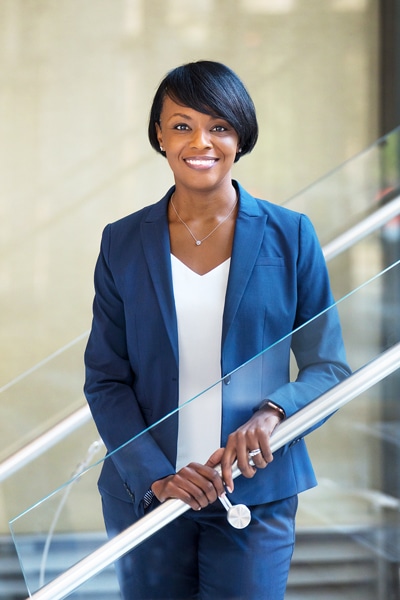 Despite their circumstances, the couple shared the same drive to succeed. They took turns finishing their bachelor's degrees, with Samuel transferring to the University of Maryland. While there, she took an assistant job in the legal department of wireless company Nextel Communications. "My boss supported me going to law school," she says. "He and another lawyer at Nextel gave me research and writing assignments as an assistant, paid for me to take a law school prep course, and wrote recommendations for me when I applied."
Samuel received a partial scholarship to the University of Pittsburgh (Pitt) and moved to Pennsylvania with her husband and their young son. In Pittsburgh, both the family and the couple's careers continued to blossom. They had a daughter during Samuel's second year of law school. Later, Samuel's husband completed a PhD in biology and founded a local nonprofit focusing on STEM education.
As for Samuel, she spent five years at international law firm Reed Smith after graduating from Pitt, then an additional two years clerking for Judge Cathy Bissoon before joining PNC in 2014. These days, she remains calm under pressure while managing a large litigation portfolio and a team of six attorneys and paralegals. "My background lends to my ability to pivot well and to compartmentalize," she says. "I've been rolling with the punches my entire life."
Her background also pushes Samuel to give back, both at PNC and within the broader Pittsburgh community. She is the vice cochair of the PNC legal department's diversity and inclusion council and helped launch a secondment program that brings associates from external law firms into the bank's litigation group. "We're looking for diverse talent—racially and ethnically diverse folks, members of the LGBTQ+ community, attorneys with disabilities or military service backgrounds—and training them as in-house lawyers," she explains.
In addition, Samuel has partnered with St. Benedict the Moor School in the Hill District, a predominantly Black community in Pittsburgh. She leads a program that introduces the school's eighth grade class to the legal profession by way of a mock trial, a visit to Judge Bissoon's chambers and courtroom, and a law school tour and mock class at Pitt.
"It gives the students a view into a world that they might not otherwise get an opportunity to see. The goal is to put lawyers who look like them in front of them so they understand that law is an option," Samuel says.
Samuel appreciates the impact of having someone in your corner, and she is proud to be that person for the next generation. She is equally proud of all that she and her husband have accomplished together, including raising two children who value education and respect how far their parents have come—and will continue to go.
"I do what my dad did for me," Samuel says of her family. "And I found the right person to support me, and my husband found the right person to support him. It just shows that the path to success is often not a straight one, so you should never discount anyone, because people can always turn things around and achieve their goals."
***
Reed Smith:
"Alex brings numerous strengths to her work for PNC. Not only is she smart and diligent but she also is unflappable in pursuit of the best course toward meeting all challenges."
–Jason Hazlewood, Office Managing Partner, Pittsburgh, and Perry Napolitano, Executive Committee