Because films and TV so often feature unrealistic courtroom scenes, lots of people have misguided notions about what it's like to be a lawyer. But Kathryn L. Kreps, who serves as senior counsel for American Electric Power, grew up with a front-row seat to the realities of the profession.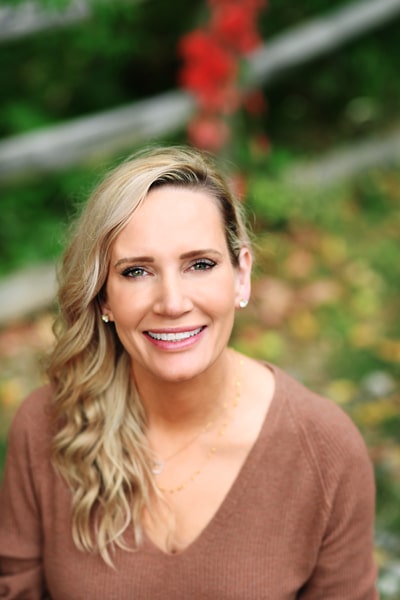 Kreps's father was an attorney, and her parents divorced when she was five years old. During the time she spent with him, he was often working. "If he had to work on a Saturday, we would go into the office," she says. "It was always a place where I felt comfortable."
Then, when she was just nine years old, Kreps was diagnosed with Ewing Sarcoma, a bone cancer, and she underwent a year and a half of therapy and radiation. She lost her hair and had to stay home from school often.
Because of her low blood count and cycles of chemotherapy and radiation, her illness led to her spending more time at home and accompanying her father to work, where he often conducted depositions.
"I remember sitting on this hard wood chair outside the room for hours and hearing the deposition in the background," she says. "I noticed the cadence and the deliberateness of the questions—depositions are very plodding, and it was comforting. Sometimes when people grow up and they don't have lawyers in their life, they look at courtroom dramas on TV and think of the excitement that comes with that. For me, it was a very deliberate and comforting process."
So Kreps knew what she was in for when she eventually embarked on her own legal career. After graduating Order of the Coif from the Moritz College of Law at the Ohio State University, she started working at the firm of Porter, Wright, Morris & Arthur. She left to clerk for Judge Terence P. Kemp and Judge James L. Graham of the United States District Court in the Southern District of Ohio, then shared her expertise with the Ohio Attorney General's Office.
Kreps returned to Porter, Wright, Morris & Arthur in 2015, then took a position at Worley Law before joining American Electric Power in November of 2016. The job appealed to her because she wanted to focus on one client.
"I love being a part of a team that's always striving to do the best that we can for the company and the people of the company," she says. "I get a chance to understand the business from the inside out.  You get calls from every single business unit, all levels of management, talking about employment issues from the executive level to entry level. You get to know so many people throughout the business and they come to rely on you for advice and I really enjoy that."
Kreps's colleagues outside the company also appreciate her attention to detail. "We've been honored to work with AEP's Kate Kreps on a variety of issues," say Elizabeth Waller, principal and chair, cybersecurity and data privacy, and Patice Holland, principal, labor and employment at Woods Rogers. "She demonstrates thoughtfulness for matters at hand and keeps an eye on the larger strategy for what the outcome means for one of the largest US electric companies serving more than five million customers across eleven states."
"I love being a part of a team that's always striving to do the best that we can for the company and the people of the company. I get a chance to understand the business from the inside out."
Kreps is in charge of employment and labor law, manages litigation related to employment issues, and is responsible for immigration and privacy issues. Because she interacts with all departments of the company to advance its mission, her job requires flexibility and adaptability.
"Not every person is the same; not every client is the same," she explains. "AEP is one client but every person I advise needs different counsel. I try to give every individual I advise the best service that is unique to them and the needs of their business unit. Not everybody comes from the same background or has the same perspective. As a professional, you have to work hard to involve yourself in the business and understand the pressures and expectations that they are up against so that you can give them the best advice for them based on their specific needs."
That huge variety of personalities has helped her get involved and understand the business units better. "Not every solution is the same, so you have to know the person and advise them on what the best path is for them," she says.
One aspect of Kreps's job that she is especially passionate about is the work she does to encourage diversity at the company. She is a key member of the legal department's TIDE team, which stands for Team for Inclusion, Diversity, and Equity.
"We have people working on diversity not only in the recruiting process, but also on retaining a diverse workforce once they get here," she explains. "I personally am on the culture subcommittee, where we're going to be focusing on discussions and ideas around diversity and inclusion. We'll have speakers come in and share how diversity is one of the true measures of success for the company." It's just one of the many ways that Kreps is contributing to the success of AEP—and she looks forward to serving the company and the people she works with for years to come.