John W. Ryan, chief intellectual property counsel at Owens & Minor, belongs to a long line of health professionals. You might consider health or medicine the family business. His mother and aunt were nurses with master's degrees in their fields; his father was a board-certified radiologist; an uncle was board certified in both radiology and internal medicine; several cousins are doctors; and even one of his own children is finishing his residency in emergency room medicine.
So what's he doing in IP law?
Ryan was a chemistry premed major in college and originally planned on medical school, but the aftermath of a fractured skull and internal hemorrhaging—including the resultant healing and rehabilitation—derailed those hopes.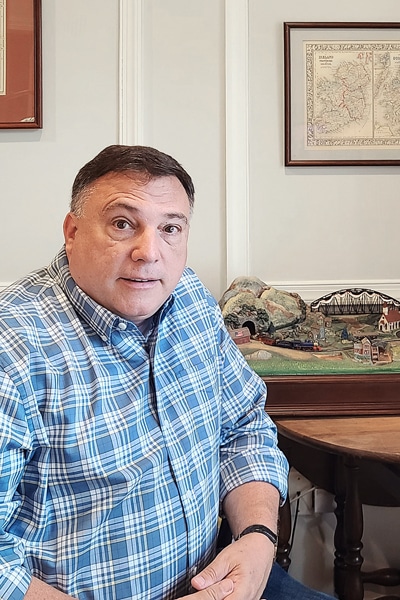 One of his brothers, a tax attorney, suggested that a law career (particularly in patent law) could be a viable alternative. Ryan took the advice to heart. After transferring to and then graduating from Bucknell University, he earned his JD (focused on business and commercial litigation) from the Syracuse University College of Law in 1985.
His early work included a three-month stint at Corning as a patent trainee, followed by similar work at the spin-off Ciba Corning Diagnostics. Two valuable mentors helped shape his professional outlook during these times. One of them was Al Michaelson, chief patent counsel at Corning. "During that first year, Al would sit down and go over patent issues, litigation approaches and strategies, as well as claim drafting," Ryan says.
"Ray Marier, another Corning attorney and acting general counsel of Ciba Corning Diagnostics, worked with me on licensing issues as well as the political issues that came up as in-house counsel," Ryan continues. "Both of them were outstanding attorneys and a pleasure to work with and learn from, so I credit a lot of my success, both at the law firms and in-house, to both of them."
Ryan subsequently earned an LLM in 1988, specializing in patent and trade regulation, at the George Washington University National Law Center. During his studies, he also interned with Judge Helen W. Nies of the US Court of Appeals for the Federal Circuit. "Judge Nies was a brilliant attorney and a wonderful person," Ryan says. "She often sat with me to revise my drafts and pointed out areas of concern. The training I received from her was invaluable."
In 1987, Ryan became an associate at now-defunct Morgan & Finnegan, an intellectual property boutique firm on Park Avenue in New York City.
One of the firm's important cases was the protracted legal battle between Amgen and Genetics Institute and their partner, Japan's Chugai Pharmaceutical, over patent rights to a novel form of erythropoietin (often called epogen), a protein hormone that regulates production of red blood cells.
"In its time, Morgan and Finnegan was one of the top IP law firms in the country," Ryan says, "with about one hundred patent attorneys and litigators." The law firm represented a good number of Fortune 500 companies, and Ryan was involved in litigation, prosecution, licensing, and other areas. His colleague, Patricia Rocha, counseled him to "learn everything you can here; it'll help you down the road."
In 1992, Samuel J. Wohlstadter—a cofounder of Amgen and the CEO of IGEN International, which developed, manufactured, and marketed diagnostic systems to the healthcare industry—hired Ryan as chief patent counsel. Ryan was later promoted to vice president and chief patent counsel. Among Ryan's key responsibilities was the creation and management of proprietary portfolios (primarily the company's patented ORIGEN technology, a universal diagnostic platform), valued in the hundreds of millions of dollars. Pharmaceutical giant Roche later acquired the company in a multibillion-dollar transaction.
"I work with everybody from sales to marketing to product development—and particularly with an outstanding legal group."
Ryan returned to private practice five years later, serving successively as partner and cochair of the IP group at Dorsey & Whitney; partner and head of patent practice at Wilmer, Cutler & Pickering; partner & cochair of the IP group at Dechert; and partner at Crowell & Moring, where he further honed his skills in patent strategy, patent infringement litigation, portfolio management, due diligence investigations, and freedom-to-operate and infringement opinions.
Ryan joined Owens & Minor in his current position in 2018.
Ryan was the first intellectual property or registered patent attorney for Owens & Minor. He's also the only intellectual property attorney at the company. He says that means "I work with everybody from sales to marketing to product development—and particularly with an outstanding legal group."
The global healthcare solutions company offers a diverse and complex array of product manufacturing, distribution support, and innovative technology services throughout the healthcare industry to thousands of customers worldwide.
"We manufacture items such as N95 masks, surgical masks, and gowns that we supply to hospitals, as well as specialized services such as QSight, a cloud-based clinical inventory management system that saves time and reduces waste," he says.
And the company continues to push forward. In 2020, he says, "we secured over 150 patents worldwide as well as filed numerous patent applications and pending trademarks."
Decades ago, with his med school dreams on hold, Ryan followed his attorney brother's advice and explored an alternative career—one that has been professionally and personally rewarding. And he's now doing the same for two other Owens & Minor employees. "I'm mentoring Maggie Howell, a very bright engineer who is interested in patent law. I am also working with another engineer in new product development, Jason Gibson, to introduce him to the world of patent law and patent claims," he says.