Clearlake Capital is located in downtown Santa Monica, so close to the beach that you can look down on the Pacific Coast's white sand and crystal blue water from the office windows. For Fred Ebrahemi, a partner at the private equity firm as well as chief operating officer and general counsel, the view is a far cry from what he saw in his first jobs.
"I spent [enough] time staring at blank walls as a junior associate to be able to really appreciate this," he says with a laugh.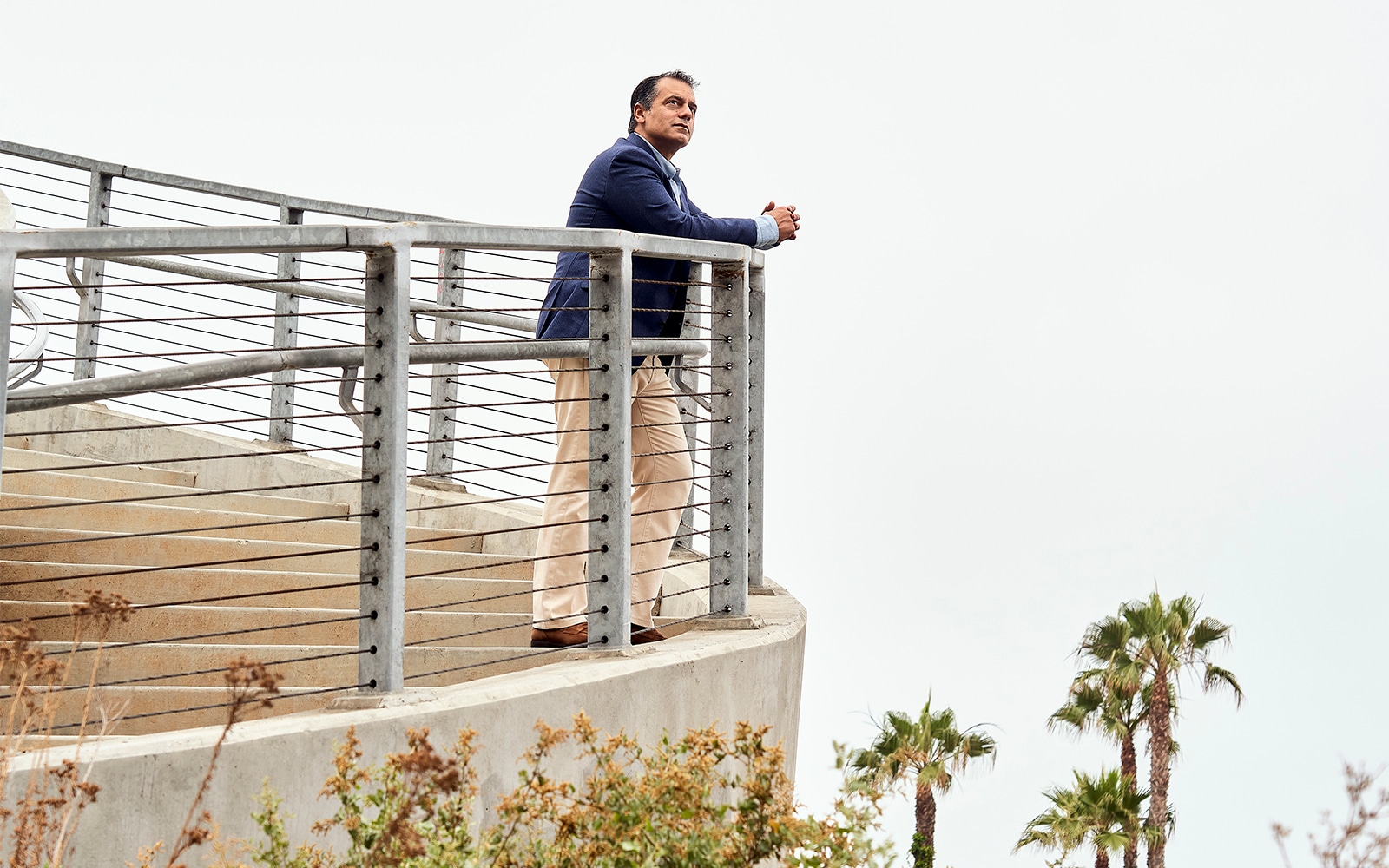 In his youth, Ebrahemi spent years working at restaurants owned by his parents, who immigrated to the United States from Iran. His first job was, in his words, assistant to the dishwasher. "I would start loading the dish racks before putting them in because the machine was too hot for a kid to handle," Ebrahemi says. "I earned a few bucks a shift and worked my way up to waiter."
Technically speaking, Ebrahemi's legal career started around this time as well—albeit in a very unconventional manner. Because his parents were running a family-owned business, they had to deal with various landlords regarding lease renewals, tenant improvements, vendor disputes, HR issues, and other matters that usually come with running a family business. If his father couldn't make sense of, say, an eighty-page commercial agreement, he would have the younger Ebrahemi read it and offer advice.
"I didn't really understand any of it at the time," Ebrahemi says. "But my dad didn't hire lawyers. No one in our family did. So I was doing a lot of pro bono work as a teenager years before I received my JD."
Obviously, Ebrahemi has moved up significantly in the legal profession since then. He had a traditional start as an associate at Hughes Hubbard & Reed in New York after graduation, then migrated west to Morrison Foerster in Palo Alto following the digital gold rush that was the dot-com boom. He gained start-up operational experience as president and general counsel of NINJA Mobile before embarking on a six-year stint as senior vice president and general counsel at the global M&A&O firm Platinum Equity. But his most ambitious position yet is undoubtedly his current one at Clearlake: a company with more than ten funds, over thirty portfolio companies across the globe, and more than $35 billion in assets under management, making it one of the largest private equity firms in the world.
Because Ebrahemi's job is twofold, his duties are as expansive as one would expect. One of his highest priorities over the past four years has been evolving the digital tools used by the firm's operations teams. For instance, the perpetually dynamic reporting and disclosure requirements to investors, counter parties, and regulatory agencies prompted Ebrahemi and his colleagues to reexamine Clearlake's legacy document management system for data collection, storage, access, and reporting. As a result, they now have implemented several systems that can run multiple data queries across their portfolio in real time, with AI capabilities embedded in their document management system.
"The solutions we've integrated allow for access-level controls down to the subfolder level, with the added ability to pull data across the portfolio revenue data from nearly every country our portfolio companies operate in," Ebrahemi says.
Of course, it isn't just about examining data internally: the GC and his team also focus on safely and securely sharing information with the appropriate third parties.
"For example, if we're working with our M&A counsel on a transaction, we might want to take just a segment of the portfolio company data files and share that," Ebrahemi says. "We also have complimentary solutions where on a post-M&A basis we can use solutions for NetDocuments and Diligent Entities (both Clearlake portfolio companies) to share legal files and D&O corporate governance information with both external counsel and our portfolio companies.
"Effectively, we can centralize and keep control of who's accessing our data and have an audit trail for changes made," he continues. "Ultimately, that means we need to have our own policies and standard operating procedures in place for how employees are setting up the different shared file folders and what our protocol is for sharing it."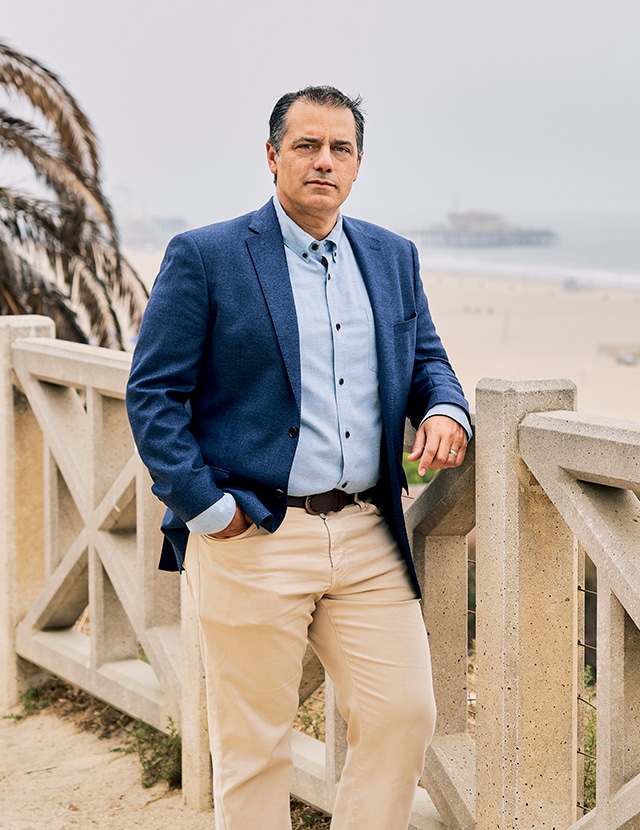 Ebrahemi's dedication hasn't gone unnoticed by his colleagues outside of Clearlake. "Fred's unwavering commitment to excellence is inspiring," says Nicole Washington, investment funds partner at Kirkland & Ellis. "A thoughtful strategist, he thinks ahead and around corners with creative and practical judgment. He is always a pleasure to work with—technically brilliant and exceptionally hard-working. On top of it all, Fred is an exemplary leader who cares about his team, Clearlake, and the larger community."
Marco Masotti, partner and global cohead of the private funds group at Paul, Weiss, agrees. "Fred is a wonderful, thoughtful client who I feel truly proud to partner with," he says. "Fred's passion, deep industry experience, and creative approach to problem-solving are apparent in everything he does. It's been exciting to see what he has already accomplished at Clearlake, and I know there are more great things to come under his leadership."
Some parts of Ebrahemi's job aren't rooted in digital tools and financial performance at all, but social impact. Although the term environmental, social, and corporate governance (ESG) has been circulating for more than fifteen years in the world of investment, it's becoming a bigger cornerstone for many firms as issues such as the climate crisis and diversity, equity, and inclusion (DEI) become more widely discussed and prioritized around the world.
"We're especially interested in how our portfolio companies are doing on DEI," Ebrahemi says. "How much of what Clearlake is mandating from the top is getting done on a real basis? We're using data and analytical tools in many different ways on this front—to organize the legal process, report to our investors, and encourage certain behavior in the portfolio companies. If you know you have to report up and out, you're going to pay a lot more attention to what you're doing. We're going to be able to see how well our portfolio companies are doing against their peers. Are they leaders in DEI or are they still playing catchup? We want transparency for us at the board and operating level as well as for our investors."
Clearlake isn't just holding their portfolio companies to these standards because it's on-trend—they've been holding themselves to the same standards since the company's inception. Its founders, José E. Feliciano and Behdad Eghbali, are Puerto Rican and Iranian, respectively, and have always sought to attract diverse talent. It's part of why Ebrahemi was drawn to Clearlake in the first place; it was one of the first places where he saw extremely talented executives that were making an impact in the alternative asset space both financially and socially.
"The credit goes to our founders," he says. "If you look around the firm, we're over 65 percent diverse. If you limit just to historically defined minorities alone, we're about 50 percent."
One area Ebrahemi says Clearlake can improve in is hiring women at the senior executive and board level. That's why the firm turned to their portfolio to partner with the modern governance company Diligence Corporation on Modern Leadership—an initiative designed to get more women and minorities on the boards of public and private companies. One of the most notable aspects of Modern Leadership is its network. With nearly seven hundred thousand board directors and leaders across sixteen thousand organizations, executives are collaborating to build a database of diverse talent that will be searchable for free with the Diligent app. Leaders within the network are also contributing individually.
"You'll see that our founders (with charitable arms) are giving money to empower minority-owned-and-operated businesses," Ebrahemi says. "A lot of what they're doing at the firm level, they're doing at a personal level as well."
For Clearlake, Modern Leadership is just one of many tools to foster a diverse, equitable, and inclusive environment at the office. It's a way to ensure that employees from all sorts of different backgrounds get to gaze out those windows at the picturesque scenery below.
---
Expertise Spotlight
Kirkland's Investment Funds Group addresses the legal, regulatory, tax, and commercial challenges facing a diverse group of investment fund clients, ranging from some of the world's largest alternative asset managers and financial institutions to independent boutiques and first-time fund sponsors. As the largest, most active investment funds practice law firm in the world, Kirkland & Ellis is uniquely positioned to provide sophisticated market intelligence and cutting-edge solutions to investment funds and their general partner sponsors in today's market.
Kirkland offers clients the security of a highly stable team with an extraordinarily low rate of turnover among partners. This longevity of tenure allows us to create long-term partnerships with clients that endure throughout the life cycle of their fund.
---
Simpson Thacher:
"At Simpson Thacher, we have had the pleasure of working closely with Fred Ebrahemi for many years. He is a fantastic lawyer who has a great sense of each transaction and really helps drive the deal forward."
–Tom Wuchenich, Partner