"Change is a good thing," says Travis Bachman, director and assistant chief trademark counsel at 3M. It's a philosophy that he has applied not only to his legal work but his entire career trajectory: he's never been afraid to make a change.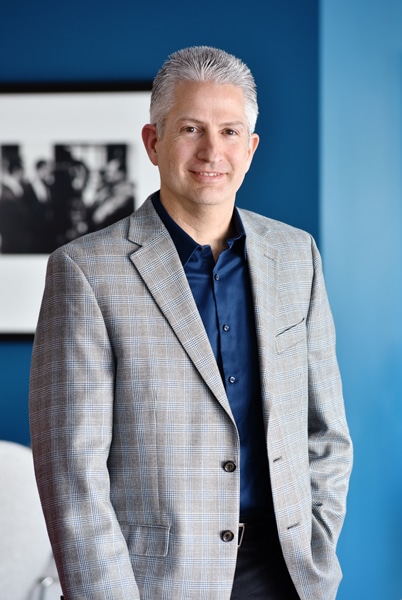 Bachman was born and raised in rural Iowa. A first-generation college student, he didn't originally plan to become a lawyer—it was only after taking the LSAT that he decided to attend law school, where he became interested in intellectual property, especially trademarks and copyrights.
Even before he graduated, Bachman was offered a role at Foley & Lardner in Milwaukee, where he would spend two and a half years on its trademark and copyright team before seeing a job posting for a trademark associate position at Dorsey & Whitney in Minneapolis. The opportunity came at the perfect time for Bachman, who had been considering a move to the Twin Cities.
After five years at the firm, just as he was putting together his paperwork to apply for partner, he found a job opening at Carlson Companies, which owned several travel companies. The position immediately intrigued him; he'd not only be making the jump to an in-house role but would also be the first attorney in that role. "There were so many things I could bring to the table in that situation," he says. He applied for the position at the same time he made partner, eventually making the decision to pursue the in-house opportunity.
The skills Bachman had learned as outside counsel aided him in his new position at Carlson Companies. "You become a lot more embedded and involved in the actual decisions of the business, as opposed to being more of an order-taker and a pure advisor," he says. He spent the next decade building the company's trademark and domain name portfolios into significant assets with global protection to increase its value.
In 2016, Bachman accepted a role at 3M, where he became responsible for the global trademark needs of the Stationery and Office Supplies Division, and its iconic brands Scotch and Post-it. He also supported the Consumer Health Care Division, whose brands include Ace, Nexcare, and Futuro. Over the years, he's covered additional groups and divisions when the company needed someone to step up and fill those roles.
Bachman stays on top of his wide-ranging responsibilities by prioritizing the needs of different brands through an internal hierarchy structure. "It is difficult to ensure that everyone who needs assistance can get the assistance that they need," he says. "But using the categories in the hierarchy—that helps to inform how much attention each individual brand or product line should be getting."
Today, he's responsible for the global trademark needs of the entire Consumer Business Group and leads the company's online brand protection efforts related to online marketplaces and social media. Since he arrived at 3M, the company has gone from focusing efforts on particular countries to a more global strategy.
"There's a lot of activity in the online space," he explains. "I think everyone realizes, especially now with the results of the pandemic and online shopping going up significantly, that it is impossible to use manual methods to stay on top of the trademark infringement that is happening in that channel."
This role became especially important during the pandemic, when counterfeit respirators were being sold as authentic 3M products. So far, Bachman has led his team to remove approximately 40,000 false or deceptive social media posts and e-commerce offerings. It's the project Bachman is most proud of in his time at 3M.
Part of his success comes from his leadership style. "On my team, I don't ask people to do something if I don't already know how to do it," Bachman says. "I don't think I can help them do their best job if I don't even understand the technology they're using." He also recognizes the need to engage with less traditional vendors and constantly be looking for new options.
"There's no one-size-fits-all solution. But there are a lot of solutions," he says.
His advice for those interested in trademark law is simple: "Be prepared to work hard and understand that you will need to be very organized." Bachman himself currently manages more than 7,000 active files. "Typically, trademark rights are not lost because of one big infringement," he explains. "Trademark rights are lost if a brand owner fails to properly manage and enforce its rights over the course of thousands of interactions spread over many years." He uses the phrase "death by a thousand cuts" to explain how the process works.
"One, two, or even a dozen small cuts will not kill a brand. But tens of thousands of cuts, not properly handled, will kill a brand," Bachman says. "A successful trademark attorney needs to find ways to handle as many issues as possible, as efficiently as possible, using whatever tools are available—all at the lowest cost."