As a former mechanical engineer, Ashley Brown was exposed to intellectual property (IP) law long before she decided to pursue it. Still, when it came time to decide on a legal specialization, Brown made sure that the choice was fully her own.
"Because of my technical background, I didn't want to get pigeonholed into patent law," Brown says. "But in the end, I realized that it was the area of law that most interested me."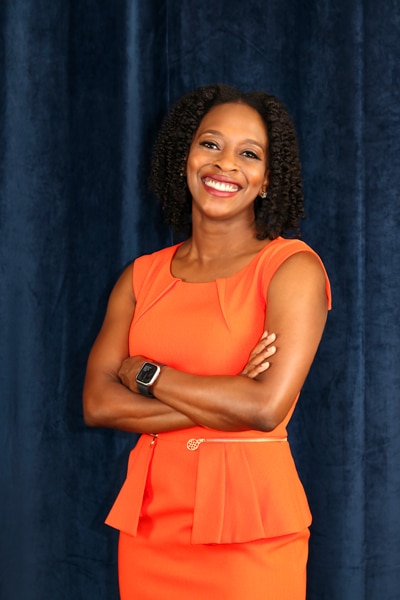 Since settling on IP, Brown has embraced the overlap between her engineering experience and her legal pursuits. She combines both sides of her expertise in her current role as IP enforcement counsel at energy services and technology company Schlumberger, where she supports the business by protecting its patents. Beyond serving the company itself, she gives back to the local community in Houston, Texas, with an eye toward the futures of law and engineering alike.
Brown has always looked ahead. She gravitated toward engineering not only because of her interest in math and science, but also because of the demand for more women in the field. And even as she studied mechanical engineering at Rice University and accepted a rotating equipment engineer role at Shell Deer Park oil refinery out of college, she already knew that law school was on the horizon.
With her mentors' encouragement, Brown left Shell after two years to attend the University of Texas School of Law. She interned at a pension rights nonprofit and explored different areas of law through her course work–until a summer associate position in the IP department of law firm Akin Gump Strauss Hauer & Feld LLP hooked her on IP.
Brown returned to Akin Gump as a first-year associate and spent eight years handling patent litigation at the firm before her current role at Schlumberger opened up in 2019. By then, she was ready to move in-house. "I wanted to focus solely on one company's IP and IP strategies and to use my knowledge of IP law to help make business decisions," she explains.
Today, Brown is doing exactly that. She toggles between investigating assertions against Schlumberger, looking into possible cases of IP infringement, preparing responses and agreements, and managing active litigation. Through it all, she coordinates closely with colleagues inside and outside the IP team to align legal strategies with business objectives.
"I really like being able to develop a strategy, whether it's for how we will assert our patents against potential infringers or for how we will respond to infringement allegations," Brown says. She also enjoys the day-to-day variety of her work, which reminds her of her time as an engineer. She must balance disparate projects and get down to the root cause of problems in much the same way at Schlumberger.
Her engineering background comes in handy in another sense as well. "It helps me understand technical documents and catch on to the different technologies in patents that come across my desk," she says.
Since joining Schlumberger, Brown has certainly capitalized on her dual skill set. The federal circuit has decided several of her cases—including one that she saw through from start to finish—in the company's favor. In addition, she contributed to the development of licensing templates to facilitate the application of past lessons learned to future agreements by attorneys across the IP function.
Brown's colleagues outside the company have taken note of her expertise. "We've been fortunate to work closely with Ashley on all aspects of our matters, from high-level case strategy to day-to-day briefing and discovery," says Gregg LoCascio, partner at Kirkland & Ellis. "Ashley's litigation experience has honed her instincts and judgment and she has been a great addition to the Schlumberger legal team."
Likewise, Brown seamlessly integrates past and future in her commitment to the Houston community that she calls home. "My parents raised me to help others and to give back to the community," she says. As a recipient of mentorship and community support herself, she feels strongly about doing her share to lift up young people, especially female and minority students in her own fields.
In particular, Brown remains actively involved in the Houston Bar Association (HBA). Through her HBA committee work, she participates in a program that connects local first-year law students to employment opportunities. "I help recruit employers to the program and review the candidates' applications, and I've also served as a mentor to participating law students," she explains.
Beyond providing legal mentorship, Brown plans to strengthen her ties to the National Society of Black Engineers moving forward—she's a former member of the organization. "We need that pipeline of people pursuing technical degrees to have more IP attorneys," she says. "I want to make an impact on as many students as I can."
As she fosters the talent of the next generation, Brown hopes to continue building up her own expertise within Schlumberger. But no matter how her areas of practice may evolve, her passion for IP will hold steady.
"Each assertion involves its own unique technology. It's exciting to see the different technologies out there—to be able to read the patents and learn about a new product or service or method," says Brown. More importantly, she adds, "It fulfills that technical part of me."