For Dolores DiBella, a career in law has always meant working alongside smart and talented women. Her very first experience in a legal environment—an undergraduate student position at Georgetown University's then female-majority in-house counsel office—was no exception.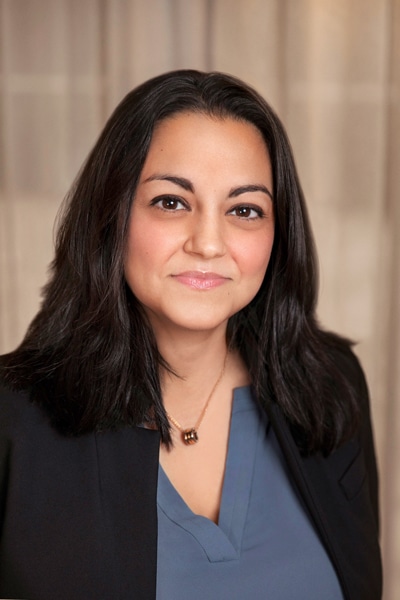 "I loved seeing the work that those women were accomplishing and helping them—in my junior capacity—as much as I could," DiBella recalls. "They inspired me to look toward a career in law."
In the two decades since then, DiBella has made a name for herself in a perhaps unexpected place: the National Football League (NFL), where she serves as vice president of legal affairs. Over the past nine years, she has helped the organization navigate complex legal issues running the gamut from intellectual property (IP) enforcement and consumer protection to litigation and risk management. Furthermore, she leads a team that is majority women: a quality that she considers as indicative of the NFL's legal culture as of the changing face of sports law more broadly.
Inspired by her interactions with women attorneys at Georgetown, DiBella enrolled in Columbia University Law School after completing her undergraduate degree in government. Courses about the law's practical applications in entertainment and consumer products piqued her interest—and laid the groundwork for the associate role at international law firm Proskauer Rose that she accepted out of law school.
When DiBella joined Proskauer in 2006, her assigned partner mentor happened to be the head of Proskauer's trademark, advertising, and entertainment law group. As a result, DiBella received an exciting litigation docket that saw her tackle cases involving global brands, music labels, and high-profile performers in the industry. "That role was where I built the foundation of my litigation and IP experience," she says.
"We have a great team of dedicated and longstanding employees, which speaks to our culture of genuine collaboration and partnership."
Despite her passion for her cases at Proskauer, DiBella began to feel the pull of in-house work by her fifth year as an associate. An opening at the NFL immediately stood out to her. "I didn't have much experience with the sports industry, but it was naturally adjacent to industries that I had worked in for years," she explains. "I was also excited by the idea of working at a company where there was a very lean team and the opportunity for growth."
Between the industry, the lean team, and the opportunity to explore multiple areas of law from an in-house perspective, the role fit DiBella to a tee. That's still the case today, as her responsibilities have evolved significantly since she first started at the NFL back in 2012.
Fortunately, the dynamic nature of DiBella's role adds to its appeal. "The past nine years have flown by because I work on different matters every week and every year," she says. Whereas she focused primarily on litigation and IP at first, her purview has expanded over time to encompass risk management and diverse employment matters spanning the organization's national and global offices. "One of Dolores's many strengths is her ability to engage quickly on any matter, and bring her team together to solve the problem," says Derek Ludwin, antitrust partner at Covington & Burling. "She is an effective leader across a remarkably wide range of areas."
As an example of what has kept her role so engaging, DiBella points to an ongoing consolidated antitrust class action lawsuit pertaining to the NFL's distribution of live game broadcasts. "The opportunity to work on business-minded cases like these is one of the most engaging aspects of in-house work," DiBella explains. "Not only does it allow me to collaborate with internal NFL colleagues but working with outside counsel keeps me connected to the broader legal industry in a way that I truly enjoy."
The VP has worked on an array of other projects and initiatives in her near-decade at the NFL, but her efforts to build up the League's antipiracy and anticounterfeiting programs have remained constant. Those efforts have not only required her to team up with internal parties on IP enforcement and consumer protection issues but also afforded her a platform to work closely with government representatives and industry coalitions.
Throughout all of this work, DiBella has consistently exhibited an impressive level of expertise and leadership. As Elise M. Bloom, a partner at Proskauer, remarks, "Dolores personifies the rare combination of a super smart, yet practical lawyer, who never loses sight of the human aspect to any legal issue. When dealing with her, you are always motivated to bring your A game because you know that she will."
"The NFL champions diversity, especially in the legal department. We want to show that everyone has a place in sports."
Another constant for DiBella has been the positive and engaging culture in the legal department. "We have a great team of dedicated and longstanding employees, which speaks to our culture of genuine collaboration and partnership," she says. "On my team specifically, I foster that culture by making sure that whenever someone has a question or a concern, they don't hesitate to bring it forward."
DiBella's partners have taken note of her leadership abilities. "Dolores simply knows her stuff. She knows the law, she knows the business, and she makes great strategic decisions. I love working with her," says Dale Cendali, partner at Kirkland & Ellis.
With a strong sense of openness and camaraderie already permeating the team, DiBella found the transition to remote work at the onset of the COVID-19 pandemic to be a smooth one. The mutual trust and respect that defined her team motivated everyone to stay connected when apart and eliminated any risk of projects getting derailed.
In DiBella's eyes, the NFL's commitment to diversity further contributes to its inclusive culture. She takes particular pride in the number of women on her team—and at sports organizations in general. "I love to see other women working—and as importantly, advancing—in sports," she enthuses. "The NFL champions diversity, especially in the legal department. We want to show that everyone has a place in sports."
DiBella is most recently proud of leading the NFL's participation in a 2020 amicus brief supporting the Equal Rights Amendment. She views the brief as a testament to the progress made by the NFL and the sports industry at large in fostering the growth and advancement of women in the field. As further evidence of that progress, aspiring women attorneys often contact her to discuss a career in sports law. It's a conversation that she's more than willing to have.
"I'm seeing more women entering the sports industry and rising to leadership positions every year, and that trajectory is exactly what we want to foster," DiBella says. Hopeful, she envisions a future in which gender diversity in sports advances so intrinsically that it will no longer be a remarkable talking point. "That will be such a great place to find ourselves, and we are very much working toward it."
***
Wilkinson Stekloff:
"Dolores is thoughtful and strategic. She brings a wealth of knowledge to every matter based on her extensive experience in the sports industry and as a litigator. She deserves this recognition for her excellence!"
–Brian Stekloff, Founding Partner
---
Expertise Spotlight
Composed of more than 150 lawyers, Proskauer's labor and employment team is one of the largest and strongest labor and employment law departments; we have handled virtually every type of issue for the largest companies for more than seventy-five years. From our handling of complex matters to our work in shaping new laws, we are trusted advisors on everything impacting the workplace. Our prowess in the field consistently earns our team the highest accolades. Our team has a broad practice—we represent clients in litigation and arbitration (including class action and wage and hour matters), labor-management relations, and general employment counseling and trainings. The breadth and depth of our practice allows us to represent clients in a vast range of sectors, including sports, financial services, arts and entertainment, luxury goods, real estate and construction, the public sector, higher education, healthcare, consumer products and manufacturing, communications, and the law.
---
Expertise Spotlight
Kirkland & Ellis is an international law firm with approximately 2,900 attorneys in offices in fifteen cities across the world. Collaborations among Kirkland attorneys in various disciplines produce innovative legal solutions for our clients. We work together across offices and practice areas as integrated, multidisciplinary teams to provide the capabilities necessary to generate great results for our clients.
Our intellectual property practice protects the ideas, technology, products, and brands of global clients in wide-ranging industries, who engage us on complex IP litigation, transactions, and counseling matters. From market leaders to dynamic start-ups, we help clients protect their market position and maximize their intellectual property. With decades of experience, our IP litigation attorneys have achieved extraordinary results in patent, copyright, trademark, trade secret misappropriation, and advertising matters, and they excel in large-scale, bet-the-company cases.
Our practice is widely recognized as one of the best in the industry. Chambers & Partners has ranked us as a top-tier firm for intellectual property for fourteen consecutive years, and we were honored to be named Intellectual Property Litigation Law Firm of the Year by US News & World Report in 2020.
We are grateful to our clients for their trust and partnership on their most challenging matters.