If it hadn't been for the guidance of legal mentors and leaders Bill Kenneally and Christine Daniels, Carrie Terraferma affirms that she would not be in the executive-level position she's in today at Price Chopper/Market 32 Supermarkets. "They both had this unwavering faith in my ability and were so confident that I could succeed in law school," says Terraferma, who now serves as senior corporate counsel and corporate secretary for the supermarket company.
Succeed she did, but it was the company's support that enabled her to embark on her path as a lawyer. "I was in my midthirties at that point, and I was cautious about the commitment it would take to go to law school. I knew I wasn't in a position to not work," Terraferma recalls candidly. "The company guaranteed me a position upon my graduation, which is an extremely fortunate position to be in."
Price Chopper/Market32's commitment to Terraferma enabled her to attend law school in the mornings and work at the company in the afternoons. She completed her JD in three years. The lawyer reiterates that it was Kenneally and Daniels who motivated her, noting, "They really exemplify the impact a mentor can have on your life. It was as a result of their encouragement that I decided to go for it."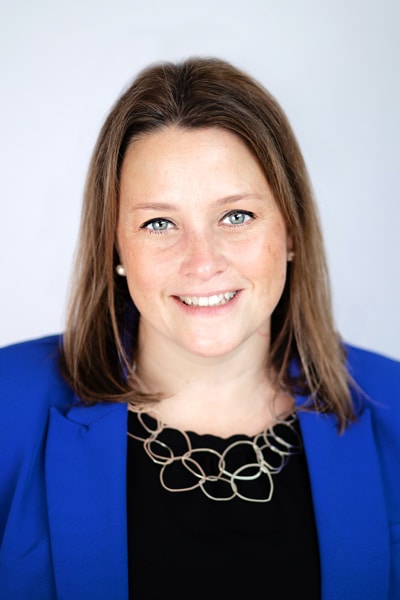 With the recent outsourcing, Terraferma's ability to reciprocate seemed less likely, but she is assisted by a team of two in-house paralegals whom she is proud to support in any way she can. "Mentorship is extremely important in the legal field because it can be fast-paced. It's important to have someone you can turn to who can guide you."
Price Chopper/Market32's outsourcing model is also something that Terraferma herself relies on for support, especially in 2020. "It really allowed me to focus on the pandemic," she explains. "We had to continue to run the business, and that means contract reviews, the things that are needed daily. The outsourcing model really allowed me to focus on pandemic-related risk assessment."
The model came as a result of the partnership between Price Chopper/Market32 and law firm Harter Secrest and Emery, as the latter's managing partner, Craig Wittlin, has had a long-standing relationship with the former. "It was a natural fit for him to act as a general counsel, but not in-house," she says of Wittlin. "He acts as the general counsel and my mentor, and I have his firm at my disposal to contact."
Working with Harter Secrest and Emery and other local counsel gives Terraferma access to subject matter experts to talk through specific issues that may arise, allowing her to advise Price Chopper/Market32 more effectively. Terraferma states that the outsourcing model works because she was ready to hit the ground running with it.
"It allows me to be more of a generalist. As the sole lawyer in a large corporation, there are a number of areas that I provide guidance on," she says. "The company relies on me to give risk-based advice while still speaking in business-friendly terms. The outsourcing gives me the legal information I need to communicate to my business stakeholders to make the best decisions possible."
Terraferma describes her position now as analogous to traffic control. She spots issues, determines what to focus on, and stays flexible in the face of shifting priorities. Moving on to the next issue at hand has been a big part of this past year, as the COVID-19 pandemic brought forth many regulatory changes and risk-assessment issues. Price Chopper/Market32, and the grocery industry as a whole, have responded well. Terraferma attributes the successful response to an ability to shift focus and get creative.
Price Chopper/Market32 operates in six states, and the lack of federal rules means the company has to keep up with the various changes that are happening in each state–and sometimes each municipality, Terraferma explains. "The outsourcing model allowed me to become the COVID expert on the ground as it related to our business."
According to Terraferma, Price Chopper/Market32 and the grocery store industry worked to make adjustments for their stakeholders' safety before state regulations were in place. "By the time the states came out with their guided documents for business on how to operate in a pandemic," she says, "everything that was on the list was things we'd already done."
***
Harter Secrest & Emery LLP:
"As the only in-house lawyer for large organization with more than 100 locations in multiple states, Carrie shows tremendous leadership and judgment, and has a keen ability to focus on priorities and assess risk. She is a pleasure to work with and is a rising star in the legal profession."
–Craig S. Wittlin, Managing Partner