Any firm lawyer who considers going in-house can expect unsolicited advice. Well-meaning colleagues often issue warnings related to deteriorating skills and lack of advancement opportunities. But Connor Kuratek is shattering those misconceptions. After more than five years at Davis Polk, he joined Marsh & McLennan in 2016 and says a corporate role at the leading professional services firm jump-started his career.
Kuratek wasn't looking to leave Davis Polk. The elite international firm with a thousand lawyers and robust practice areas was the only professional home he had ever known. He interned there as a Columbia University undergraduate, became a paralegal upon graduation, took a job as an associate after Harvard Law School, and worked his way up.
At Davis Polk, Kuratek sharpened his skills and built a reputation as a finance and securities expert. In 2015, he was part of the team responsible for representing Etsy's IPO. As Kuratek drafted disclosures and related legal documents, he talked strategy with top tech and business executives. In doing so, he saw how someone with his skills could help a business thrive.
These thoughts continued to percolate in Kuratek's mind when a contact approached him about an in-house position at Marsh & McLennan. The young lawyer hesitated, unsure about leaving the safety and security of a world-renowned law firm. But as he researched Marsh & McLennan and learned about the advisory firm's four key businesses in 130 countries, he realized something. "The idea of leaving a big firm made me uncomfortable because I knew the new job would stretch me," he says. "And that meant I had to do it."
When Kuratek first started at Marsh & McLennan as its chief counsel of securities and finance, he focused exclusively on public disclosures and securities work. Early in his tenure at the company, he realized that there was an important distinction between law firms and corporate departments. "Firm lawyers are on a clear and linear progression, but in-house positions are horizontal and merit based," he says. "I saw the need to break new ground."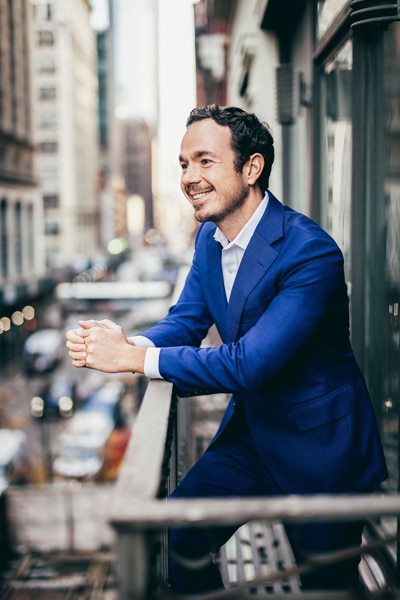 This is especially important at Marsh & McLennan, where General Counsel Peter Beshar has created a continuous learning culture. Kuratek started volunteering for assignments outside his traditional sphere of expertise and hasn't looked back.
First, he joined a cross-business initiative to investigate and analyze blockchain technology. Then, when Mercer (a Marsh & McLennan business) needed help responding to an Australian government inquiry, Kuratek raised his hand again. He boarded a flight to Melbourne, where he spent a month working alongside executives and getting better acquainted with colleagues he'd once only known through email.
In 2018, Kuratek found another opportunity to facilitate growth by steering and supporting the largest acquisition in Marsh & McLennan's 116-year history. Kuratek originally joined a small team tasked with financing the $5.6 billion deal to acquire Jardine Lloyd Thompson Group, a UK public company. But as the process unfolded, he started assisting with regulatory approvals and antitrust submissions. With the high-stakes agreement halfway done, Marsh & McLennan's legal head of mergers and acquisitions left the firm. Instead of hiring someone else, legal leaders tapped Kuratek to help close the deal.
"I was uncomfortable and even a bit intimidated to help finish such a complex and important acquisition," Kuratek says. "But it's good to be uncomfortable. You're only comfortable when you're not learning something new."
In 2019, Kuratek flew to London six times, spending seventy-five nights in England's capital to get the deal done. In closing the deal, Kuratek helped Marsh & McLennan expand its international reach and bring in ten thousand new employees.
Marsh & McLennan's outside counsel speak highly of Kuratek's ability to handle complex transactions where speed is of the essence. "Connor is smart, hardworking, and willing to roll up his sleeves when necessary. He is also very humble and a consummate team player," says Phil Rogers, a partner at DLA Piper US. "He is articulate and has further honed his business instincts since joining Marsh McLennan."
Rogers continues, "He has a deep knowledge of corporate issues, and in other areas, such as regulatory and employment matters, where he has not had as much exposure, he has developed a collaborative approach both within the company and with partners like our firm to ensure that the right resources are brought to bear."
Repeatedly stretching beyond his comfort zone has spurred Kuratek's career growth. In 2020, he netted a promotion to chief corporate counsel and assistant secretary. He continues to embrace his evolving role as it expands into areas where he's not the leading expert.
"The idea of leaving a big firm made me uncomfortable because I knew the new job would stretch me. And that meant I had to do it."
For instance, Kuratek helped Kate Brennan, Marsh & McLennan's deputy general counsel and chief compliance officer, create a new environmental, social, and corporate governance (ESG) committee. They also coauthored several articles to help establish Marsh & McLennan as a thought leader in the ESG space. "ESG is gaining incredible attention, and since these issues are important to us and our businesses, we knew we had to lead the way," he says.
Marsh & McLennan wanted legal to take a prominent role at the outset, given the attention these issues are receiving from investors and the US Securities and Exchange Commission. Marsh & McLennan's new ESG reporting lead reports to Kuratek, and the company has committed to publish its first comprehensive ESG report in 2021.
All these efforts have naturally helped Kuratek emerge as a leader. "I thought I knew how to manage people on day one because I had completed large IPOs and managed complex transactions in the past, but in-house leadership is very different," he says. "Good in-house leaders are empowering and empathetic."
The COVID-19 pandemic brought this idea to the forefront, as Kuratek hosted weekly check-ins and personal follow-ups. The experience brought his team of twelve together. They not only formed closer friendships but also learned how to leverage each other's skills and improve the overall departmental work product.
Another volunteer assignment solidified these philosophies. Kuratek helped plan and execute a global leadership conference for Marsh & McLennan's eighty most senior legal leaders. Now, he's branching out into compliance and helping his general counsel and deputy general counsel manage their five-hundred-person department.
Five years after making the leap in-house, Kuratek is happy he took the risk. He advises younger lawyers to find rewarding work and challenge themselves every day. "I've totally embraced the idea of always trying something new, even if it seems intimidating or scary," he says. "I'm going to keep doing the things that make me the most uncomfortable, because that's where real growth comes from."
***
DLA Piper US:
"Connor is smart, hardworking, and willing to roll up his sleeves when necessary. He is also very humble and a consummate team player. He is articulate and has further honed his business instincts since joining Marsh McLennan. He has a deep knowledge of corporate issues, and in other areas, such as regulatory and employment matters, where he has not had as much exposure, he has developed a collaborative approach both within the company and with partners like our firm to ensure that the right resources are brought to bear."
–Phil Rogers, Partner