When Lehman Brothers filed for bankruptcy in 2008, Angie Karna didn't have all the answers. But as one of the investment services firm's legal leaders, she felt that her team deserved to know as much as she could tell them. She called a meeting the very next day––and brought beers to the office for the team.
"That was the first and only midafternoon meeting I have held in an office with beer," Karna clarifies. "But it was helpful to literally crack open the dialogue and acknowledge the stress that everyone was experiencing."
The crisis reinforced in Karna the value of transparent and authentic communication—a key part of the successful team-building strategy that she has honed over her decades-long career as an in-house attorney in the financial services industry. She brings that experience to bear every day in her latest role as managing director and head of global markets legal for the Americas at Nomura.
To mitigate legal risk, Karna focuses on proactivity, collaboration, and close proximity to the firm's businesses. All the while, she strives to give back to and empower others by supporting external causes dear to her heart and chairing Nomura's own diversity and inclusion (D&I) steering committee.
Karna's commitment to empowerment stems from her upbringing in Canada. The daughter of immigrants, she learned how transformative education can be from her parents' experiences as well as her mother's work as a teacher at an inner-city public school. "I saw the lifelong positive impact my mother's work had on her students, especially female immigrants whose eyes were opened to multiple career possibilities by my mother's compassionate efforts," she explains.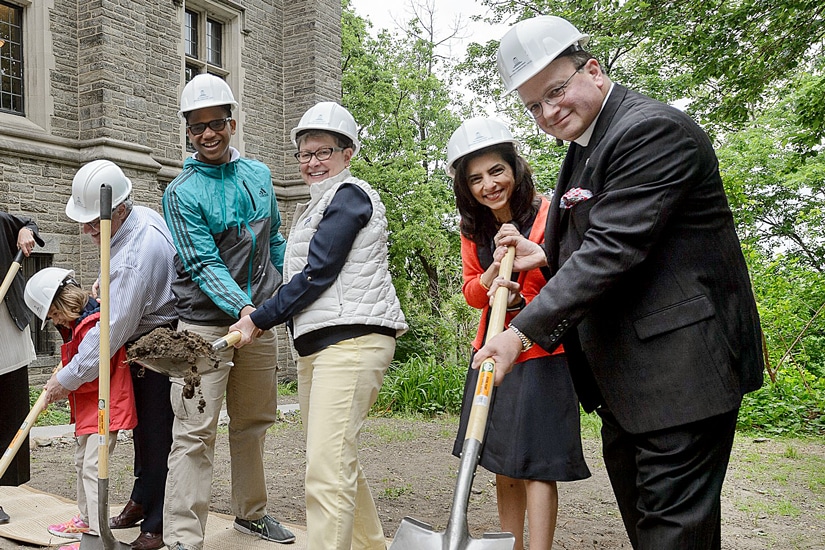 For her part, Karna obtained a joint law degree from the University of Windsor in Canada and the University of Detroit Mercy in the United States to equip herself to practice in either country. After getting her start at Canadian law firm Osler, Hoskin & Harcourt, she accepted her first in-house role at Canadian investment bank CIBC in the late 1990s. "I was hired for my legal skills, but I was sitting in a cross-asset-class business group on the trading floor," she says.
That unique setup shaped Karna's approach to in-house work moving forward. "I saw the vision and the value of having lawyers work in close proximity––physically and intellectually––to the businesses. It allows them to truly understand those businesses and, therefore, to use their legal skills to maximize revenue and minimize risk in the most effective way possible," she says. "My subsequent in-house roles have been structured around wanting to have that same level of proximity and understanding of the businesses but wanting to do it within the legal department."
Karna seeks to cultivate this model at Nomura, which she joined in 2009 following stints at US-based law firm Shearman & Sterling as well as Lehman and its acquirer, Barclays. Whereas she concentrated on equities and joint ventures between equities and fixed income in her prior roles, her purview now encompasses all trading floor businesses. The broadened scope makes it even more critical for her and her team to collaborate toward the common goal of legal risk management.
The COVID-19 pandemic––and the virtual workplace that accompanied it––further amplified the need for everyone to be on the same page. "Communication and connectivity have become even more important," Karna confirms. "We've added more frequent regular meetings and conversations onto the calendar to make sure that people are connecting with their clients and with each other to foster and harness those chains of communication."
Subscribe Now
Receive stories like this one in your inbox every two weeks!
Subscribe to the free Modern Counsel newsletter.
Karna's colleagues have taken note of her ability to collaborate and communicate clearly with a host of different parties. "Angie is an exceptional leader with a unique gift for fostering collaboration across different constituencies. I'm constantly impressed by the way she uses her keen intellect, depth of experience, and her ability to communicate complex ideas simply to bring people together and to get to the right answer," said Cleary Gottlieb Partner Rishi Zutshi. "It is a privilege to work with her and the rest of her team at Nomura."
Along with proactive and transparent communication—and connectivity more broadly—Karna relies on a combination of challenge, compassion, and celebration to manage her remote team. She makes a point of marking successes, staying attuned to her team members' individual needs, and offering opportunities for growth and ownership––all while remaining ready and available to assist when necessary.
Beyond her legal and management duties, Karna chairs Nomura's D&I steering committee for the Americas. Newly dedicated resources over the past few years have allowed her and the committee to bolster the firm's employee networks, introduce inclusive leadership training, and establish diversity-oriented recruiting partnerships.
"There's always room to do more, but we've definitely made significant progress in this area," says Karna. "For example, we've scored 100 percent––a perfect score––on the Human Rights Campaign Foundation's Corporate Equality Index, which is very important to us."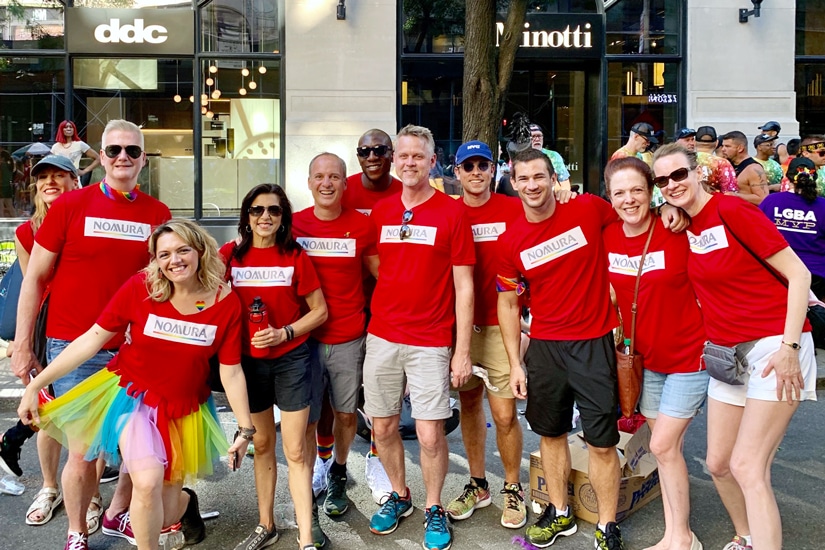 Karna places similar weight on her nonprofit ventures outside Nomura. She has served on and led a number of boards, including those of Girls Inc. of New York City, the Cathedral of St. John the Divine as well as the affiliated Cathedral School, the Institute of International Bankers, and Women in Derivatives. She also cofounded the latter organization, which prepares women for lasting leadership roles in finance.
Female empowerment and leadership as well as education stand out to Karna as common themes across her board roles. "Some of the earliest advice that I remember receiving from my family revolved around the importance of education and independence, especially for women. I took those lessons to heart as I thought about areas where I wanted to give back," she says. "Those lessons are also linked to my passion for D&I work."
As Karna continues to search for ways to meet her nonprofit and D&I goals, she retains a strong focus on finding solutions in her legal work as well. She encourages her team members to share this solution-oriented perspective––one more method for not only keeping the team running smoothly but also managing Nomura's legal risk.
"I really do believe that the most effective legal risk management happens when the lawyers are seen as true partners to the businesses," Karna emphasizes. "It leads to better outcomes for the firm and for the team."
---
Mayer Brown LLP:
"Angie is a force in the financial services industry with decades of experience that she brings to the table as head of global markets legal for the Americas at Nomura."
–Sagi Tamir, Partner