Mark Schroeder didn't choose the energy industry; the energy industry chose him. Schroeder, a CPA, enrolled in law school to focus on tax law. But something unexpected happened during an internship with a congressman from his home state of Louisiana. Schroeder was infected by "Potomac fever," or the desire to stay in Washington, DC.
There was just one problem. Not many DC firms were recruiting summer clerks from Louisiana State University, where Schroeder was in his second year. The ambitious student, however, was undeterred. The intersection of law, policy, and business motivated him. He knew he could leverage his skills to make an impact. And instead of settling for something else, he waited until a large Houston firm with a DC office came to campus. Baker Botts, which specialized in energy regulation in Washington, represented Schroeder's only opportunity to go to Washington. When they offered him a summer clerkship, he took it on the spot.
That was 1981. Schroeder left his first internship with a solid job offer in hand. However, not everyone in his life thought he should accept it. "People thought the industry was about to be deregulated or was too volatile," he explains. "This is indeed an interesting industry with special challenges, but that is part of what attracted me to it." Schroeder accepted the job offer and has been in the oil and energy sector ever since.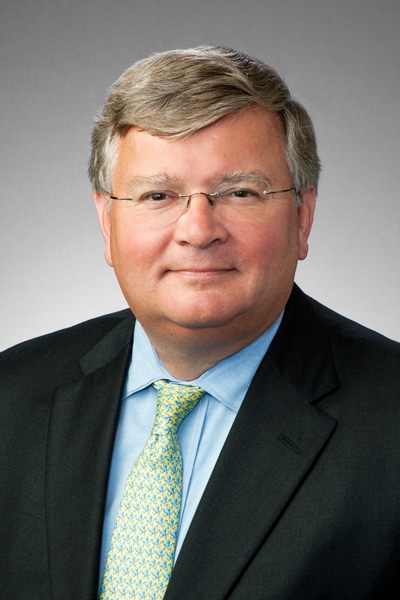 Schroeder thrived as part of the Capitol Hill community and enjoyed observing how government offices, federal courts, and other entities combined to form one of the nation's most unique legal markets. Five foundational years with Baker Botts helped the young lawyer improve his writing and communication skills. A group of commercially minded associates and partners helped him develop a problem-solving mindset.
"Some new lawyers focus only on nuanced contract language or minor points of principle that don't really add value to the transaction, but I learned how to really help a client achieve its business goals," Schroeder says.
By 1989, Schroeder was serving as a deputy general counsel for the United States Department of Energy. In that role, he managed natural gas and environmental legislation. Three-plus years in the Bush administration allowed Schroeder to work closely with people who committed to government services as a career. The experience helped him understand how decisions get made in large bureaucracies and how to navigate the competing demands of various constituencies.
As Schroeder stacked up experience and broadened his skills, he found more opportunities to make an impact in oil and energy. He left the federal government and returned to private practice in 1993. A year later, the Enron Corporation recruited Schroeder to step in as general counsel of Northern Natural Gas in Omaha. From there, Enron took him to London, where he negotiated with agencies and utilities across Europe as the EU was building an energy commodities market and starting a deregulation process.
By 2003, Schroeder had built a reputation as a respected veteran in the space. He moved to Houston-based CenterPoint Energy and entered a new phase of his career. "I've never been content maintaining the status quo. I always challenge myself, and I value continuous learning," he says.
Schroeder was ready to take on a more dedicated leadership role and emerge as a top manager of talent. Schroeder started as the only lawyer for CenterPoint's midstream energy group and grew the department from the ground up. In 2011, he became a deputy general counsel for the entire CenterPoint organization, with oversight of an important legal team that supported the regulatory and commercial side of electric transmission and natural gas distribution, in addition to the oil and gas midstream business.
In 2013, CenterPoint partnered with OG&E to combine each company's midstream assets and form Enable Midstream Partners (Enable). Schroeder stayed as the new organization's general counsel to lead all legal affairs, including important growth initiatives and M&A transactions.
It's been the perfect role for someone nearing the end of a four-decade career in energy. "I've seen a lot of my experience come together here as I take on some big challenges and hopefully influence and prepare our younger lawyers for what's ahead," he says.
Enable's external partners, including Bradley Murchison & Kelly Shea, can attest to Schroeder's eminent capabilities: "Outside counsel working with Mark can be confident that all client matters will be handled ethically and professionally and that he will support and provide guidance to associates and young partners included on his projects," says Kay C. Medlin, a founding member of the firm.
"Some new lawyers focus only on nuanced contract language or minor points of principle that don't really add value to the transaction, but I learned how to really help a client achieve its business goals."
Schroeder manages a robust ethics and compliance function and has developed new governance structures and internal policies for the organization. In 2014, he drafted public Securities and Exchange Commission filings for the company's $575 million IPO. The deal was the largest IPO by asset value for a midstream energy company.
While historic in size, the 2014 deal only prepared Schroeder for even more complex transactions. In 2020, he helped steer Enable through a $7 billion all-equity acquisition by Energy Transfer. As he continues to lead Enable's legal function, Schroeder is focused on maximizing effectiveness and maintaining momentum in the business. Enable is the plaintiff in one major piece of litigation going to trial in 2022. The company also recently received approval for a $550 million pipeline construction project to access Gulf Coast markets.
Schroeder knows he is probably in his last year as a full-time corporate attorney and is preparing his team for a successful transition. "Good people make you look good," he says. "I've surrounded myself with the best people I can find, and I'm doing my best to build the culture here so the team will be as strong as possible going into the future."
Enable embarked upon a program called "Liberating Leadership," through which its managers provide employees "high challenge" work and "high support." The philosophy is to challenge Enable's employees, including the attorneys, with meaningful work, and for managers to make sure that employees have the support and resources they need to thrive. While any merger brings a measure of uncertainty, Schroeder says good leaders can ensure their team members either have a place at the new company or are prepared to find their next landing spot.
As Schroeder reflects on a long and successful career, he's both grateful and hopeful. "Younger lawyers can still find an interesting, exciting, and meaningful career in energy," he says. While those lawyers won't be dealing with the same issues found in the fossil fuels industry that Schroeder once did, they can harness the potential of the energy transition in growing renewable markets, development of efficient battery storage, and carbon capture projects. Energy is what moves our economy, no matter how we produce it, and good lawyers will always have a home in the industry.