Growing up in a rural American community, Krista Sweigart often dreamed of international travel. Now at the legal helm of commercial transactions for AES Corporation, one of the world's leading renewable power companies, it's safe to say she's probably crossed off more than a few destinations on her bucket list.
With assets located in fifteen different countries around the world, AES Corporation's day begins in Vietnam and ends in Hawaii, and Sweigart relishes the opportunity to work closely with people in just about every time zone.
"One of the reasons I love my job is that it has given me the opportunity to create very deep relationships with a diverse group of people I would have never met [otherwise]," she says. "I've worked closely with very talented colleagues from places like Brazil, Amsterdam, and Kazakhstan, and I've gotten to really understand their day-to-day lives and how that affects their viewpoints."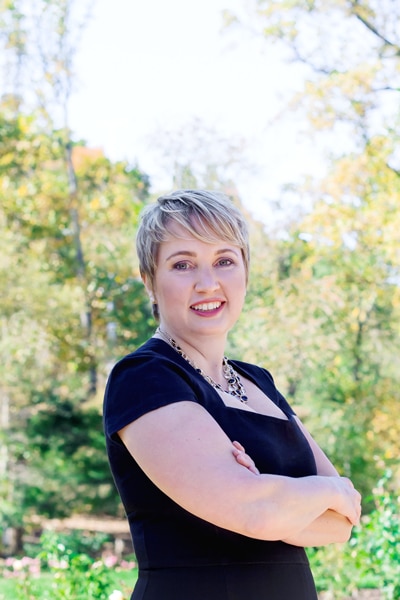 In fact, she spent more than a year living in Vietnam after it became clear that a $2.1 billion electric generation project there needed on-the-ground attention.
"I was advising from my office in Arlington, Virginia, when that development ran into quite a few snags," Sweigart recalls. "Initially, it was suggested I go for a week or two, and then it was three weeks, four weeks. It became clear that there was a lot of work to be done, so I essentially relocated to Vietnam and jumped in headfirst to work on all aspects of that particular project: permitting, construction, raising equity, project financing, and so on." AES has a culture that prizes agility, and for Sweigart, that translated into an opportunity for exponential personal and professional growth.
Though it sounds like a substantial move to make, immersing herself in the projects she advises on has been Sweigart's calling card since the beginning of her career. While practicing law at a large firm in the years directly after law school, she realized she didn't want to stay on the sidelines.
"I found I didn't like the idea of just advising on projects. I wanted to be deeply involved in ensuring their success." She also wanted to contribute to something greater than herself, and AES Corporation's mission of improving lives by accelerating a safer and greener energy future was exactly what she was looking for.
The unique culture of AES, which encourages people to take on different challenges throughout one's career, has also been a key to Sweigart's success. In addition to being a senior member of the legal team, she's a member of the Board of Directors of AES Tietê, a public company in Brazil focused on renewable energy generation. She has also had roles in the company's finance, project development, and operations teams that have given her a chance to build a strategic, action-oriented mindset.
"Those experiences helped me look at challenges from different business perspectives. I don't just take a legal view—I also have insight into how the issue might be viewed by other parts of the organization and our stakeholders," she says. "When people bring problems to me, I don't want to just give them a sterile legal answer. Instead, I'm trying to imagine with them how this is going to play out, what the motivating factors are, and how to get to a win-win resolution as quickly as possible."
"AES doesn't shy away from challenges, and there is always something unexpected. But I come in every day with a mindset of making things better than they were when we started."
While tackling a wide array of challenges and building deep, constructive relationships has certainly helped Sweigart grow into a role that is as broad in scope as it is influential, she says it has also taught her to focus on the big picture and act with empathy.
"It's very easy to say, 'You must do X, Y, or Z since this is the policy,' but when you can understand the cultural context and that something like electricity is a fundamental need, then you can start to imagine ways to meet people in the middle and maybe even bring them over to your side," she says. "Having worked with so many different situations in the past has given me insight that helps me get to the right resolution for everyone involved a lot more quickly."
As AES Corporation continues to lead the global transition toward a more sustainable energy future, Sweigart looks forward to continuing to play a key role in improving the way AES meets the needs of its customers with technologies such as AI and machine learning. One recent example is the company's strategic alliance with Google, where the two companies will work together to develop new solutions to accelerate the adoption of renewables and energy storage, and to improve the customer experience. Though it's exciting to work on such projects, she says her greatest motivator is that the work she does directly contributes to improving people's lives across the globe through greener, smarter energy solutions.
"AES doesn't shy away from challenges, and there is always something unexpected," Sweigart says. "But I come in every day with a mindset of making things better than they were when we started. Ultimately, the work each of us does at AES fundamentally contributes to improving people's lives, and that's incredibly satisfying."
***
Clifford Chance:
"Krista is an incredibly smart and dedicated lawyer.  Her ability to find solutions to complex problems (often without a playbook) has been a key secret to her success. She also happens to be a strong role model for women working in the renewable energy field."
–Jessica Springsteen, Associate
***
Baker Botts LLP:
"Krista excels at managing complex transactions while coordinating with a large team of innovative deal makers. With her combined legal and commercial experience, she knows what is a priority. It's a joy to work with her."
–Michael Didriksen, Partner