The advice of a father often carries heavy weight, but in LaTasha Rowe's case, the general counsel and chief compliance officer at NFM Lending was motivated by her father's words in ways that would help define her career.
"My dad always told us that home ownership was a way to create generational wealth not just for yourself, but for your children," Rowe remembers. "As an African American woman, I understand personally that there are things that we can do to create better access to credit and mortgage products for underserved and minority communities."
Rowe's journey is an amazing one. A mother at just fifteen, the lawyer-to-be would eventually be driven to her Virginia bar exam by her son, who had grown up attending college and law school with his mother. Rowe's focus on financial independence, inspired by her father, wasn't just sound advice. It was born from a car accident that thrust Rowe's family into the direst of situations and left their future in jeopardy.
And now, nearing ten years at NFM Lending, Rowe continues to help her company find new and innovative ways of creating generational wealth and economic parity for those who often have the hardest time finding access to fair and equal lending.
---
LaTasha Rowe discusses the growth and evolution of NFM Lending during her tenure:
---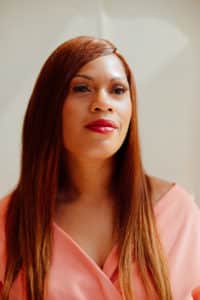 "LaTasha has that rare, winning combination of being very smart and exhibiting great common sense," say Rowe's external partners, Silverman Thompson partner Bill Sinclair and Bowie & Jensen member Nicole Windsor. "Throw in her approachability, good humor, and infectious laugh, and she's an absolute delight with whom to work."
Self-Made but Not Alone
The philosophy of Rowe, and, on a more general level, the leadership team at NFM Lending, is best embodied by the story of Rowe's father. A dedicated employee, he was wrongfully terminated after a car accident on the job because his employer didn't want to pay out workers' compensation. Rowe's father, not only facing economic hardship but also told he'd probably never walk again, obtained legal counsel. He was eventually awarded enough compensation to start his own business.
Rowe's father would eventually walk again. Having surpassed his seventy-fifth birthday recently, he sent Rowe a video of him riding a bicycle. He's "in better shape than any of his children," the lawyer says, laughing. And his business, which started with two employees, grew into a thriving company with a workforce of more than one thousand.
The counsel from the family's lawyer provided the inspiration for Rowe's own career. She witnessed firsthand the ability of an individual to rise up and flourish if given a fair chance to do so.
"I saw that as an attorney, I could help others who may not be as knowledgeable and may have had setbacks in their lives," Rowe says. "I could have an impact and be one of those positive people you need in your circle, who can help you be successful regardless of what life hands you."
A Chance for All
After several years in a successful practice of her own, Rowe was approached by a former colleague about getting into the mortgage industry. Having just lived through the economic recession of 2008, Rowe's mind was pretty well made up.
"Frankly, I was like, 'No way,'" Rowe says bluntly. "The perception was that anyone in the mortgage industry was the bad guy and had gotten us in this problem in the first place."
But she interviewed anyway and quickly changed her mind. "I absolutely fell in love with the leadership team, and not just their passion for the industry, but their integrity and desire to help people purchase a home the right way."
The right way means education. "What are challenges for the Black and Latino communities that make them hesitant to purchase a home, and what kinds of products can we offer to the consumer that is finding that process a challenge?" Rowe says.
NFM participates in organizations like the National Association of Minority Mortgage Bankers of America (NAMMBA) and the National Association of Hispanic Real Estate Professionals (NAHREP). These partnerships provide a deeper understanding of the challenges facing many prospective Black and Latino buyers looking to make home ownership a reality.
"There are so many things you have to account for that you just never think about," Rowe says. "We don't want homebuyers to experience that payment shock of those incidentals, like a broken air conditioner or things of that nature. It's not just about getting the loan. It's about sustaining that homeownership once they're in the home."
NFM Lending also offers a limited English proficiency program (LEP). "Between 15 and 20 percent of our customers identify as Latin American, so we took the initiative of providing materials and translation for our consumers whose primary language is Spanish," the GC explains. "The data shows that the average American has around an eighth-grade reading level, so when you're trying to understand mortgage terms, trying to understand an entirely different language shouldn't be a barrier."
The Power of Three
It's not just Rowe's father who has impacted her path. Rowe's mother imparted important advice for an African American woman who might often find herself the only person of color in any given room throughout her career.
"Mom always told me the importance of having three people in your life: someone ahead of you to act as a mentor and a sounding board, a peer who is going through what you are going through, and someone who is behind you, because while you're climbing, you can help bring them up with you," Rowe says. "Talking to someone who is younger in their career continues to make you grateful for your position and allows you to give back for what you've received."
Rowe says the support of her family and peers allowed a fifteen-year-old mother to still pursue her goals. And that makes her especially aware of those who haven't been given the same chances. "A lot of people in my position didn't have those same resources or community," Rowe says. "But that doesn't make it impossible."
And that's why Rowe is where she is today, helping ensure that those looking for a shot at the American dream of homeownership have at least one of those "powerful three" in their corner.
Who Are We, Anyway?
In coming to NFM Lending, general counsel LaTasha Rowe recognized an opportunity instantly. "Our brand at the time was NFM Inc; this was nondescript and had the same acronym as a furniture company in Nebraska," Rowe says, laughing. "Our leadership wanted people to know who we are and what we do, and we needed to freshen up our color palette too."
NFM Lending's rebranding, coupled with quickly shifting its model from refinance to purchase centric, changed the business course dramatically. This change resulted in exponential growth for the NFM core group. Today, the larger NFM umbrella includes Main Street Home Loans, Freedmont Mortgage Group, and BluPrint Home Loans.
***
Expertise Spotlight
Silverman Thompson's business litigation group provides trial and counseling services to Global 100 companies, Maryland entrepreneurs, and business and individuals in between. We have tried or arbitrated all manner of business and complex civil disputes throughout the Mid-Atlantic region, including business breakups, construction matters, employment issues, fiduciary duties, and lending and banking matters. Our attorneys include a former US District Court judge, a former Maryland Court of Appeals (court of last resort) judge, two former assistant United States attorneys, two former Assistant Attorneys General to the State of Maryland, former state prosecutors, and former law clerks to federal and state trial and appellate judges. On the counseling side, we have deep experience with advising clients on business formation and breakup, employment issues for both employers and high-net-worth employees, property acquisitions and sales, and lending- and banking-related matters.
***
Expertise Spotlight

Empowering businesses to succeed is Bowie & Jensen's core mission. The firm serves privately held businesses, investors, and entrepreneurs in successfully achieving their business objectives. In addition to routine corporate and business matters, Bowie & Jensen represents clients in mergers, acquisitions, and financings as well as intellectual property, employment, and commercial litigation.
After decades of experience as trusted outside general counsel, our lawyers have strong instincts for when a simple approach will address a given issue—and when circumstances require a greater effort. These instincts are fundamental to our ability to provide invaluable, cost-effective guidance across a range of industries.
More information at www.Bowie-Jensen.com.