Before joining the University of Oregon in 2015 as vice president and general counsel, Kevin Reed had spent a lifetime using the law to enact positive change in his community. Now at the legal helm of a billion-dollar educational entity—one of the largest in the country—Reed juggles issues such as diversity measures, campus policing, and the COVID-19 pandemic. He views these challenges as a chance to bring his unique brand of integrity and practicality to further the university's mission.
In 1990, Reed won a Skadden Fellowship to work for the NAACP Legal Defense and Educational Fund, a job he took after clerking for the Honorable Dennis W. Archer on the Supreme Court of Michigan. He worked on cases involving police misconduct, housing discrimination, and public benefits discrimination. "It was a job that was enormously emotionally satisfying," he remarks.
After making a name for himself as a civil rights litigator, Reed moved into private practice. He joined LA law firm Strumwasser & Woocher, which "believed very much in 'doing good while doing well.'"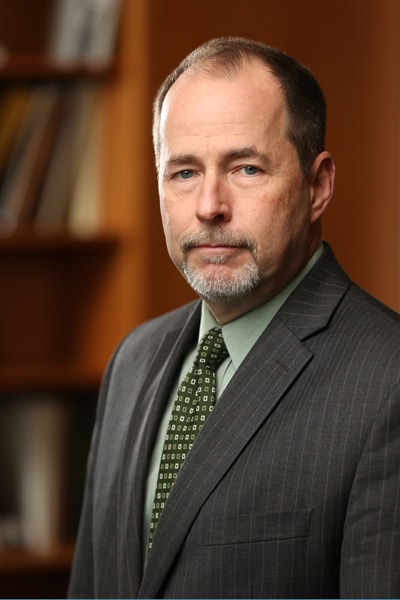 But it was while serving as general counsel for the LA Unified School District (and later UCLA) that he saw the utility in working for the kinds of institutions that would normally become defendants in his civil rights cases. "Rather than waiting to sue people for making bad decisions on the back end, you can force conversations that result in better decisions on the front end," he explains.
Soon, Reed was drawn to the University of Oregon by new president Michael Schill, who'd been the dean of the UCLA law school when Reed worked there. Since 2015, he's applied many of the principles of civil rights litigation to his work at the university. "I try to help make legally compliant decisions, but ones that push the envelope in ways that really help advance civil rights," he says.
Diversity initiatives are high on Reed's list—a difficult task because the state of Oregon itself lacks diversity. As such, fostering inclusion and ensuring hiring parity in race, gender identity, and sexual orientation require creativity and risk-taking.
In faculty hiring, for instance, one of the biggest myths Reed has to combat is that it's illegal to pay attention to applicants' race or ethnicity. "My job is to help them understand that, in fact, the greater risk is not paying attention to those things," which can inadvertently result in candidate pools so homogenous as to be actionable, he says.
Putting Out Fires
Outside of his work at the University of Oregon, Kevin Reed spent many long hours in September 2020 as a volunteer firefighter with McKenzie Fire Rescue. He helped protect homes from the historic wildfires that blew into the McKenzie River Valley, which Reed calls home.
"It gave me the opportunity to spend hours that I wasn't otherwise at my desk out there with a great team of women and men, feeling I was doing something," he says.
Reed also finds ways to destigmatize the legal function at the university. "The worst thing you can do as general counsel is to become the office where great ideas go to die," he says. Instead, he positions the office as a thought partner, which allows him to help people find a legal, ethical way to achieve their goals.
The scope of a large public research institution is like a small city unto itself. The university has on-campus animal research facilities, restaurants, housing, a health center, athletic facilities, and its own police and fire departments on top of its faculty and twenty-two thousand students. "You never know what's going to come your way, but that makes the job incredibly fun," he muses.
One of the most exciting initiatives Reed has encountered is the University of Oregon's new science campus, the Knight Campus for Accelerating Scientific Impact. President Schill set a goal to build out an entire campus that would translate the campus's scientific discoveries into actionable ways to better mankind. With the aid of a $500 million gift from Penny and Phil Knight, one of the university's most renowned alumni, the initiative is sure to raise the university's profile as a leader in scientific research.
"It was a marvelous opportunity to get in on the ground floor of something brand-new and innovative," Reed says. He was tasked with acquiring the property on the other side of the street from the main campus, which meant working on eminent domain and condemnation issues.
The acquisition of the land for that initiative, and the other work Reed does every day at the University of Oregon, all goes toward Reed's long-term ambition to see the campus become known as one of the most reputable, ethical institutions in the country.