Simon & Schuster (S&S) boasts seemingly endless digital offerings: e-audiobooks, e-books, language-instruction subscription services, and even a podcast. Authors participate in various online activities, from Facebook Live events to virtual book tours. As executive vice president and general counsel, Veronica Jordan has leveraged her legacy knowledge of the iconic publishing company, founded in 1924, to help it navigate the twists and turns of digital evolution.
While Jordan has deep expertise in content distribution and new media, she remembers when Simon & Schuster didn't even have a website. She came to the company in 1995 to work on international higher education and K-12 matters and transactions as counsel. Simon & Schuster Online and simonsays.com, the brand's first URL, followed in 1996.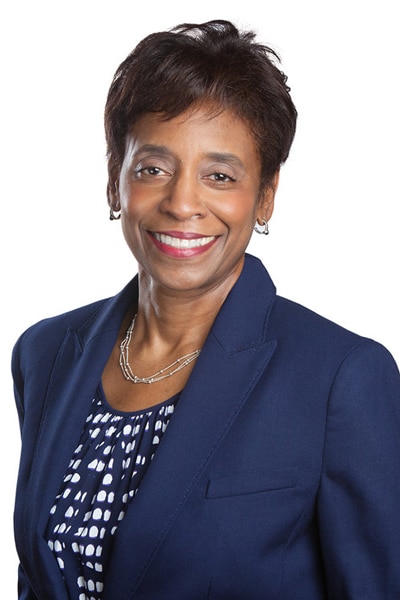 As S&S stepped into the emerging digital environment, the small in-house team had to learn the space. Jordan, who came with three years of experience at Davis Polk & Wardwell and a clerkship under her belt, says that era set the tone for her career. "Typically, internal legal departments lack the kind of robust training programs that large firms have," she says. "I had to learn by doing, figuring it out alongside my clients. I developed my skills deal by deal during a period of widespread industry transformation."
In 1998, the company launched S&S New Media. Two years later, its Scribner Imprint made news by distributing Stephen King's Riding the Bullet electronically, forgoing traditional publication. The first e-book cost $2.50 per download and sold more than four hundred thousand copies in its first day.
There was a lot at stake with the King book and other digital endeavors. "A publishing company succeeds on the great content its authors create and an effective strategy for promoting, distributing, and selling the works," Jordan says. "The digital era brought a whole new set of threats to IP, and if we lose the IP, we lose our company."
Subscribe Now
Receive stories like this one in your inbox every two weeks!
Subscribe to the free Modern Counsel newsletter.
By Jordan's third anniversary at the company in 1998, Simon & Schuster faced a corporate shake-up. Its parent company, Viacom, sold off its educational, professional, and reference publishing divisions to Pearson, making S&S a much smaller, standalone consumer publishing company. A new GC entered and tasked her most junior lawyer (Jordan) with a nascent area of opportunity: digital.
Jordan became a self-taught expert in emerging technologies as she crafted the ins and outs of digital deals for the next two decades. She advised on technology matters, marketing, media law, and consumer privacy issues; implemented the company's CAN-SPAM (Controlling the Assault of Nonsolicited Pornography And Marketing Act) compliance program; worked with a cross-functional team to implement the EU's General Data Protection Regulation (GDPR) compliance program; negotiated software licenses; enhanced e-book development deals, video content creation, and distribution deals; developed a homegrown social networking site; reviewed social media promotions; handled agreements for the company's websites and apps; and performed prepublication reviews of manuscripts.
Jordan and her legal team are a critical part of Simon & Schuster's backbone as it finds new ways to lead in digital publishing. In recent years, the company has announced partnerships with various tech companies, unveiling digital products and services ranging from e-commerce sites to online video courses.
"As a little girl, books changed my life because they gave me a window into a much broader world—one I was curious to explore. It's thrilling to be part of a company that can continue to provide that experience to so many other people."
In April 2019, after twenty-four years with the company, Jordan received what to her felt like a "surprise promotion" to executive vice president and general counsel. Although Jordan interviewed for the position, it wasn't clear she would receive the job, given that previous GCs came from the parent or partner companies. Still, it's difficult to imagine someone better suited for the job.
Jordan is using her new position to promote diversity. She advocated for unconscious bias training, a diversity town hall led by the CEO, and the hiring of a director of workplace culture and diversity. Twenty-five years ago, Simon & Schuster had few BIPOC (black, indigenous, and people of color) employees. In the last decade, the company has made strides among the lower rungs of employees—but, as in many companies, more is needed. Jordan has hired two lawyers, one of color, to join two veterans and a paralegal of color to round out her department.
Jordan is also pleased that her company has broadened the diversity of voices it publishes. She is particularly thrilled by the efforts of the children's division, which publishes two prominent Black children's authors, Jason Reynolds and Rachel Renée Russell.
In the second quarter of 2020, digital sales at S&S were up 44 percent, driven by the pandemic. Audiobooks are on the rise, and even print sales are holding strong. This is good news for Jordan. Not only because of the work that she does but because she believes in the power of a good book.
"I'm Afro-Latina and grew up in an underresourced community. As a little girl, books changed my life because they gave me a window into a much broader world—one I was curious to explore," she says. "It's thrilling to be part of a company that can continue to provide that experience to so many other people."
A New Skill Set
While her background is an undeniable strength, Veronica Jordan is wise enough to know that every expert has skill development areas and that GCs in particular need broad skills. Less than six months after her promotion to executive vice president and general counsel, S&S was a named plaintiff in a major lawsuit brought against Audible by several members of the Association of American Publishers (AAP).
The AAP filed the suit in an attempt to block Audible from displaying captions (AI-generated online text) to accompany the audio content it licensed from publishers. The parties settled the lawsuit in early 2020, and although an outside firm handled the case, Jordan says it was the perfect chance for her to refresh and expand her litigation skills.
But the AAP/Audible case paled in comparison to Jordan's other lawsuits this year. In 2020, her company published two controversial best sellers: John Bolton's The Room Where It Happened: A White House Memoir and Mary Trump's Too Much and Never Enough: How My Family Created the World's Most Dangerous Man. The Justice Department attempted to halt publication of the former, while the latter faced a similar threat brought by the late Robert Trump.
Drama ensued in the Mary Trump litigation. On June 30, a New York Supreme Court judge granted a temporary restraining order (TRO) blocking the book's publication, citing a nondisclosure agreement Mary Trump had signed. On July 1, however, an appellate judge vacated the TRO as an unconstitutional prior restraint against S&S, observing that S&S "had not agreed to surrender or relinquish any of its First Amendment rights."
As to Ms. Trump, the TRO remained in place. It would take nearly two weeks before the matter was finally resolved and Robert Trump's preliminary injunction motion was denied, clearing the way for S&S and unmuzzling Ms. Trump.
The legal actions only raised the profiles of the very books their opponents sought to quash. Too Much and Never Enough sold more than one million copies in its first week, while The Room Where It Happened sold 780,000.
***
InfoLawGroup LLP:
"We at InfoLawGroup are thrilled to recognize Veronica's accomplishments. Her ability to adapt to an ever-changing market and business demands is unmatched. I consider her a role model and mentor and deeply respect her work to promote opportunities for other attorneys, both inside and outside her own organization."
–Justine Young Gottshall, Partner