"It's pretty rare, as a governance lawyer, to see an opportunity to create value directly from governance," says Keir Gumbs, who supports key corporate functions as associate general counsel at Uber.
Gumbs's opportunity to implement new governance practices at Uber began in 2017, when an investigation led by former US Attorney General Eric Holder revealed numerous workplace misconduct and sexual harassment allegations. As outside counsel to the embattled company, Gumbs helped Uber assess the report's findings and develop governance recommendations. Soon afterward, he was invited to come in-house.
"I viewed it as an opportunity to come in and see, in a real-world way, how governance can add value," he says. "If I could come help the company build out its governance profile and address some of the very significant concerns that had been identified [in the Holder report], that would not only be a great experience for me but also allow me to do some public good."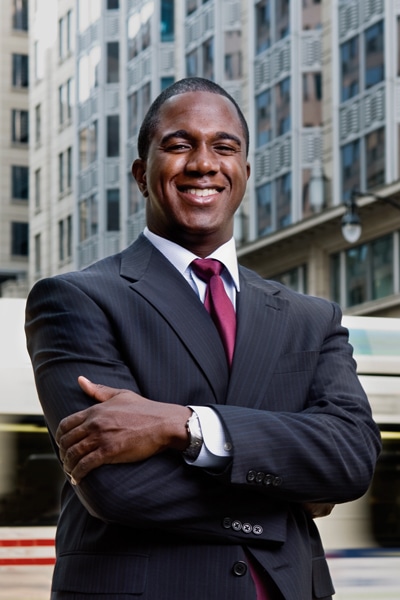 Gumbs knew firsthand how the ride-sharing platform added meaningful value to the lives of people often marginalized by the standard taxi network. "As a Black man, I thought Uber, from the very beginning, addressed what I continue to feel is a really fundamental challenge around mobility," he says. "I've had many instances where I would be waiting on a corner for a cab and drivers passing by wouldn't pick me up. I'd be dressed up trying to get to an interview or trying to get to class—it didn't matter.
"Some of the folks who were in those vehicles didn't want to give me a ride. What I've always loved about Uber is that whether intentionally or not, through technology, it provided a way to get around that kind of systemic bias that people have."
Though Gumbs was excited to help a company with such transformative technology implement core governance practices, he knew it wouldn't be easy. The challenges began as soon as he was faced with building out his team.
"The legal team was still going from the kind of team you have at a private start-up to a much more robust public company-like structure," he says. "Morale was at historic lows because people weren't sure what the future held, and they were demoralized by the things that some of the former leadership had done. I spent most of my time in that first year working on rebuilding the team and creating a sense of purpose and connection among us. Honestly, that process was by far the most challenging thing that I've worked on since I've been at Uber."
Gumbs dedicated time to learning what made each individual hum. He launched weekly employee recognition newsletters and helped reframe legal as a crucial vehicle for generating shareholder value through governance.
"We went from theory around governance to actually implementing the governance and seeing the way that those governance changes impacted the way the company operated."
"I'm really fortunate, because the events from 2017 and the Holder report set the stage for a governance transformation," he says. "They had already started on the path of implementing many of the recommendations following the report, including transitioning the board and senior leadership. I didn't have to start things from scratch. Instead, there was a really strong basis for us to be able to move forward into what I would consider is now a much more mature and, frankly, leading corporate governance structure for a tech company."
Gumbs and crew extensively dug into the benchmarks at Fortune 100 companies and leading technology firms, observing their governance practices, and studying the largest IPOs. "We identified what we believed were the leading practices among each of those cohorts and then implemented policies and procedures that were aligned with those practices to make sure that in the course of our IPO and afterward, we could say, legitimately, that we had adopted a leading corporate governance framework."
Gumbs says the long, involved effort, which included Uber's board, was necessary to separate Uber from its past and set it apart from its peers. "Technology IPOs, particularly for technology companies based on the West Coast, are not yet known for having leading corporate governance," he says. "Even though we could have taken an approach that would have been consistent with those companies—which in my mind is the lowest common denominator—with the very strong support of our senior management team and our board, we chose instead to shoot for the leading practices of Fortune 50 companies, which put us into a different echelon."
"What I've always loved about Uber is that whether intentionally or not, through technology, it provided a way to get around that kind of systemic bias that people have."
With the help of Gumbs's team, Uber launched its IPO in May 2019. It was a feat that might have seemed impossible during the heyday of the company's scandals in 2017. Leading up to the IPO, the practices that Uber chose—and declined—to implement reflect the company's embrace of governance. For example, leadership declined to adopt a supermajority for certain investors. They also adopted annual elections for directors, which very few tech companies do out of the gate.
"We went from theory around governance to actually implementing the governance and seeing the way that those governance changes impacted the way the company operated," Gumbs says. "In the context of the IPO, our collective view was that if we did governance right and addressed investor and public concerns around the way that Uber managed itself as an organization in terms of its culture, corporate ethics, and values, that would ultimately enhance the IPO and investor interest."
***
Covington & Burling LLP:
"Keir is a forward-thinking leader in corporate governance and among the most experienced and knowledgeable securities lawyers we know. He takes a thoughtful, diligent approach to developing creative solutions to challenging issues."
 –Kerry Burke, Vice-Chair, Corporate