Kelly Reblin competed in track and field from elementary school through college. She still travels widely to participate in masters track and field events, including the javelin throw, where she is a three-time USA Track & Field Masters national champion. She often brings the lessons she has learned through competitive sports to her team at Kroger, the largest supermarket retailer in the United States.
As part of Kroger's law department, she handles everything from retirement plans to health and welfare plans to executive compensation plans. It's work she takes seriously.
"Since COVID-19 hit, we've exceeded five hundred thousand associates at Kroger," Reblin says. "There's potential to impact all those people, their families, and their communities, so I do feel this overwhelming pressure to do well and do right by the associates of Kroger."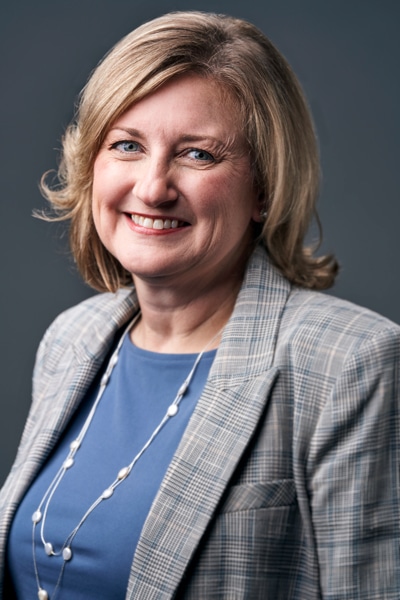 After graduating from Saint Mary's University School of Law in San Antonio, Texas, Reblin worked in athletic compliance at Cleveland State University, where she was also the interim head coach for the women's track and field team.
Having had a chance to try her hand at NCAA and other compliance matters at Cleveland State, Reblin joined a small insurance defense litigation firm. There, she received an assignment that didn't seem big at the time but ended up having a lasting influence on her career.
"My employer had asked me to analyze a tax issue and to provide some research," she remembers. "That's really how I started in tax law. I took tax law classes in the evenings at Cleveland State University School of Law because I found it so interesting."
She then landed a job at Kaufman & Canoles in Norfolk, Virginia, where she started her work in employee benefits. Next, she returned to Ohio, where she lent her expertise to a few law firms. She was working at Baker & Hostetler when she received a call asking if she would be interested in working for a corporation.
"Lo and behold, it was Kroger, and I thought that was a fabulous turn of events," Reblin declares.
Reblin has had to navigate many challenges in 2020 because of COVID-19. Foremost among them was the Coronavirus Aid, Relief, and Economic Security (CARES) Act, which was designed to stimulate the economy during the pandemic. She explains that with employee benefits, events don't typically move at a "breakneck speed." She points to the Affordable Care Act as an example.
"With the Affordable Care Act, the benefits professionals knew something was going to happen, and everybody was talking about it, but nobody really knew how it was all going to work until the federal government provided guidance," she comments. "Typically, an administration identifies an area of law to revise. Then proposed legislation or proposed regulations are issued, so we have an idea of how the government is, but nothing is final. And then somewhere down the road, maybe two or three years later, final regulations are issued, and we finally have a rulebook and a guide to follow as to how implement these new rules."
"I do feel this overwhelming pressure to do well and do right by the associates of Kroger."
That didn't happen with the CARES Act. By its nature, it came at a hectic time: in spring 2020, as COVID-19 sent much of the nation into quarantine.
"Everybody in the office was sent home from work. We weren't sure when we were going to get to go back to the office. And I took all my plan binders and all of my guidance books to my car, not knowing if or when I'll ever see my office again," Reblin says. "In the midst of all that, and all the work that is still ongoing, the CARES Act pops up, which was a really good benefit for the impacted plan participants. It gave participants access to their retirement plan funds that they normally wouldn't have been able to receive and provided some additional benefits on the health and welfare plan side as well."
The Act's quick passage made its implementation complicated. "We all had to make decisions on the fly," Reblin says, determining what benefits Kroger should offer associates and what the impact of those benefits would be. "Instead of having time to sit down and go through the Act and analyze it, we really just had to do it, as we were in the middle of a global pandemic."
And as she often does, Reblin drew on her experiences in track and field to get the job done.
"Being an athlete, you just hunker down and do it," she states. "You just have to make sure that you're working with the best facts you have at the time and make the best decisions you can for your associates. I work with a fabulous team at Kroger, and they really look out for the associates. Working with them is really a blessing."
***
Thompson Hine:
"Kelly is a deeply experienced, highly organized, strategic thinker. She addresses Kroger's complex legal issues with creativity and excellent judgment while persistently resolving pressing challenges—without losing sight of long-term objectives."
–Nathan Holmes, Partner
***
Vorys:
"Kelly's dedication and ease in navigating complex legal issues provides the Total Rewards team with a clear path to delivering innovative and competitive employee benefit programs to Kroger's associates nationwide. We're honored to work with Kelly."
–Dawne McKenna Parrish, Partner