Michael Norton had toyed with the idea of working in higher education long before he joined Iowa State University as university counsel in July 2016. Norton had enjoyed his many years in private practice in Kansas City, but after handling litigation for around one hundred higher education clients across the country, he thought he could put his talents to even better use if he switched to the university side. He also strongly desired to be connected with one institution.
"The problems that would hit my desk were always at the end, when there was huge conflict or decisions were being questioned," he says. "We worked hard to help our clients get through that, but I often found myself thinking, 'Boy, if I had been on the ground when this dispute started, maybe I could have impacted this.'"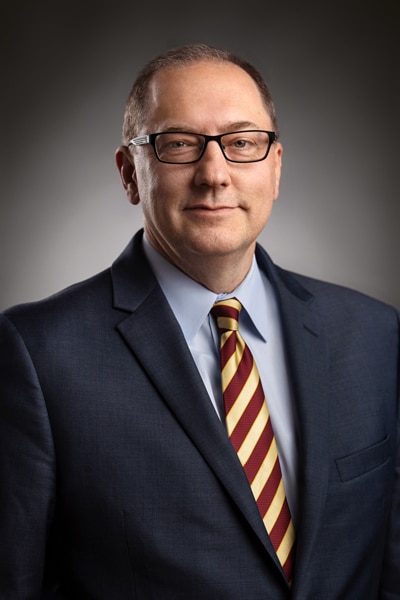 Norton was thrilled when a recruiter reached out to him about the opportunity at Iowa State. The Utah native and Drake University Law School graduate lauds the public land grant university as one that matches his values and perspective on higher education. He also raves about the wider Ames community.
Today, Norton oversees a team of six lawyers plus various support staff members at the midwestern institution. His responsibilities range from advising university president Dr. Wendy Wintersteen and other senior university leadership regarding strategic decisions necessary to lead the university to overseeing the legal work required by an institution that has thousands of employees, tens of thousands of students, and the infrastructure necessary to support a $1.5 billion operation in a highly regulated industry. He has found the career transition extremely rewarding.
"A college campus just has this atmosphere of vibrancy and energy that is incredible to work in, and the issues that I face here are intellectually challenging and different every day," he says. He adds, "I feel like what we do has an impact on the state, our students, and our faculty and administrators."
The way Norton sees it, he's not so much a strategic decision-maker as he is a strategic team member who helps facilitate the great decisions that university leadership makes. For this reason, he finds tremendous value in building trusting relationships with his colleagues across the university. Norton never wants his team to be viewed as scary, unapproachable lawyers. Far from it.
"We try really to be solution oriented, and if we're in the room early, we avoid the consequence of telling people, 'That's not going to work' or 'The liability risk of that is too great,'" he says. "By being in the room when those ideas are being formulated, we can help shape the strategic decisions that are being made by the university."
To this end, Norton believes in working with a servant leadership mentality. He has the utmost respect for the work that Iowa State does, noting that the university mainly focuses on student success and research that solves real-world problems. He believes he and his team are meant to support the university and the people within it as they come up with solutions to make the world a better place.
"It's hard for me to imagine how you could be successful with any other type of leadership model, because we're truly working with some of the brightest minds in the world on issues," he says. "I see my role as helping them accomplish their goals and being a supportive, collaborative tool for them to use."
Norton praises university leadership and his own team in particular for also embracing a servant leadership mindset.
"I have such a talented team," the university counsel says. "I don't ever want to get in their way. I want to support them and help them develop the skills and talents they have. That's the best way for all of us to succeed, both as an office and as an institution."
He continues, "That's been a critical part of my leadership philosophy. That comes from just how I approach life in general. Life is more abundantly lived by serving others and recognizing the greatness that every individual has in their own path."
***
Husch Blackwell:
"Mike's legal experience and dedication to higher education show in his work as university counsel. He focuses not just on the law, but on university goals and the needs of its students. He truly cares for his team, clients, community, and even opponents. That, combined with a quick wit and ability to play the long game, contribute to concrete results for the university."
–Hayley Hanson, Partner