Glenwood Hill has long been inspired by an Alex Haley quote: "Anytime you see a turtle up on top of a fence post, you know he had some help." Hill has worked hard to get where he is today—assistant general counsel of the finance company Preston Hollow Capital—and he's been dedicated to helping and advocating for others along the way.
Growing up on a farm in Fort Valley, Georgia, about ninety minutes south of Atlanta, Hill excelled at just about everything he did in high school—football, tennis, public speaking, and debate. After getting an undergraduate degree in biology from Florida A&M University, he entered the Army, eventually serving as a company commander at Fort Sam Houston in San Antonio, Texas. He was responsible for everything that occurred in the unit, including maintaining the "good order and discipline" of his charges—which included regular conversations with the higher organization's assigned attorney.
"After personally conducting numerous investigations of inspector general complaints and equal opportunity complaints and recommending disciplinary actions—and leniency—for soldiers in my unit and others, I came to know and understand the Uniformed Code of Military Justice quite well," Hill says. "Given that familiarity with legal reasoning, when I left active duty service, I figured law school was a reasonable next step."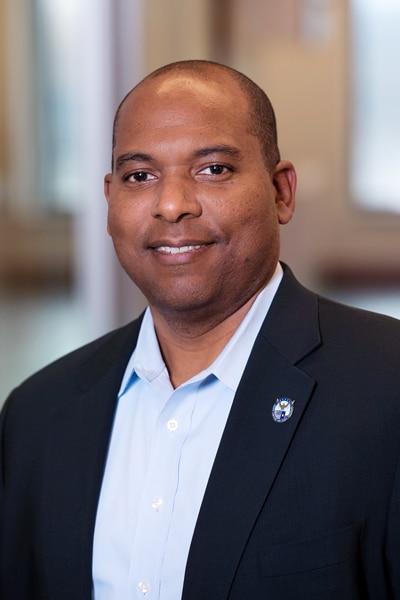 He not only went on to earn his law degree from the University of Texas at Austin but also got an MBA from Webster University. After practicing public finance law with the practices of Bracewell and Vinson & Elkins for almost a decade, Hill joined Preston Hollow Capital in 2017 as assistant general counsel.
At the Dallas-based firm, Hill's chief responsibility is working with the Originations Group, which identifies transactions it might be interested in, ensuring all deal points are negotiated properly and evaluating transactions for compliance purposes.
Hill's work—along with lessons learned from his parents while he was growing up—has inspired him to advocate for issues including diversity and inclusion, community service, mentoring, and veterans' issues.
"My parents instilled many lessons during my childhood: prioritizing work, keeping your word, and giving people a fair shake," he says. "Although I incorporated those and many other values from my parents and added in a large helping of Army values, nothing has inspired my focus on diversity and inclusion initiatives and mentoring like my years of practicing law in international law firms."
Hill's dedication to helping others stems partly from his own experience: although both his parents have professional degrees, there were no attorneys in his extended family, let alone anyone who could advise him on excelling in a corporate law practice. Practicing in "big law," he notes, pulled back the curtain in a sense and allowed him to see the benefits and vagaries of opportunity.
"No one accomplishes anything of note or worthy of accolade without some help—neither Sergey Brin nor Mark Zuckerberg nor Oprah Winfrey nor Michael Bloomberg nor Shawn Carter," he says. "No one. Once you understand that any success you personally enjoy flows from an amalgamation of individual hard work and preparation, the randomness of opportunity, and the intervention of others, you would be churlish not to feel the need to pay things forward by sharing opportunity with others."
For the past six years, Hill has served on the State Bar of Texas Standing Committee on Diversity in the Profession. As a member, and chair, he makes recommendations to the State Bar of Texas Board of Directors for how the bar can take action to enhance employment and economic opportunities for minorities in the profession and to increase involvement by minorities in the bar. He has also helped plan and lead programs aimed at helping law school students understand how to create a successful legal career as well as helping current attorneys build their professional network.
"There are children who just need to spend time with adults who are doing the right thing."
"Most importantly, our committee members, in association with their local bars, have made presentations to hundreds of public school students to explain what a lawyer does and how they can become lawyers," Hill notes. "I sincerely believe that the key to creating diversity in law firms is developing a diverse recruitment pool, and these programs directed at law students and grade school students are simple steps to achieving that talent-pool diversity."
Additionally, Hill relied on his network of like-minded colleagues across Texas to help draft an amicus curiae brief in connection with the State Bar of Texas's response to McDonald v. Sorrels, a complaint filed in United States District Court for the Western District of Texas (Austin) that, among other things, challenged State Bar of Texas programs promoting diversity and inclusion as well as access to justice.
Hill's commitment to mentoring and community service extends well beyond areas related to the legal profession. "For many years, I was a community match volunteer with Big Brothers Big Sisters Lone Star, and then I transitioned to the organization's Mentor 2.0 program, which provided mentoring opportunities using email and in-person communication," he says. "Helping my mentee with homework, talking about college and life plans, and just showing an interest, I hope, made a difference. There are children who just need to spend time with adults who are doing the right thing."
For Hill, giving back to others isn't just an obligation; it both reminds him to be grateful for what he has and pushes him to do more.
"Mentoring and community service help me realize each day how much I have to be grateful for, and how much I yet have to accomplish," he says. "I urge everyone to take up the mantle and find some way to mentor regularly."