When she was in the fifth grade, Eun Ah Choi relocated with her family from the bustling Gangnam District of Seoul, South Korea, to the small town of Springfield, Missouri. While it was a major change of pace, Choi didn't just cope; she thrived.
"What a transition that was—going from one of the largest cities in the world to a smaller city in the Ozarks with a completely different culture," says Choi, who today is Willis Towers Watson's associate general counsel and lead M&A counsel for global companies.
"I think that experience at an early age really defined how I look at things," she says. "I look forward to going beyond what I already know; I'm interested in growing, improving, and having a different perspective, especially when I'm a newcomer to something. I think being in different environments has helped me try new things but also helped me understand that there are different traditions, customs, and institutional values. Even though I may not understand one area, I'm open-minded about learning and expanding on that."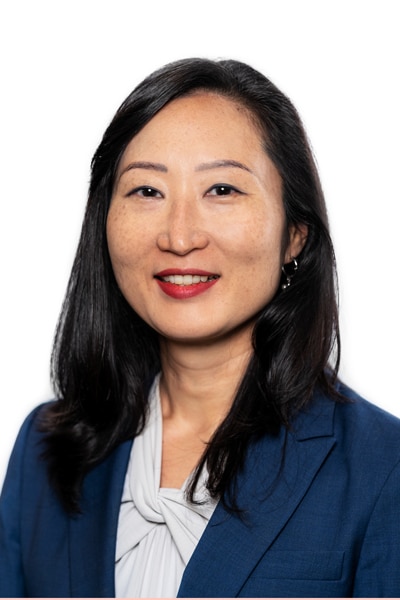 Choi not only grew up in both Asia and the Midwest, she also went to school in DC—attending Georgetown for both her undergraduate and law degrees—and spent a year at Oxford University, which introduced her to a European worldview. Along the way she also became an accomplished, classically trained pianist, but ultimately decided to forgo performing as a professional pianist, moving toward a career on Wall Street instead.
She entered the workforce as an analyst for Goldman, Sachs & Co, where one of her projects was to help manage organization-wide efforts to develop and optimize operational, technological, and compliance procedures and standards internationally. This early experience gave her a chance to work with colleagues from Asia to Europe.
From there, Choi joined Hogan Lovells US, working her way up to partner of the firm focusing on domestic and cross-border transactions, corporate governance, and US securities laws before seizing the opportunity to become a managing executive of the US Securities and Exchange Commission in the division of investment management.
There, among other accomplishments, she led a multidisciplinary team that significantly expanded the division's Risk and Examinations Office, which was mandated by the Dodd-Frank Act. Since the office was relatively new at the time, she and her team also developed and implemented the office's overarching vision. The team also added depth and breadth of expertise of the office by successfully attracting new talent with financial, quantitative, and asset management backgrounds.
Choi credits her unique skill set to not only her decades of career experience but also the twenty-plus years she spent following a rigorous curriculum of piano studies. To this day, she says, that experience enhances the specialized M&A work she undertakes with Willis Towers Watson.
"Dealing with that level of rigor, performance, and playing in front of audiences and judges —where you're working with different themes and functionalities and learning entire concertos, sonatas, Bach fugues, Chopin etudes, nocturnes and modern pieces with one brain—trained me to be able to project and see broad themes while, at the same time, being able to master the technical details," Choi says.
That's proved very useful in her career: while Choi is an expert in M&A, she also has a functional knowledge of multidisciplinary areas, which allows her to understand other perspectives.
"Doing M&A deals, especially across jurisdictions, you have to work extensively with other team members in operations, finance, treasury, HR, data privacy, etc., to bring all of their perspectives together and really identify some of the key points and issues," she says. "In order to be able to do that effectively, you have to have a working-level understanding of a range of those functional areas, perspectives, and priorities."
"I look forward to going beyond what I already know; I'm interested in growing, improving, and having a different perspective, especially when I'm a newcomer to something."
As Willis Towers Watson's associate general counsel since 2018, and one of two lead M&A counsels, Choi's responsibilities are wide-ranging. Specifically, she recently helped lead a successful billion-dollar deal on a tight timeline for the company. And while her focus region is North America, she has led M&A deals in international jurisdictions as well, including a proposed acquisition of a company across six countries in central America. Another prominent area for her is international, corporate venture capital initiatives for the company.
Regarding strategies she employs, Choi says that bringing a genuine sense of collaboration to the table is key to success. "For me, it all goes back to a positive sum game philosophy. The strategy and the mind-set I bring to my role is that we all have something to gain during an M&A deal; we all just have to figure out a path forward so we can get there," she says.
M&A is a discipline that expands beyond just critical legal thinking, she explains. It also involves understanding various aspects of the company and bringing others together to work collaboratively, which elevates the whole team.
Choi's job goes well beyond having technical expertise: she also has to have a broad framework and an in-depth understanding of her environment. "Being able to understand others' perspectives, backgrounds, goals, and priorities are important in meaningful and deep collaboration and effectively meeting your mutual mission," she says.