At JetBlue Airways, Director of Litigation and Regulatory Counsel Brian Friedman is more than just a talented attorney. He is also an "aviation geek," an athlete, an environmentalist, and an LGTBQ+ rights activist. And Friedman isn't just allowed to merge all of those passions into his work at the company—he's actively encouraged to do so. Because JetBlue itself is more than a major US airline and award-winning travel company, Friedman says. It is a partner with the communities it serves in the United States, the Caribbean and Latin America. It is an investor in innovation and an impactful customer experience. And it is a network of people determined to help change the world, through both bold moves and individual volunteerism.
"I've always had an interest in aviation law, ever since law school," Friedman says of his JD studies at the Georgetown University Law Center. "As I began my career in law, I followed the JetBlue website carefully to see when an opportunity might become available."
In his years watching the JetBlue site, Friedman rapidly gained the practical experience he would need, first as an associate at LeBoeuf Lamb Greene & MacRae and later as a general commercial litigation associate at Sidley Austin.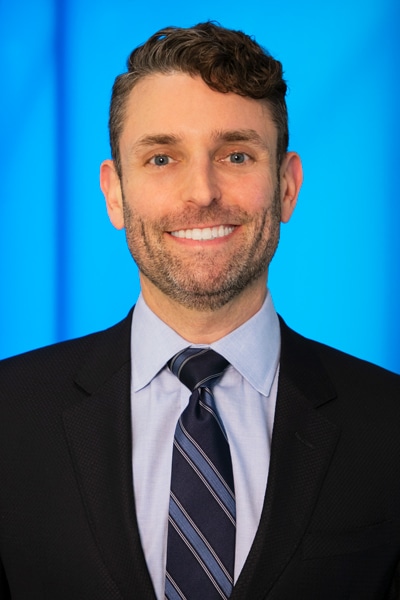 "One day, I saw the perfect position," Friedman recalls of his opportunity to join JetBlue in 2009 in a litigation manager role. In the decade since, Friedman's role has dramatically expanded, encompassing all types of litigation as well as customer claims, regulatory work, and even a position on a committee assembled by the US Department of Transportation to draft proposed regulations on accessible airline travel.
Today, Friedman officially serves as director, litigation and regulatory counsel. But as he tells it, the actual work he handles is far more exciting—and broader—than his title might indicate.
"About a year and a half ago, I had the opportunity to branch out within the organization," Friedman explains. "I took on the marketing, advertising, brand, and trademark counsel role—I now manage the legal work for all the promotions, the contests and sweepstakes and pretty much everything else we do with respect to the JetBlue brand."
But as Friedman has learned, the heart of the JetBlue brand is far bigger than contests and tropical getaways.
"JetBlue is truly a values-driven company," Friedman remarks. "We really do go back to those values—safety, passion, integrity, fun, and caring—in everything we do. And caring isn't just for our customers or for each other. It's also for the communities that we serve."
According to Friedman, JetBlue has a "strong tradition" of giving back to those communities. The company has instituted a number of programs and initiatives encouraging JetBlue employees to get involved, from an annual dinner recognizing employees who have spent more than 150 hours volunteering in their communities to a training program enabling JetBlue attorneys to offer pro bono services.
"We're always trying to give back," Friedman says. "Involvement with our communities is part of our DNA at JetBlue; it's encouraged as a part of what we all do."
"Involvement with our communities is part of our DNA at JetBlue; it's encouraged as a part of what we all do."
And Friedman certainly makes it part of all that he does as a leader at JetBlue. In addition to supporting the company's environmental sustainability and corporate social responsibility teams, in 2019 Friedman combined his passions for fitness and activism by leading a team of JetBlue employees on a three-day Boston-to-New-York bicycle ride called Cycle for the Cause. Working through the JetPride Crewmember Resource Group, Friedman assembled a team of ten riders to benefit the LGBT Community Center in New York City. Together, Friedman's Team JetBlue raised more than $31,000 for the HIV and AIDS work of the center.
"It was an opportunity to put together a team and amplify the support that JetBlue already provides as an official supporter of this nonprofit through my personal commitment and the engagement of my colleagues," Friedman says of the fundraiser. "Everyone did such a great job of carrying that torch, and I feel so close to the people who did the Cycle with me."
Friedman also sits on the board of the NYC Anti-Violence Project, the largest antiviolence organization in the United States. "I've never felt like there was anything but praise and encouragement for my involvement in these organizations," Friedman remarks. "It makes me doubly proud when I get to throw the weight of JetBlue towards some of my nonprofit initiatives.
"I get to support something I care deeply about," Friedman continues, "but I also get to bring to bear a company that wants to be known for this work and, more importantly, wants to support our people who are both involved in and being helped by these activities."
JetBlue may be only twenty years old, Friedman notes, but there is a reason it is already world renowned. "Like so many at JetBlue," Friedman says, "I'm truly inspired by what we do here."
***
Rigby Slack Lawrence Berger + Comerford, PLLC:  
"Brian comes to every challenge with thorough preparation, flawless attention to detail, and unequivocal loyalty combined with a quick wit and an uncommon humility."
–Patrick J. Comerford, Partner
***
Pellerano Nadal:
"Brian Friedman's good judgment and pragmatic acumen have been invaluable to JetBlue. We wish him the best as he continues in the industry for which he is particularly talented and passionate."
–Luis Rafael Pellerano, Partner