Delli Mireskandari has been all over the world. A native of Iran, Mireskandari has studied and worked in Edinburgh, Paris, Milan, Hong Kong, London, and, for the past eight years, Gap's headquarters in San Francisco. But no matter where she has gone, Mireskandari says, one thing has remained constant: learning to integrate while remaining true to herself.
"I was very young when my family left Iran," says Gap's vice president and deputy general counsel. "I went from having a very carefree, comfortable life to turmoil and uncertainty—moving to the United Kingdom with only a rudimentary grasp of English, living in a tiny apartment, and going to a school where certain classmates were not inclined to be inclusive.
"But I've come to be grateful for the difficulties and challenges I've faced," Mireskandari continues. "It is hard to see those obstacles as blessings when you're in the midst of the experience, but when I reflect on them, I appreciate how they have shaped me positively and made me stronger."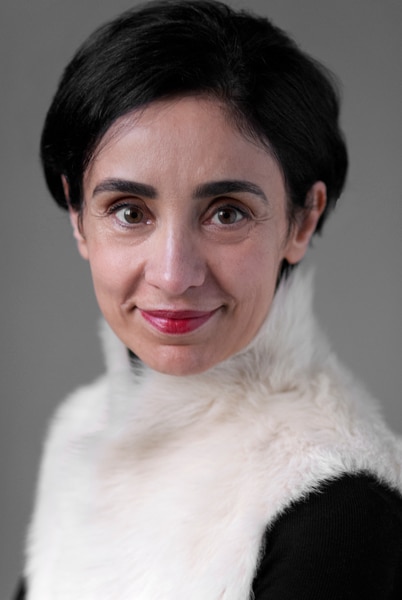 Growing up, Mireskandari says she quickly realized the value of integrating at school, at work, and in the community. But integrating should never mean losing sight of yourself and your individuality, she emphasizes. Rather, it is developing a deeper understanding and appreciation of the new and different while retaining your uniqueness, heritage, and identity.
"In fact, it has been my experience," she muses, "that strong teams and communities are made up of people with diverse points of views, backgrounds, and thought processes, while all working towards a common goal.
"Throughout my life, I have very much been led by pursuing studies and work that I enjoy," Mireskandari continues. "When you're happy in what you do, you typically perform better. But that enjoyment does have to be coupled with an understanding of the compromises you may have to make to do that type of work—like working at unsociable hours to connect with those located in different time zones around the world."
And that is the reason Mireskandari decided to become an international attorney, she explains. "I studied French and Italian at university and later went on to law school. I wanted to practice law but use my languages as well," Mireskandari says. "I have always been interested in different languages and cultures, so studying law naturally led to an interest in the application and practice of law for multinationals operating in different legal systems. Invariably, this meant that I gravitated toward projects and companies that gave me exposure and opportunity to work in an international context."
Indeed, before Mireskandari joined retail giant Gap in 2006, she spent eight years at Hasbro, the largest toy company in the world, moving into the role of director of legal, international. And throughout it all, she says, evolving her international literacy, honing her ability to connect easily with people of different cultures and backgrounds, and using her initiative to find opportunities to work on international projects have remained vital to her journey.
"Working on matters for a multinational or company operating on a global scale means it is necessary to identify the differences between your point of reference (the US or UK legal system in my case) and the local legal system," Mireskandari says. "Always keep focused on your blind spot of what it is that you don't know in that legal system and environment."
What is more, it is not just about the law, the lawyer notes. There are the cultural nuances in understanding how the law is interpreted and applied in local jurisdictions as well as customs to keep in mind. Clearly, this understanding must be combined with a keen eye on maintaining a strict and highly ethical approach.
"I need to practice all of those things to connect with my international colleagues, external counsel, and stakeholders and ultimately provide thoughtful and holistic guidance and advice for my company," Mireskandari remarks. "That complexity, that richness and multidimensionality to international work, is extremely gratifying."
To Mireskandari's mind, understanding and connecting with members of her team in the US is just as important as connecting with international colleagues.
"When you relate to people and try to understand them, it makes for a stronger connection," she says. "It creates a deeper appreciation for others' skill sets, for their limitations as well as their strengths. An ability to see others' perspectives—as a leader, a critical tool to bring out the best in a team and motivate them."
The more you flex those "empathy" muscles by trying to connect with others, the richer the experience and greater the results of having different perspectives, ideas, and solutions, Mireskandari says. "I find great wisdom in what Abraham Lincoln once said: 'I do not like that man. I must get to know him better.'"
And as Mireskandari has seen for more than a decade now, that sense of empathy is truly reflected in the culture at Gap. "The company is committed to diversity and inclusion and really practices it," she enthuses. "Gap is defined by its people. Inclusion and diversity are some of the core values, making it a special place to work, and I feel very much at home here."