Justin Chan has long had a fascination with the impact of technology on society. He can even recall a specific undertaking that cemented that passion: he was part of a team at investment and technology development firm D.E. Shaw that faced the challenge of financing the construction of US wind farms during the Great Recession—back when realizing such projects seemed daunting because distressed banks were not in a position to finance them.
However, over the course of eighteen months, Chan's team helped to change how renewable energy tax credits could be used to secure financing for numerous renewable energy projects, including the largest wind farm in Utah and an innovative battery solution for a wind farm in Hawaii. This turned out to be a transformative experience for him.
"For me, that was important because it validated that there are times—even as an attorney—when you need to read the field, put on a different hat, and do what it takes to help your business to succeed," Chan says.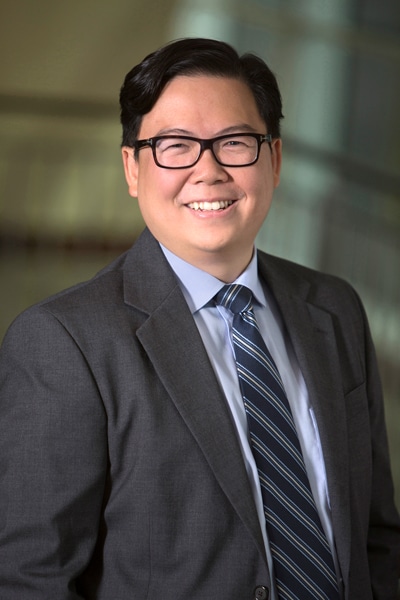 Throughout his career, Chan's work has crossed continents, encompassing the public and private sectors as well as academia. Now, as managing director and head of the digital enterprise legal team at BlackRock, the world's largest public investment management firm, Chan uses that rich background to lead a team that has tripled in size in the last few years. His wealth of experience is crucial at a time when BlackRock is investing heavily in sustaining its position at the forefront of financial technology.
Born in India to diplomat parents, Chan spent his formative years in Washington, DC and Singapore. He earned his law degrees at the University of Cambridge and Harvard Law School, clerked for the chief justice of Singapore, and lectured in technology law at Singapore's National University before moving to the United States as a resident fellow at Harvard's Berkman Klein Center. Working and living all over the world has provided him with vital context for his role at BlackRock, which does business in more than eighty countries and has complex cross-border legal and compliance needs.
"I often find myself working on projects spanning multiple teams—they're all trying to get to the same place, but they might have different working styles and unique concerns," he says. "There's a role that lawyers can play in bridging teams, and it helps if you can speak through the perspective of a technologist, engineer, or business leader."
Chan's first private sector job was at Debevoise & Plimpton in New York City, where he worked for about three years before moving to the D.E. Shaw group. He later moved on to focus on financing renewable energy projects, including the first offshore wind farm built in the United States. He joined BlackRock in 2010 and has helped triple revenue for its portfolio management technology platform, known as Aladdin, to nearly a billion dollars today. Today, his team is responsible for supporting BlackRock's broader transformation into a more digital enterprise.
One example of that shift is BlackRock's push into the wealth segment with Aladdin Wealth, which aims to make BlackRock's investment technology available to financial advisors who work with individual investors. Another project that recently went live involved BlackRock's iShares business partnering with the Intercontinental Exchange, also known as ICE, to launch a marketplace utility to enable the next phase of growth for exchange traded funds (ETFs). Known as the ICE ETF Hub, the utility seeks to bring efficiencies and standardization to the ETF primary trading market for a broad range of market participants.
Chan is no stranger to keeping up with change. His passion for his work comes from witnessing constant technological upheaval throughout his career, and what those advances—from the rise of the internet to the unlocking of the human genome to new renewable energy opportunities—have meant for businesses and people.
"Growing up, the world around me seemed to be constantly impacted by some form of innovation that human beings were undertaking," he says. "That's really my core interest—the transformational impact of innovation on society."
He strives to work alongside people who share his priority of making a real impact on peoples' lives through technology. With a unified purpose, according to Chan, colleagues are better able to articulate challenges and to have the difficult conversations that are necessary to get results when working in innovation-oriented environments.
"We understand the value that technology can bring, but we also understand the responsibility that accompanies delivering that technology to our clients."
For Chan's first six years at BlackRock, his team had about ten attorneys—a number that has grown to thirty lawyers and paralegals over the last three to four years.
"I would say the reason we've been successful in growing the team is because we really emphasize finding the best candidates by actively seeking out diversity of background and experience in hiring," he says.
Chan's team isn't the only thing that has transformed during his time with the company. A major shift in his practice over the last ten years is in keeping pace with an "emerging phenomenon" at BlackRock—an increasingly active discussion over the firm's evolving mission.
"Historically, we've been incredibly successful as an asset manager, but increasingly we find continued success is tied to our growing footprint as a technology company," he says. "We've had to make my function within BlackRock look a lot more like what you would find at a mainstream technology company."
As that evolution continues, Chan says, BlackRock remains cognizant of the cons as well as the pros of technological advancement. The company is actively exploring the use of artificial intelligence and machine learning in asset management, but his team members also have active firmwide conversations about the operating risks and ethical concerns associated with AI, Chan says.
"That's part of what makes BlackRock unique from a technology perspective," he says. "We understand the value that technology can bring, but we also understand the responsibility that accompanies delivering that technology to our clients."
On Leadership
Justin Chan's philosophy as a leader boils down to the golden rule: "Try your best to treat people the way that you'd want to be treated yourself," he says. But he also closely examines what that means in practice.
"To build a great team, you have to take a personal interest in the success of people you hire. Just like you, every individual has unique aspirations, family and friends, and passions and interests, both inside and outside work. You have to treat them as such," he says.
That means not just believing in your team members, but also knowing when it's time for them to "stretch," as he puts it—whether that means taking on new responsibilities, learning new skills, or another form of growth.
***
Kramer Levin:
"Justin Chan is a strategic technology visionary, helping BlackRock revolutionize asset management and financial services with AI and disruptive analytics."
–Harry Rubin, Partner and Chair, Technology and IP Transactions