In 2005, Dom Atteritano left a corporate and securities attorney position at a Manhattan-based law firm to work as legal affairs counsel for a small, privately held basic cable company best known for airing ad-supported classic movies. As the company's basic cable channels expanded their original programming, Atteritano's role expanded as well. In 2007, the company aired a period drama series about a Madison Avenue advertising agency.
That show, Mad Men, went on to win sixteen Emmys, including four consecutive awards for Best Drama Series, during its seven-year run. AMC Networks was on the map. Suddenly, Atteritano was supporting a growing team of scripted and unscripted content producers racing to find television's next hit.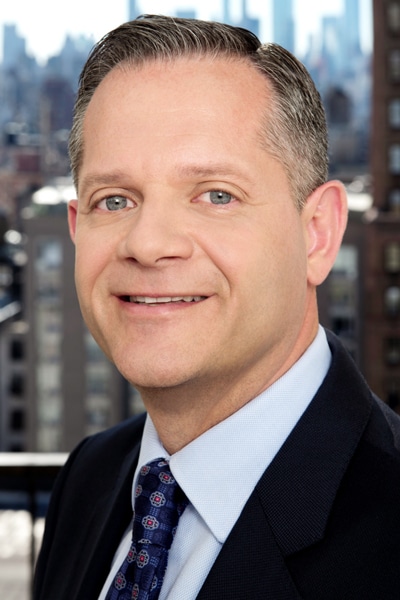 Atteritano started his career as a corporate paralegal at Squadron, Ellenoff, Plesent & Sheinfeld. He spent his days forming corporations, updating documents, and drafting resolutions—until a veteran lawyer noticed his potential. "The managing partner took the time to sit with me, explain his role, elaborate on the inner workings of a transaction, and demonstrate the impact a good attorney can have," Atteritano says.
The mentoring relationship directed the initial course of his career. Armed with newfound confidence and a better understanding of his potential, Atteritano enrolled in law school.
Those foundational experiences prepared Atteritano to support AMC Networks as it grew exponentially. While the company is best known for hits like Breaking Bad and The Walking Dead on AMC, it also owns or operates several other brands including BBC America, IFC, Sundance, and WE tv with hits like Killing Eve, Portlandia, Rectify, and Marriage Boot Camp.
As senior vice president of legal and business affairs, Atteritano provides counsel to AMC Networks' senior executives on all day-to-day operational and strategic legal and business affairs matters. He also negotiates talent and production contracts and manages and mentors his direct reports. As AMC Networks has grown and his career has advanced, he's taken on additional duties. "Growth periods give people working in in-house legal departments the chance to challenge themselves and develop additional skills, and that is an important thing for any lawyer," Atteritano says.
He leveraged his experience in corporate and transactional law to step in as the lead lawyer for BBC America and manage both a joint venture and day-to-day operations. He also coordinates and manages all corporate and production real estate matters. If AMC Networks is leasing corporate offices in New York or Los Angeles, setting up a writers' room, or creating an apocalyptic zombie haunt in Georgia, he's involved.
While outside lawyers working for each show's production company often handle routine issues related to taking an idea from concept to screen, larger issues rise to Atteritano. "We work to communicate the network's sensibilities to production company counsel so they can make the right decisions and create great content," he says.
Still, lawyers at entertainment companies can encounter unusual issues. With titles like Bridezillas and Love After Lockup, Atteritano is never sure what each day will bring. "Networks that air reality shows are dealing with people's lives, and we have to determine what is safe, reasonable, and appropriate to air, follow, and disclose while still telling a compelling story," he explains. On any given day, he may be finalizing an actor's contract, leasing studio space, or reminding a reality star that their latest social media post breaches confidentiality agreements.
"Growth periods give people working in in-house legal departments the chance to challenge themselves and develop additional skills, and that is an important thing for any lawyer."
One important theme guides Atteritano in all these matters. "Relationships are key," he says. After more than twenty years as an attorney and fifteen years in the industry, Atteritano knows he's likely to encounter the same core of legal leaders and decision-makers repeatedly throughout the remainder of his career.
Having risen to the top of entertainment law, Atteritano still remembers the influential mentor who helped launch his career. Today, the two men are friends. "My mentor opened my eyes to what was possible and also inspired me to help others in the same way," he says.
Atteritano serves on the board of directors of the Garden City Centennial Soccer Club, a youth program designed to encourage positive, sports-based personal development. Professionally, he networks and assists younger attorneys looking to break into entertainment law through his role on the New York Nonscripted Attorneys Association board of directors.
Like other industries, film and TV felt the effects of the global COVID-19 pandemic. As most productions ground to a halt, AMC legal provided solutions for producers and audiences alike. AMC Networks rolled out the "We're with You" campaign, which provided free access to a myriad of AMC Networks programming, including several BBC America documentaries and WE tv programming.
Atteritano worked behind the scenes to help these endeavors move forward. Now, he's assisting with a safe return to physical production. "The need for entertainment seems greater than ever before," he says. "And we're committed to helping AMC Networks and its brands produce good content that people want to watch."
***
Haynes and Boone:
"Dom is the type of in-house counsel with whom Haynes and Boone attorneys always enjoy working. He is business savvy and takes a thoughtful and collaborative approach to addressing both business and legal issues, enabling AMC to achieve its specific needs and goals in any given transaction."
–Sharon Baldasare, Real Estate Partner