When Tim Brennan started as senior counsel at professional services firm Aon in 2016, it was his first time in-house. But he had already amassed substantial experience, from working for the Legal Assistance Foundation in Chicago to clerking for a federal judge in Puerto Rico to serving as a senior associate at law firm DLA Piper.
In reflecting on his career, it's his work at Aon—where he balances helping out with big-picture matters like major mergers and private health insurance exchanges with fulfilling pro bono work—that feels like the greatest fit for him.
"What drew me to in-house work was the ability to be involved in strategic decision-making, to understand the full picture of a business," Brennan explains of his move to Aon from DLA Piper four years ago. Now an assistant general counsel, he gets the chance to see his client's business from every potential angle, relying on good business sense and sheer practicality.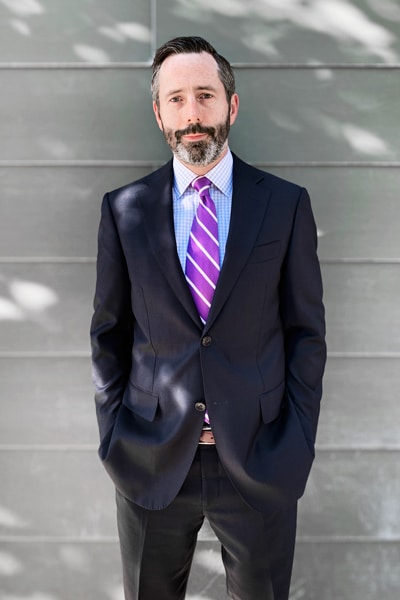 At Aon, Brennan spends much of his time serving as the global lead attorney for Aon's M&A and Transaction Solutions business, which advises clients on M&A transaction risk and places insurance coverage to manage it. There, and in his other work, Brennan strives to foster collaboration across disparate groups. Aon's an $11 billion firm with fifty thousand employees across roughly 120 countries, which might lead to a lot of segmentation at some firms.
"It's incumbent upon me, as an advisor for our business and our colleagues, to prioritize cohesion and present a unified offering to the marketplace," Brennan asserts. It helps that Aon emphasizes an "Aon United" culture.
Innovation is also foremost in Brennan's mind. For instance, the M&A and Transaction Solutions business works to broker insurance protections in M&A transactions that individual parties would otherwise need to provide themselves. "It's a business that barely existed ten years ago and has become enormously successful," Brennan says, evidencing the value of Aon's innovation.
Another sizable accomplishment: a private health insurance exchange for employees and retirees of large companies. It's a feat that requires negotiating a complex ecosystem of clients, vendors, and carriers of various sizes and territories, each with their own commercial contracts and privacy laws. "Everything we do with one of those parties can impact another party," Brennan explains.
That makes the job interesting, though, and Brennan relishes the challenge of interweaving these myriad concerns. "First, we were navigating GDPR [the General Data Protection Regulation] out of the EU. Now, we've got CCPA [the California Consumer Privacy Act] out of California and a host of other laws on the horizon," Brennan says of navigating privacy measures for the exchange.
"The data of private individuals is as important in the healthcare space as it is anywhere else, and we take that extremely seriously," he notes. A team of expert privacy attorneys helps Aon's exchange business emphasize compliance with local, federal, and global healthcare regulations—and gives Brennan and his team guidance to better serve clients and interact with carriers.
One big project on Brennan's plate of late has been Aon's merger with Willis Towers Watson, a stock deal valuing Willis at around $30 billion that's expected to close in the first half of 2021. The deal has an $80 billion implied combined equity value.
"What drew me to in-house work was the ability to be involved in strategic decision-making, to understand the full picture of a business."
Brennan helped secure the approval of the Committee on Foreign Investment in the United States, a federal interagency panel that includes the US Department of Treasury, Department of Justice, State Department, and others. He and his team worked with dozens of colleagues across Aon to present their case for why the international merger was good for the United States.
"The transaction isn't over until it's closed," Brennan warns. Before then, everyone is working to ensure the legal department is ready for integration, which includes consolidating and streamlining the department's contract templates.
It's this kind of problem-solving that appeals most to Brennan about his in-house legal work. "A transaction or deal is a little bit like a puzzle," he observes. He loves working to solve these problems in a way that appropriately manages risk and lands on fair, reasonable terms for both parties.
The forward-looking nature of legal work also allows him to advise business colleagues and help them understand the risks of certain transactions. It's a task he enjoys. "At the end of the day, clients are what drive our business," Brennan says. "It's great to get the opportunity to have so much interaction with them."
Even with everything on his plate at Aon, Brennan gets to flex his pro bono muscles. Currently, he and his colleagues are working to secure a work visa for a human trafficking victim. Brought to the United States under false pretenses, she eventually escaped her captors. Brennan is grateful for the support Aon has given him in that journey. "We have a pro bono committee that's very active and supportive," he says, "which just makes Aon that much more of an engaging place to work."