Anne Garcia wasn't looking for a new job when the Ohio State University (OSU) Wexner Medical Center recruited her to join its ranks in 2015. At the time, the St. Louis native was happily situated at Saint Louis University, where she ran the health sciences side of the office of legal affairs. In fact, she had just helped lead the successful repurchase of the university's main teaching hospital (which it had sold in the late '90s) and integration of that hospital into a new deal with a local health system. The deal was described by Becker's Hospital Review as the most interesting healthcare transaction of 2015.
"I remember opening the posting. I probably would have passed it by but for the red, block 'O' that is synonymous with OSU," Garcia says. "And right away when I came on campus at OSU, I fell in love with the place."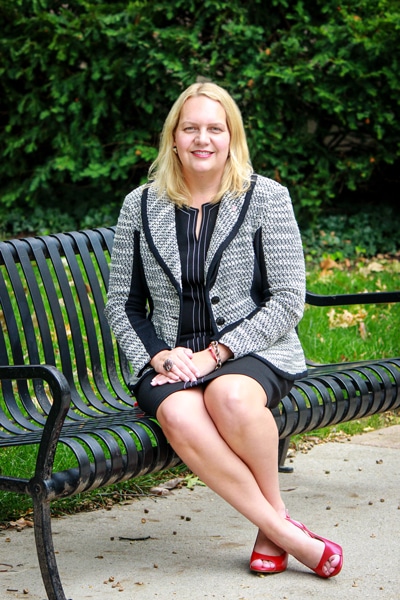 Garcia relished the opportunity to join the Wexner Medical Center, which she says was "poised to go from great to elite" and meet its next milestone. Someone else within Garcia's sphere would also jump for joy at her new job prospect.
"I married a Buckeye," she says. "My husband is an Ohio native. He grew up in Cleveland and went to undergrad here at Ohio State. He always tells people that when I decided to accept the job at OSU, he won the marriage."
Garcia started at the Wexner Medical Center, overseeing its legal office, in January 2016 and was quickly given the title of vice president for medical center legal and compliance. Her team consisted of more than forty people, and, in addition to the legal and compliance operations reporting to her, privacy had been recently added to her portfolio.
In November 2019, OSU's longtime general counsel retired, and the then president of the university asked Garcia to take on the interim role until OSU found a replacement. The move even required approval from Ohio's attorney general, who Garcia notes is the chief legal officer for the state and his purview includes all public colleges and universities.
Garcia was hugely honored. She had already begun to work across the campus on a variety of different legal matters. In March 2020, she opted to submit her name for consideration for the permanent role. After a months-long, nationwide search, the university selected her in late September 2020 as the permanent senior vice president and general counsel. The board of trustees will vote to confirm her appointment in November 2020.
Today, Garcia officially sits at the very top of one of the largest university legal departments in the country.
"We are one of the biggest, which makes sense because Ohio State is one of the largest universities in the country," Garcia says. "You have to have a robust compliance enterprise and a comprehensive legal team when you're looking across a large research portfolio."
Garcia's responsibilities revolve around advising and working closely with Dr. Kristina M. Johnson, OSU's president, and providing strategic advice and counsel on initiatives for the university. She also works on initiatives with the president's cabinet and the OSU board of trustees. Additionally, Garcia works with a wide range of leaders on both the academic and medical sides of the university who manage a slew of different areas, such as real estate, academic affairs, research, labor and employment, and litigation.
"Like many top senior executives, you wake up thinking your day is going to be one way and it inevitably goes in a different direction," she says. "You're pivoting at all times. You're working with the medical center board, with those senior executives at the medical center, and then you're managing your team. And I'm very fortunate. I have an excellent team across the entire office of legal affairs and compliance, both medical center and university. I'm very fortunate to work with one of the most talented groups of professionals that are out there."
"Ohio State is one of the largest universities in the country. You have to have a robust compliance enterprise and a comprehensive legal team when you're looking across a large research portfolio."
The way Garcia sees it, collaboration and unity are key to a successful relationship between the university's legal department and the wider university community. To this end, Garcia has spent the past ten months working toward her vision of a more unified operation between the academic and medical sides of the office.
"Value is lost when a partner—whether it's a business, academics, research, or strategic partner—avoids bringing a problem or contract to legal until the last step in the process and says, 'Now we need the legal approval,'" she says. "We want to be in the trenches with you, giving you the real-time advice or some real-time input. I've always challenged our team to be problem-solvers and pathfinders. We don't ever want to be seen as an office of 'No.' We want to be collaborators. That's a really important theme for our office."
Garcia notes that being on the front end of a problem or contract or idea means being able to move faster and more effectively, which is more significant than ever as OSU navigates the issues brought on by COVID-19.
"There's no time to do it slower," she says. "We're solving problems day to day to day. It's like a Rubik's cube. You solve one row and you move on to the next one. And you have to be flexible, because things can change in a moment."
When asked what she loved most about working at OSU, Garcia didn't hesitate to cite her colleagues. She realized she'd joined a very special team within her first week and this feeling has not changed in the years since. She described programs at both the academic and medical campuses that anonymously support OSU employees in need as some of her favorite initiatives.
"I just couldn't be prouder—and every time I talk about this, I get choked up—of the people I work with," Garcia says. "They rally to problems. They don't run away from them. The problems they tackle at this university are difficult, and they don't get put on the front page of the paper like a winning football team. The wins happen quietly behind the scenes, but they keep doing it day after day after day."
***
King & Spalding:
"Having worked closely with Anne on several game-changing transactions, I am consistently impressed by her intelligence, passion, and integrity. Anne is a confident leader and a true advocate for her organization."
–Torrey McClary, Partner