Xanthe Ranger always wanted to move to New York City. "Like all good Australians, I didn't want to sit still," she jokes. Instead, she wanted to go overseas and figure out what she was missing in the rest of the world.
Now, her dream has come true: she's in the Big Apple, firmly established as vice president of legal for Booking Holdings, which touts itself as the world's leading provider of online travel and related services. Ranger runs the legal aspects of mergers and acquisitions and strategic investments for Booking.
Hailing from Melbourne, Ranger started university at sixteen. "I wouldn't say I had a very clear idea of what I wanted to be when I grew up," she admits. She graduated with dual degrees in fine arts and law.
She quickly secured a job at a top Australian law firm. But a six-month respite before her start date (and her aforementioned wanderlust) drew her to London, where she spent six months working and taking in the sights. She even took advantage of her art history education and secured an internship in Sotheby's contemporary art department.
From there, though, it was back to Australia and the beginning of Ranger's law career. She spent a couple of years at Mallesons Stephen Jaques (now King & Wood Mallesons). Then opportunity knocked in the form of American firm Sullivan & Cromwell's visiting lawyer program, which brings talented foreign lawyers to the firm's New York office for a nine-month immersion program.
"I'm very proudly Australian, and I love home," Ranger says. "But there was part of me that wanted to experience life [in a big American city]." Moreover, her stint at Mallesons gave her a taste for mergers and acquisitions work, and "New York is where it's at for M&A." If she was going to go to New York, this was the way to do it.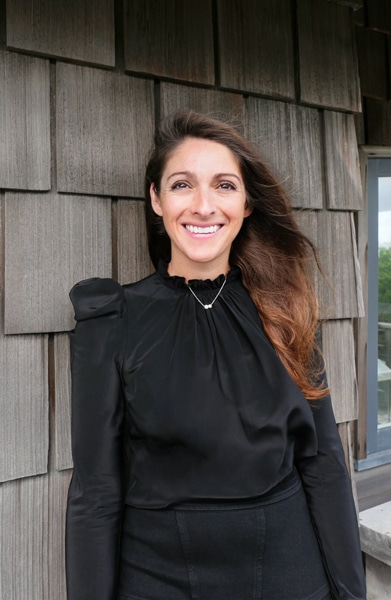 Transitioning from Australian to American law had its challenges, both in approach and attitude. "It's very much sink or swim," she explains of the frenetic environment she found herself in.
"Transactions around the globe broadly follow the same process, but there are a lot of nuances between US and Australian law that are more technical," she continues. Having thrown herself headfirst into the life and work of New York law, she had to learn its nuances and assimilate accordingly.
Ranger proved herself a valuable asset to Sullivan & Cromwell during her time as a visiting lawyer—so such so that the firm asked her to return shortly afterward as a permanent associate. "Xanthe has the critical, and rare, ability to think like the business team and understand the issues that they are trying to solve for—which, combined with her legal chops and excellent judgment, enables her to be pragmatic and highly effective," says Brian Hamilton, M&A partner and cohead of the private equity group at Sullivan & Cromwell. "Xanthe impressed with this skill set early on at Sullivan & Cromwell, and it has been indispensable since her move to Booking Holdings."
Sullivan & Cromwell was where Ranger came across Booking Holdings. One of her first deals for Sullivan & Cromwell as a visiting lawyer was Booking's (then Priceline.com) acquisition of Kayak.
"Booking had always been very close to my heart," Ranger explains. "I always loved working with the team." So, when they approached her in 2019 to come in-house as an M&A counsel, she realized it was an opportunity she could not pass up.
Already familiar with Booking's lean, tight-knit team, Ranger hit the ground running in an in-house capacity. "I was used to having a few dedicated people immersed in deals or transactions," she explains. What's more, her ability to form relationships with different parts of the company and their corresponding teams smoothed the way for her to fulfill her new role as a trusted advisor to the business.
Outside counsel have noted Ranger's wide-ranging prowess with admiration. "Brilliant, charming, focused, and bottom line-oriented is a killer combination, and Xanthe is exactly that," says Steven A. Newborn, global chair of the antitrust practice at Weil, Gotshal, & Manges. "A pleasure with whom to deal, knowledgeable about the business, and able to explain the deliverables she expects—and, at the same time, able to provide outside counsel with the information necessary to accomplish the tasks—Xanthe is the complete package."'
"Like all good Australians, I didn't want to sit still."
That said, going from outside to in-house counsel for the same business is always a fascinating transition, and Ranger was far from immune to it. "In private practice, I had a number of clients with a broad range of issues and deals on the table; here, I'm a key advisor to one complex, global business," she explains. Now, the point is to not just get a deal done but to identify and understand the comprehensive needs of the business and communicate them effectively.
"Do we fully understand how this transaction would fit in the bigger picture of the company and move it forward?" she always asks herself. "And, have we worked an issue out in a way where we're comfortable with the risk we're taking on?"
One important initiative that required Ranger to ask those questions was Booking's capital-raising opportunity in April 2020, which came to her right as COVID-19 was beginning to make a huge impact on business worldwide. Though things were changing quickly, Booking was able to assemble a small team to raise the appropriate capital in a tight time frame.
As part of her role in the capital raising, Ranger had to liaise with a wide variety of Booking's departments, from accounting to financial planning and analysis, tax, and more. "I hadn't worked on a capital raising before," Ranger points out, "so I was learning very quickly."
By the end, not only was completing the task a personal success for Ranger, it also allowed her to work closely with many colleagues she wouldn't ordinarily have worked with. "I'm very proud of what we achieved, particularly given we were all adapting rapidly to a new and challenging remote work environment," she says.
Ranger continues to represent Booking Holdings in the wake of COVID-19 the same way she always did, managing her projects and communicating with her colleagues and outside advisors. The only difference is that now, working from home while caring for her son, she's got a young office mate with a hand-me-down Blackberry and his own little desk next to hers. "He actually said to me the other day, 'This is not a negotiation!' Who knows where he picked that up from."